Even before the opening kickoff of the inaugural Big Ten football championship Dec. 3, the game is being touted as one of the biggest sporting events on the Indianapolis sports landscape.
Its economic impact won't rival the Super Bowl or NCAA Final Four, but it is expected to generate twice the money of the four-day men's Big Ten basketball tournament and rival some of the city's biggest conventions.
The Big Ten football championship game, which will be played at Lucas Oil Stadium through 2015, will have an annual economic impact of $17.7 million, the Indianapolis Convention & Visitors Association estimates. That's about 50 percent higher than a regular-season Indianapolis Colts game and almost one-third the economic impact of an entire 41-game home slate for the Indiana Pacers.
If the estimate holds true, only the Big 12 and the Southeastern Conference, which generated $20 million and $30 million last year, would be bigger.
The Pac-12, which, like the Big Ten, is holding its first football championship game this year, estimates its impact at $22 million. Pac-12 officials explained that they pegged their impact higher than most conferences due to the pull from several large California markets, most notably Los Angeles.
Several sports business experts think the Big Ten estimate is low.
"We decided to be conservative our first year," said Big Ten Deputy Commissioner Brad Traviolia. "We want to under-promise and over-deliver."
So far, the Big Ten has indeed over-delivered.
When the conference put 20,000 tickets up for sale to the general public on June 30, the tickets, priced from $50 to $175, sold out in less than two hours.
"We knew there was good demand, but I'm not sure we knew there was this type of demand," Traviolia said. "I think it shows what we have here, and we're very happy [about] the way this game's being embraced."
The Big Ten is holding back 30,000 tickets to split between the two schools that qualify for the game. Another 16,000 tickets will be given to the conference and its corporate partners.
Traviolia expects a capacity crowd of 68,000 for the game, which has an 8:17 p.m. kickoff.
"This being the first year for the game, and with no precedent on demand, we wanted to be very careful with ticket pricing," Traviolia said. "Having a packed house is the single most important factor in having a successful event."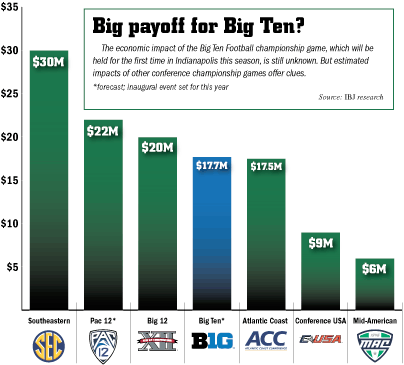 So uncertain were Big Ten officials about ticket demand, they had a sales and marketing contingency plan if ticket sales faltered on June 30.
Odds are good that interest in the championship and its economic impact will grow, said Rick Horrow, president of Horrow Sports Ventures, a Miami-based sports marketing and business consultancy.
"An event like the Big Ten football championship game has a real possibility of maturing and growing," Horrow said. "A lot of the game's fate will depend on how it is managed.
"It appears poised to take its place among the nation's biggest college football games."
Beyond the Midwest
With the addition of Pennsylvania State University in 1990 and the University of Nebraska this year, the Big Ten is no longer simply a Midwestern draw. The conference's alumni base nationwide has always been strong, but now the Big Ten's fan base is a legitimate national powerhouse.
Tickets have been sold in 46 states, said John Dedman, spokesman for the Indiana Sports Corp., which is organizing the event with the Big Ten. Nebraska draws interest from Western markets and Penn State followers are up and down the East Coast.
Dedman is confident the stadium's luxury suites will sell out, too. Already, 112 of Lucas Oil Stadium's 137 suites are sold. Suite holders for Indianapolis Colts games, who were given first crack, have bought many of them, Dedman said.
Horrow said the sales suggest lots of corporate entertainment.
Lucas Oil Stadium suites, which hold six to more than 20 people, are selling for a few thousand dollars to more than $10,000, according to Big Ten officials, who said exact prices were not available.
That's good, sports business experts said, but it's less than what suites sell for at the Southeastern Conference championship game.
The SEC is the biggest of all college football conference championship games. It has sold out the 71,250-seat Georgia Dome every year since 1995, and more than 20,000 are on a waiting list. The 173 suites have sold out 16 consecutive years. Ticket prices for the 2010 game sold for an average of $583 on the secondary market, according to San Francisco-based ticket broker StubHub Inc.
"Down in SEC country, football is king, so it's difficult to say the Big Ten's game would ever get that big," said Milt Thompson, president of locally based sports marketing firm Grand Slam Cos. "But the Big Ten football brand is no weakling, and [the SEC game] gives some indication of what the [Big Ten] game could mean financially to the host city, as well as the conference."
Windfall not guaranteed
Financial success for conference championship games is not assured.
From 2005-2009, the Atlantic Coast Conference championship game played before disappointing crowds. In three of those five years, fewer than 60,000 attended the game, which was played in Jacksonville, Fla., from 2005-2007 and in Tampa in 2008 and 2009. There were no sellouts and the average ticket price on the secondary market was just $94.
The event rebounded last year, with a sellout crowd of 73,000 turning out for the game in Charlotte, N.C. Charlotte officials credited improved marketing and estimated last year's economic impact at $17.5 million.
For now, Big Ten and Indianapolis officials' confidence is sky-high.
With Nebraska, the Big Ten now has 12 teams, the minimum required by the NCAA for a conference to have a championship football game.
Championship football games can be a financial windfall for the conference and its schools. Sports business experts think the Big Ten should earn at least $10 million from ticket revenue and its TV deal with Fox.
Many college football prognosticators think the Big Ten in future years will add four more teams, which would open up more markets for the conference and almost certainly enlarge the economic impact.
"Whatever happens, it's important that the city gets in on this game early and makes a favorable impression," Thompson said. "And there's every indication the city and the Indiana Sports Corp. will do just that."
Big, but not the biggest
While the Big Ten championship game may not carry the payday of Indianapolis' biggest sports events, Thompson thinks it will be among the five to 10 biggest annual single-day sports events in the city.
"I think that says something given the crowded nature of our sports landscape here," he said.
Local restaurants, hotels and other businesses—especially those downtown—think the impact will be significant.
ICVA expects all 7,100 downtown hotel rooms will be booked the night of the big game. Many hotels are requiring two-night minimums, said ICVA spokesman Chris Gahl, adding that numerous hotels outside of downtown also will be busy on game weekend.
Though Gahl declined to estimate how many total room nights would be scored in Indianapolis, hotel industry experts pegged the number north of 20,000.
"Any post-season college football game creates a lot of demand," said Glenn Brooks, vice president of General Hotels Corp., which operates 13 hotels from Terre Haute to Indianapolis, including Crowne Plaza hotels at the airport and downtown. "It will definitely be bigger than a Colts game, probably even a playoff game."
Brooks, a hotel veteran who worked at hotels in Kansas City while that city hosted the Big 12 conference championship, said corporate meeting activity will also be considerable during the days leading up to and the day of the big game.
"The conference's major sponsors always bring in a good group, and there are often corporate groups involved with each school that plays that will come in to entertain."
Craig Huse, owner of St. Elmo Steak House, said he's been getting inquiries about private reservations and corporate parties during the week of the Big Ten championship for several months.
"I've gotten calls from groups from quite a few different schools," said Huse, whose restaurant is less than a mile from Lucas Oil Stadium. "People and groups from Big Ten universities have told us they're coming regardless of if their team is playing or not."
St. Elmo will host private parties, but also keep part of its dining room open to the public, Huse said, adding that the restaurant would extend its hours the weekend of the game.
"It's a new event, so no one knows exactly what to expect for sure," Huse said. "We're definitely expecting a big two- or three-day crush."•
Please enable JavaScript to view this content.