Imagine a pint-size 9-year-old showing up at the office a few times a month to learn the bare basics of the business.
It happens at Bitwise Solutions Inc., a Carmel-based website developer where CEO Ron Brumbarger is trying to engage youngsters in technology.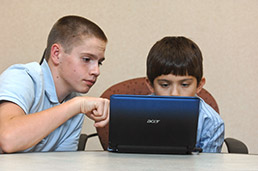 Noah Osborne, 14, left, talks with 9-year-old Conner Caniff on Connor's first day at Bitwise's website development program. (IBJ Photo/ Perry Reichanadter)
Connor Caniff is an exception to the teenage students Brumbarger tries to recruit, but his enthusiasm caught the eye of company executives.
"We're going to bring him up in the ranks fast," Brumbarger said. "All I heard from his dad was that you lit a fire, and that's all we want to do, to give them an appetite for business and technology."
The program, launched in February, is called On Deck and it's one of two Bitwise has created for tech-savvy students of various ages.
On Deck participants aren't paid, and they may spend only a few hours a month at the office. It's simply a chance for kids to volunteer and get a little experience to determine if they want to join the company's more advanced program, Bitwise Fellows.
The firm started Fellows four years ago to avoid having to tell a potential customer no.
As Bitwise, which Brumbarger founded in 1992, took on bigger and better contracts, it priced itself out of reach of small customers. So four years ago, the company started hiring high school students for $9 an hour to build low-budget sites for customers with less money to spend.
Taking a baseball term, On Deck gives the younger kids a chance to observe until they're able to step up to the plate and join Bitwise Fellows.
Jim Jay, CEO of Indiana's principal IT initiative, TechPoint, supports Brumbarger's On Deck initiative.
"Ron has always been an innovator in business, so it doesn't surprise me," Jay said. "I think it's pretty unique for a business to start that early to introduce and expose students to not only business skills but to put their passion of programming to use."
One of those is Noah Osborne, a 14-year-old home-schooled freshman who is on Brumbarger's radar to advance to the Fellows program. He participated in On Deck this past summer and gained valuable experience.
"That's a real business," Osborne said. "It was very helpful for me to see that, because some people might take websites for granted, but it's very complex."
Students who transition from On Deck to Bitwise Fellows typically work 3-7 p.m. two to three days a week after school, in addition to another three to four hours working from home.
The price is right for some potential customers.
Brumbarger recalled quoting a price of $12,000 to $14,000 to a company that had only $3,000 in its budget. Instead of shelving the potential client, Bitwise pushed the project over to the Fellows.
The students have designed about 50 sites, Brumbarger estimated.
Besides website design, Fellows manage clients and certain financial statements. The experience has helped earn college scholarships for participants—five of whom have returned to Bitwise during summers.
This past summer, they expanded their work to include small mobile applications, one of which could be ready for market soon, Brumbarger said.
So why did Brumbarger feel the need to go younger than he originally intended and start On Deck? Why else?—a shortage of qualified candidates, particularly at the high-school level.
"Of course they don't have any experience," he acknowledged. "But this is a business. What we found was even bringing students in as a sophomore, try as we might, we couldn't find any students that were reasonably well-versed in trying to do what we wanted to accomplish."
Yet even with the addition of On Deck, Bitwise continues to struggle to fill available slots.
Just four students have been involved in On Deck since its creation about eight months ago, and seven are employed as Bitwise Fellows. Enough work is available to enable Brumbarger to hire three or four more high-schoolers as Fellows, if he could find them. He continues to market the programs simply through word-of-mouth.
"It's really exciting when we find students who understand this is a real job and a professional position instead of flipping burgers," he said. "And it's refreshing when they show up for work."•
Please enable JavaScript to view this content.