Phyllis Brown was more than happy to tote her Nordstrom Rack bag with two new pairs of boots to the distant parking spot where she left her GMC Acadia on a recent Saturday.
The 72-year-old would rather walk than fight for a close-in parking spot, thank you very much.
She didn't have much choice at Rivers Edge, the new-look shopping center redeveloped by locally based Kite Realty Group Trust. At peak hours, customers at the newly opened Nordstrom Rack occupy about two-thirds of the Rivers Edge parking lot.
The parking crunch isn't likely to abate before The Container Store, the state's first location for the popular storage-solution chain, opens in Rivers Edge on Oct. 8. Following close behind: BuyBuy Baby, a Harry & Izzy's restaurant, Arhaus Furniture and a BGI Fitness.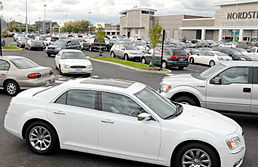 The 617 parking spaces at the newly renovated Rivers Edge shopping center meet the minimum commercial-zoning allotment—but just barely. (IBJ Photo/ Perry Reichanadter)
Brown is enthusiastic about the "wonderful" new shopping center along East 82nd Street near Dean Road but has a feeling parking is going to be a problem once the other high-profile tenants open for business. She's not the only one.
"I don't mind the walk to Nordstrom Rack, but I would be upset if I couldn't get a spot at Harry & Izzy's," Brown said. "I suppose loyal shoppers will walk."
The city's commercial zoning ordinances require retail shopping malls the size of Rivers Edge to have four parking spots per 1,000 square feet of retail space.
The center clocks in at 151,400 square feet—including 35,200 square feet for Nordstrom Rack, 26,000 square feet for BuyBuy Baby, and 23,500 square feet for Container Store. And a site plan shows Rivers Edge has 617 parking spaces, meaning it barely falls within the requirements of the ordinance.
Kite has been paying close attention to the parking issue, which was a major consideration as it planned the center's redevelopment.
Thomas K. McGowan, Kite's president and chief operating officer, noted that additional parking will be available as construction finishes on a second phase featuring Arhaus and BGI.
Parking often is difficult at the most successful retail centers; spaces are hard to find at Fashion Mall at Keystone during peak hours.
The parking crunch isn't that big a concern for Jason's Deli.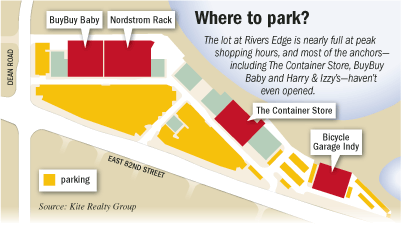 Jordan Goddard, the restaurant's general manager, said the shortage of spots means the center is drawing a good crowd, "an awesome problem to have."
"We don't really know what kind of parking we have because the center is just opening up," said Goddard, who added that employees will "hike" from faraway spaces if they must to ensure spots are available for customers.
The restaurant's real estate broker, Newbridge Commercial Real Estate principal Nick Wright, figures the center's parking will prove ample once the "honeymoon stage" for the new stores, particularly Nordstrom Rack, begins to fade.
"When you've got hot retailers and restaurants, it's always hard to find parking," Wright said. "Everyone wants to check out the brand-new store."
All the traffic should actually help Jason's, since visits to Nordstrom Rack tend to leave shoppers hungry for a kind of sustenance other than shoes.
Wright's biggest concern: Kite's plans to develop a stand-alone bank in front of the center, which would siphon off even more spaces.
"That would just be a killer," he said.•
Please enable JavaScript to view this content.