The Kurt Vonnegut Memorial Library is giving copies of "Slaughterhouse-Five" to students in Republic, Mo., where school officials have deemed the book inappropriate.
The school board in Republic decided recently that Vonnegut's anti-war classic and a teen tear-jerker called "Twenty Boy Summer" will be housed in a separate area of the high school library, where only parents may check them out. The board decided to restrict access after one parent requested the books be banned.
Julia Whitehead, executive director of the Vonnegut library, said the board's decision might as well be a ban, and the free books are still available.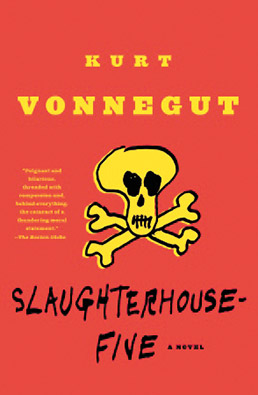 Students in Republic, Mo., can receive a free copy of "Slaughterhouse-Five" from the Kurt Vonnegut Memorial Library.
The library posted this note to Republic students on its website: "We're not telling you to like ["Slaughterhouse-Five"]… we just want you to read it and decide for yourself. We will not share your request or any of your personal information with anyone else."
The threat of a ban mobilized Vonnegut library supporters. One anonymous donor paid for 150 copies of the book. Because of an "overwhelming" response from others, the library says, it will create a banned-books exhibit and a "Banned Book Response Team" to help other communities.
The library also invited Sarah Ockler, author of "Twenty Boy Summer," to Indianapolis Sept. 27, during Banned Books Week.
Please enable JavaScript to view this content.