A top executive at Rolls-Royce Corp. credits a cost-saving labor agreement with bringing new work to Indianapolis.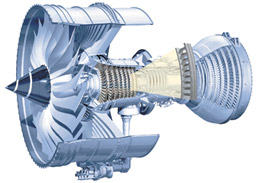 Banded stators are sets of blades mounted around a jet engine. They are layered behind the engine's rotors to manage air flow. (Photo Courtesy Rolls-Royce Corp.)
The Indianapolis plant is preparing to become the global manufacturing site for a large jet-engine component, the banded stator. Rolls-Royce will shift production from an outside supplier, creating 100 jobs.
"What has enabled us to do this is the fact that we're now competitive," said John Gallo, executive vice president of business operations. Hiring will begin late next year for a ramp-up in production that begins in 2013.
Stators are stationary sets of blades that are mounted around a jet engine to handle air flow off the rotors. Banded stators have a metal skirt enclosing the tips of the blades.
Indianapolis already builds banded stators for the T-56 engine, which goes in various military aircraft. Now the plant will create stators for the AE series of engines, as well as the Trent XWB and Trent 1000—large engines for commercial airliners.
Making a component for the Trent series, which is assembled in Derby, England, will be a first for the Indianapolis plant.
Rolls-Royce employs 4,500 in the Indianapolis area, with 1,750 represented by United Auto Workers Local 933. The company will add the new jobs through 2017. Eighty will be in production, while 20 will be professional.
United Auto Workers members ratified a new four-year agreement in May. The savings came through introduction of health-savings accounts and flat wages for new hires.
The starting wages are $18.25 to $21.25, depending on the function, and new hires will get no annual raise. The average wage among current UAW members is $27.25 per hour.
UAW members received a sign-on bonus, and they are still eligible for an annual bonus, though some of that will be tied to performance, Gallo said.
"I give the union a lot of credit for working with us," he said. "They understood the need to be competitive globally."
UAW members could hardly ignore the drumbeat on competition, as the company has opened a plant in Prince George County, Va., near Richmond. (Rolls-Royce's U.S. headquarters is in Reston.)
"Any new work, they were going to filter to Virginia," David Atwood, chairman of the Local 933-Maywood shop committee, said after reaching a tentative agreement in late April.
Atwood did not respond to IBJ's requests for comment on the banded-stator work.
"This seems to me like a pretty big [job] if they're getting the Trent series," said John Sullivan, director of the Center for Advanced Manufacturing at Purdue University.
The Trent engines are much larger than anything produced in Indianapolis. The Trent XWB (extra-wide body) goes in Airbus' A350 through A900 models, and the Trent 1000 goes in Boeing 787s.
One reason Indianapolis was chosen for the banded-stator work was the technology and process it has used for decades on the T-56, Gallo said. The Indianapolis team is adapting that process for the larger engine types.
Indianapolis will want to hold tightly to its technological and skilled-labor advantages, said Bruce Ellis, an Atlanta-based aerospace manufacturing consultant.
Labor is cheaper in Asia, and skills there are advancing, said Ellis, who has advised companies, including Rolls-Royce, on how to keep factories competitive.
Adding to the competition is the fact that China, India and the Middle East are growing markets for aircraft, Ellis said. "Oftentimes, those countries insist some of the manufacturing be done within their countries."
Current production of banded stators is inside Plant 5, one of the company's World War II-era buildings on South Tibbs Avenue.
Rolls-Royce will set up a new production line in Indianapolis for banded stators, but the exact location isn't decided. The company hasn't yet calculated the value of the capital investment, spokesman Joel Reuter said.
"This is an opportunity to set up in a lean, modern manufacturing environment," Gallo said.
The first two years of production will be for the AE series, Reuter said. Production for the Trent series will come in later years.
Gallo said there will be plenty of internal work to bid on in the future. Rolls-Royce Group needs to double its global production within 10 years to fulfill a $94 billion book of business, he said.
The company recently hired 50 additional machinists in Indianapolis because of a general increase in volume.
Indianapolis is one of three Rolls-Royce sites that designs, engineers and builds entire engines, Gallo noted.
"That puts us in a unique position that we could bid on anything," he said.
Any U.S. site will have a shot at landing more production work as long as the dollar is weaker than the pound.
The company sacrifices profit when it pours British pounds into making goods that are sold for dollars. As a result, shifting production to dollar-based countries has been part of the Rolls-Royce strategy since 2007, Ellis said.•
Please enable JavaScript to view this content.