Kevin Hipskind will not forget Aug. 21, 2004—the day he suffered severe burns from a backyard brush fire.
He also won't forget the time he spent recovering in Wishard Memorial Hospital's burn unit. Among the bank executive's fellow patients were an elderly woman, an inmate from a local jail, and a Mennonite farmer.
Hipskind
"Where my passion came for the organization was seeing the skilled care that they gave you and the diversity of people they take care of and the dignity and respect they treat everyone with," said Hipskind, a 43-year-old executive vice president at Fifth Third Bank.
Hipskind's experience at Wishard played a role in a $5 million gift Cincinnati-based Fifth Third is making for Wishard's new Eskenazi Hospital, which is under construction at IUPUI. A new, six-story office building on the campus will be called the Fifth Third Faculty Office Building.
The gift—possibly the largest ever in Indiana to come from a bank—is the combination of $3 million from the local Fifth Third office and $2 million from the Fifth Third Foundation.
Huber
Normally, Fifth Third's central Indiana management team has $1 million to spread among various organizations, President Nancy Huber said.
"This is a once-in-a-generation gift," she said. "This is not something we did lightly."
Everything about raising money for a $754 million county hospital has been non-traditional, said Ernie Vargo, CEO of the Eskenazi Health Foundation, which changed its name from Wishard Foundation on Oct. 1.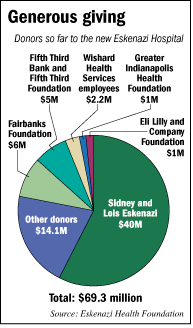 Wishard had never gone to the public with a major campaign. So in the beginning, it wasn't clear whether the initial goal of $50 million was achievable, Vargo said.
Then the foundation landed a $40 million gift from Sidney and Lois Eskenazi, announced in June. The Eskenazis' donation added momentum to the campaign, and the foundation raised its target to $75 million, Vargo said.
The foundation has gathered 2,305 gifts, for a total of $69.3 million so far.
Hipskind thinks many Indianapolis residents view Wishard the way he did before the accident—as a county hospital serving the uninsured. But they don't realize all that goes on at the campus, which is also the training ground for the Indiana University School of Medicine, he said.
Hipskind spent 11 of his 21 days at Wishard in a drug-induced coma while surgeons repaired the 37 percent of his body that was burned.
Giving tours of facilities like the burn unit and Level 1 trauma center has prompted several six-figure gifts, Vargo said.
"We've had a lot of people who've come through and said, 'You weren't our philanthropic priority, but you are now.'"
Hipskind, who joined the Eskenazi Health Foundation board about a year ago, raised the idea of making a significant gift to the Wishard campaign with Fifth Third's local management team.
Wishard made its own request to the Fifth Third Foundation, which will pay its $2 million share over four years.
The Fifth Third management team considered the Wishard gift from a number of angles and ultimately decided it fit with the bank's lending activity in health care and government, Huber said. She noted the gift also supports education.
Fifth Third's name will go on a 295,000-square-foot office building, which will bring administrators for Eskenazi Health, the IU medical school, Regenstrief Institute and Purdue College of Pharmacy under one roof for the first time.
"They obviously recognize that a community builds a new hospital once in a lifetime," Carmel banking consultant Michael Renninger said.
Fifth Third definitely will get a boost in name recognition, Renninger said.
Fifth Third has $2.8 billion, or 9 percent, of Indianapolis-area deposits. That ranks it third in the market, behind J.P. Morgan Chase and PNC Bank, according to Federal Deposit Insurance Corp. data from June 30, 2010.
Having the bank's name on a building leaves the impression that it plans to remain independent, Renninger said.
In reality, he said, there's no reason to think Fifth Third would be immune from acquisition, as the banking industry continues to consolidate.
If Fifth Third changed its name, the name of the faculty office building also would change, Wishard spokeswoman Michelle O'Keefe said.
This isn't the first time Fifth Third has put its name on a building, said Heidi Jark, managing director of the Fifth Third Foundation. The foundation gave $700,000 to the Williams College of Business at Xavier University, and the bank's name will go on a new trading room.
Banks have to show regulators that they're serving low-income populations, so their philanthropic activities tend to support those activities.
Fifth Third will not get credit under the Community Reinvestment Act for its $3 million gift, spokeswoman Natalie Guzman said.
But the bank is planning to set up a financial literacy program on the Eskenazi Health campus, which opens in 2014, and that will count toward community reinvestment goals, she said.•
Please enable JavaScript to view this content.