Management theories and corporate culture will be an unusual addition to this year's Heartland Film Festival, thanks to a one-hour documentary about the late Ken Olsen, who founded Massachusetts-based Digital Equipment Corp. The company produced some of the computer industry's biggest breakthroughs.
The film, titled "Digital Man/Digital World," is largely an Indiana production. Massachusetts-based Gordon College, which houses Olsen's archives, initially hired Ben Strout, executive director of Carmel-based Televerse Productions, to direct the film. At the time of Strout's sudden death in May 2009, 90 percent of filming was complete. Gordon then hired Don Boggs, general manager at Anderson-based Covenant Productions and a communications professor at Anderson University, to finish the project.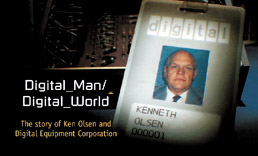 The documentary "Digital Man/Digital World" came from a Massachusetts college, but was produced largely by Hoosier hands. (Photo Courtesy Truly Moving Pictures)
Other local contributors included Eric Maloney, vice president at Indianapolis media production firm Innovative, the Earshot Audio Post studio in Indianapolis, and WFYI-TV Channel 20 in Indianapolis, which is handling broadcast distribution of the film.
"It's pretty rare for a documentary to focus on business principles and management strategies," said Boggs, who will conduct a Q&A session with the audience at the first screening of the film, at 2:30 p.m. Oct. 16 at the AMC Castleton Square theater.
There will be two other screenings during the festival, at 7:30 p.m. Oct. 20, also at the Castleton theater, and at 1 p.m. Oct. 21 at the AMC Showplace 17 on South Meridian Street.
DEC pioneered concepts such as matrix management, which organized the company according to product teams, as well as under division heads. DEC was also one of the first companies to use corporate e-mail and an internal computing network that allowed employees to work remotely, even while traveling in Asia or Europe.
Olsen was forced out in 1992 and a much-diminished DEC was purchased in 1998 by Compaq.
Please enable JavaScript to view this content.