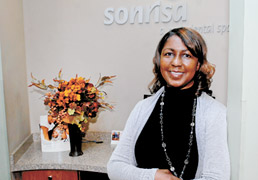 Dr. Jeanette Sabir-Holloway splits her time between her spa-oriented dental practice and her mentoring program that recruits black students into dentistry. (IBJ Photo/ Perry Reichanadter)
When Jeanette Sabir-Holloway entered dental school at Indiana University in 1976, she was one of only three black students in a class of 120. She would be the only African-American to graduate with her class four years later.
Those 30-year-old statistics are not likely to shock anyone. But the 2010 figures might: The IU dental school had only two African-Americans in that freshman class.
It was that disheartening lack of progress in diversity in the field of dentistry that motivated Sabir-Holloway to found a support pipeline to encourage black college students to become dentists.
The 30-year dentist is in her second full year of administering the program known as Increasing Diversity in Dentistry. Sabir-Holloway, 57, travels to Atlanta about once a month to three historically black colleges—Spelman College, Morehouse College and Clark Atlanta University—to mentor and counsel about 30 students who've been accepted as scholars in the program in exchange for a two-year commitment to practice dentistry in an underserved area when they earn their doctor of dentistry degree. Some of the students are seniors now and waiting to hear back on their applications to dental schools.
In her day job, Sabir-Holloway runs Sonrisa, a downtown dental practice with a mission to make a patient's experience feel like a trip to a spa. That attitude begins with calling patients "guests," who are welcomed into a lobby that exudes the warm, soothing sounds, scents and sights of a day spa. Sabir-Holloway and her husband, periodontal dentist Dr. Stephen Towns, opened the practice in 2004 after purchasing the Ferger Centre building at 508 Indiana Ave. They moved from a traditional practice in leased space just around the corner on the Central Canal.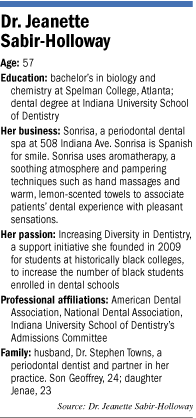 Sabir-Holloway said she saw that Ferger Centre was up for sale just as the couple's current office lease was about to expire. She decided the timing was right to open the "softer" dental experience she had heard about in other cities, which combined a dental visit with spa services.
The idea "was a hard sell to my banker," Sabir-Holloway said. "I pulled articles from dental journals" to show the concept had legs.
She and Towns went all in, hiring an esthetician and renovating the top floor of their new building into a full-service spa that offered facials, body wraps and massages. The economic downturn has forced the couple to pull back the reins on the full spa for now—"People are cutting back on luxuries," Sabir-Holloway said—but the luxurious treatment of dental patients continues. Sabir-Holloway hopes to soon reopen the top-floor spa by finding a new esthetician with a business background who can manage the spa operations independent of direct oversight.
In the meantime, Sabir-Holloway's focus is on Sonrisa, which has about 3,500 patients, annual revenue of about $1 million, nine employees "and a constant stream of shadowing students," Sabir-Holloway said. And she spends an increasing amount of time developing IDID, a devotion made easier by a break in seeing patients that she is forced to take while healing from shoulder surgery. She has made three trips to Atlanta since the fall semester began.
Sabir-Holloway said her drive for the initiative was motivated by the frustration she feels serving on the admissions committee of her alma mater, the Indiana University School of Dentistry. She's disappointed in how few African-American young people are attracted to the dental profession. The situation hasn't changed much in 50 years, she said.
In fact, the American Association of Dental Schools and American Dental Association project a slight decline this decade in black dental students.
"We don't do a good-enough job of providing exposure to dentistry as a career," Sabir-Holloway said.
Lacking role models
Most young African-Americans are influenced by role models in their career choices, she said, and there aren't enough black dentists for them to look up to. Of nearly 160,000 estimated U.S. dentists, close to 10,000 are black. That's only 6 percent, from an African-American population that makes up almost 14 percent of the country.
Many first-generation African-American college students also face the obstacle of being intimidated by courses like advanced biology, and not knowing how to navigate the path toward extended education, Sabir-Holloway said.
"They hit the bio wall," she said. They don't have the support to push through challenging science and math classes, they haven't done a mock interview, they don't understand application deadlines, don't know how to prepare for the dental admission test.
"That's where I come in," she said.

Through IDID, Sabir-Holloway—along with mentors at the students' colleges—provide academic counseling, help with every step of the dental-school-application process, provide shadowing opportunities with African-American dentists, and help steer the IDID scholars toward summer enrichment programs offered by dental schools.
Scholars apply for the program as a freshman or sophomore, so they have time to take the foundational classes they need, she said. Sabir-Holloway's IDID students e-mail and text her and their on-campus counselors regularly, she said.
Financial support
A $20,000 grant from a partnership between the foundation of the National Dental Association—the trade group for African-Americans in the dental field—and Colgate Palmolive got IDID off the ground. Sabir-Holloway has also helped fund the program herself and is applying for more grants to meet the program's $60,000 2011 budget. She hopes to expand IDID to 10 historically black universities.
Sabir-Holloway's eight years on the 28-member IUSD Admissions Committee gives her credibility in advising students what dental schools look for. Robert Kasberg, assistant dean for student affairs and director of admissions at IUSD, said she is a tough interviewer of prospective students—looking for character qualities, asking why they want to become a dentist, and expecting at least 40 hours of shadowing during their undergraduate schooling.
"She is an intelligent, insightful woman," Kasberg said.
Two of Sabir-Holloway's IDID scholars have applied to IUSD this year, he said. Sabir-Holloway won't interview them, and she will recuse herself from voting on their applications.
But she'll have their support, in this application and any others they tackle. Sabir-Holloway sees the IDID scholars as her hope for a future that includes more minority dentists as part of an overall increase in oral-health awareness among African-Americans. She even launched a preschool oral-health-literacy program at a local day care last month as part of that mission.
Her heart is anchored in shepherding "my kids," as she calls her scholars, through the rigors and stresses of making it into dental school. If she can accomplish that, she said, she can move the needle a notch on seeing more faces of color with DDS after their names.•
Please enable JavaScript to view this content.