An Indiana University finance professor has done what some say is a first-of-its kind analysis of the value of college football programs.

The 242-page dissertation puts a price tag on them as if they were for sale on the open market, and it's filled with nuggets sure to grab the attention of academics, sports business experts and fans alike.
Brewer
Ryan Brewer, who teaches at IU's Columbus campus, hopes his findings can be used by university presidents and athletic directors to lay a road map for their programs' futures.

"Hopefully, this study [provides] a sense of what their programs are worth so that when they're making

investment and hiring decisions, they can do so in a more informed fashion," said Brewer, who completed the study in March and recently released it. "The valuation gives you a more complete picture than just looking at revenue history alone. It gives you some basis to predict future cash flow. That's critical in decision-making for any business or operation like a college football program."

Brewer thinks his study could be used as a model to place valuations on other not-for-profit organizations and help them with financial planning.

In his study, Brewer calculates valuations for 100 colleges nationwide formerly known as NCAA Division I-A programs, now known as the Football Bowl Subdivision schools. Brewer calls his list the FBS 100.

The study concluded that the University of Texas, valued at $848.3 million, has the richest football program. With its huge stadium, massive fan base and immense revenue stream, Texas far outdistanced the No. 2 school in Brewer's study, Georgia, which had a valuation of $483.6 million.

Penn State, Florida and Louisiana State rounded out the top five. The Big Ten had seven schools in the top 20. Michigan came in at No. 6, Ohio State was No. 12, Nebraska No. 13, Iowa No. 15, Michigan State No. 16 and Wisconsin was No. 19.

Indiana was the top state school in Brewer's rankings at No. 36, with a valuation of $77.8 million. Purdue came in at No. 44, with a valuation of $55.5 million.

"This study is extremely fascinating, one of the most interesting research concepts I've heard of in a long time," said Richard Vedder, director for the Washington, D.C.-based Center for College Affordability and Productivity. "It's intriguing to consider, if you could sell the Ohio State football franchise, what could you get for it?"

Purdue University Athletic Director Morgan Burke, who hasn't seen Brewer's study, thinks the analysis could be helpful in planning and would reinforce the message that football—along with men's basketball—are the two key financial drivers of any major college athletic department.

"Any economic data you can get is good," Burke said. "Naturally, we'd want to see his methodology. It's certainly an interesting topic of study."

Worthless programs?

The study is likely to spark much debate over the real value of college sports operations.

Ball State was one of 21 schools that Brewer assigned a zero valuation because of lack of cash flow. The "zero value" programs tied for the rank of 72nd on the list.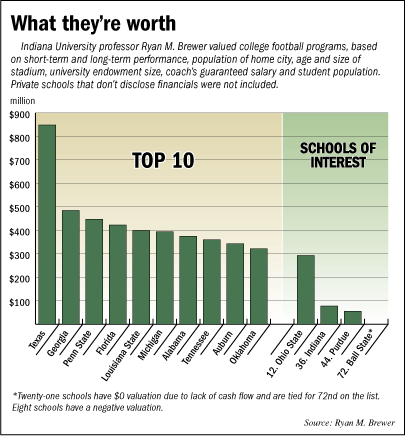 But it could be worse. Brewer calculated that eight schools in his FBS 100 ranking had a financial picture so bleak they warranted a negative valuation. The worst financial performer on Brewer's list was Northern Illinois University, which he gave a valuation of negative $32.3 million. The negative valuation, Brewer said, in part indicates that those programs need financial subsidies to survive.

"This study has the potential to rub on a raw nerve," said David Ridpath, a professor of sports administration at Ohio University and past president of The Drake Group, a not-for-profit that bills itself as a watchdog for academic integrity in the face of big-time college sports. "The value of these sports programs and the millions of dollars that go into them have been hotly debated for some time."

Ridpath said one difficulty in looking at the value of college sports programs are the "intangibles" athletic directors and department supporters always point to.

"Athletic directors will tell you that there's intangible value in having sports programs that you can't calculate using a straightforward financial model," Ridpath said. "Rightly or wrongly, athletic department administrators and university presidents often say these programs help in marketing the school, fundraising and adding to the overall student experience on campus."

Different from Forbes model

Forbes magazine has been calculating valuations of professional sports franchises for more than a decade, and has more recently estimated the value of college sports properties based on what a program contributes to its university's academic mission, the larger athletic department, the conference and local community. Forbes has attempted to place a value on 15 to 20 teams.

Brewer, a valuation analyst who has two undergraduate degrees from Purdue and an MBA and doctorate degree from IU, attempted to value the properties for what they would fetch as a stand-alone business on the open market.

"As a key difference, the study I did addresses the value of each program from the standpoint of an investor group," Brewer said. "Such an investor group might ask, 'How much is the program worth? If we own this program, what do we do with the cash flow: scholarships, funding other sports programs, or reinvesting in our football program? Do we build a new stadium? Hire a new coach? If the NCAA lets us pay college players, how much can we pay them? What would the expected return on these investments be? Can we justify the capital expense?'"

Brewer outlines his theories and methodology in the dissertation, which took just more than two years to complete. In the study, he details the factors used in his valuations, including short-term and long-term performance, population of home city, age and size of stadium, university endowment size, coach's guaranteed salary, a seven-year cash flow analysis and student population.

"I looked at it like it was a stock price," said Brewer, who has been an expert witness in business valuations in several court cases.

Outscoring S&P 500

Beyond the school-by-school rankings, Brewer's study has myriad interesting findings.

Brewer found that the business of college football appears to be recession-proof. While the S&P 500 lost 12.91 percent in 2007 and another 22.08 percent in 2008—at the height of the most recent recession—the 100 FBS college football programs generated returns of 4.25 percent in 2007 and 4.01 percent in 2008, Brewer said.

"At the end of the day, even in a bad economy, people are still looking for a way to escape stress," Brewer said. "And the price of college football tickets compares favorably to professional sports, certainly the NFL. And it even compares well to the theater and other entertainment outlets."

Brewer also noted that college football thrives particularly well financially in the Midwest, Southeast and in Texas.

"The data shows the land of Dixie is the strongest region," Brewer said. "Just look at the [Southeastern Conference]. The heartland, too, is a stronghold and that can be seen with the Big Ten. College football seems to be a cultural phenomenon in certain regions."

The SEC has six teams in the top 10 of Brewer's rankings. Brewer points to the relatively weak showing by schools in some of the so-called power conferences, including the Atlantic Coast Conference, Big East and Pac-12, as evidence of the concentration of college football in certain areas.

Texas and Alabama are the only states with two schools in the top 15 in Brewer's FBS 100 ranking. Michigan is close, with Michigan State ranking No. 16.

What about Notre Dame?

Since Brewer relied on financial data that the U.S. Department of Education compels public universities to divulge, no private schools were included in the study.

A single-year study Brewer compiled in 2008 indicated that the University of Notre Dame would be in the top five of his rankings.

"I think it's possible they could be at the top," he said.

Vedder thinks Notre Dame's valuation could be more than $1 billion, comparable to the Chicago Bears and Indianapolis Colts, which, according to Forbes, have valuations of just under $1.1 billion. The Dallas Cowboys has the highest NFL team valuation according to Forbes, at $1.9 billion. Brewer said his methodology is somewhat different than Forbes'.

Brewer doesn't think other private football powers such as the University of Miami in Florida and the University of Southern California would have nearly as high a valuation as Notre Dame.

Based on other Pac-12 schools, Brewer estimated USC would be in the top 30, but due to a weaker college football fan base on the West Coast and other factors, Brewer doesn't think USC would crack the top five.

Brewer said Miami's value would suffer because it's a relatively small school, it's outside the Dixieland stronghold, and it's in a market where there are a plethora of other entertainment options.

"They've got a strong program, but it's a difficult one to estimate the value without the data," he said. "It all comes back to the data."•