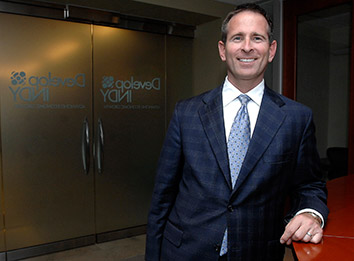 Develop Indy President and CEO Scott Miller has been named president of the Greater Indianapolis Chamber of Commerce.
The Chamber announced the appointment Thursday afternoon.
"Scott has been involved in many Chamber initiatives, understands the Chamber's value proposition and has demonstrated himself to be a strong, visionary leader," Chamber board Chairman John Neighbours said in a prepared statement.
Directors selected Miller from 30 candidates. He succeeds Roland Dorson as president and will begin his new duties by Dec. 1. Dorson resigned in the spring.
"I am humbled and excited about this unique opportunity to serve as an advocate for businesses throughout greater Indianapolis and to lead initiatives that will create a better quality of life for us all," Miller said in an e-mail to Develop Indy and Indy Partnership donors.
Develop Indy absorbed Indy Partnership, another local economic development organization, in February.
IBJ reported in August that the two groups could combine operations and that Miller was a leading candidate for the president's post.
In his new post, Miller is expected to focus on Chamber goals such as education reform, mass transit, government consolidation and neighborhood revitalization.
Miller also said Develop Indy directors will continue discussions with the Chamber regarding a potential merger of the two organizations.
Miller took the top post at Develop Indy in 2008. Through his tenure, the organization worked on about 200 economic development projects accounting for 47,000 new and retained job commitment, according to the Chamber. Prior to joining Develop Indy, he was president of the business landscaping firm Mainscape, which over nine years grew revenue by 600 percent.
Please enable JavaScript to view this content.