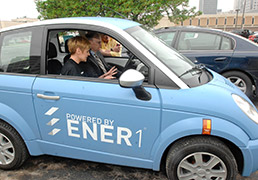 The federal government OK'd $17 million in tax breaks to Think to make this car in Elkhart. Think went bankrupt this year, but was rescued by an investor in Ener1. (IBJ File Photo)
Companies promising thousands of green jobs in Indiana are playing a high-stakes waiting game as federal officials consider the fate of at least $600 million in loan guarantees.

The federal government has already approved more than $435 million in incentives for clean energy companies in Indiana making everything from solar panels to batteries for electric cars. But the collapse of California solar-panel maker Solyndra, which landed $535 million in federal loan guarantees before going bankrupt this summer, invites new questions about the viability of Indiana recipients and those with pending applications.

Solyndra's demise also could mean an already glacial loan-guarantee approval process could move even more slowly—or stop entirely—as the controversy involving the poster child of the Obama administration's green jobs plan continues.

"Waiting periods for federal loans are getting longer, and more iffy," said Mark Long, president of Ellettsville-based business development firm Long Performance Advisors and former CEO of the Indiana University Research and Technology Corp.

Even before Solyndra's demise and subsequent taxpayer outrage, the Department of Energy had "moved very, very slowly—painfully slowly—in going through the loan applications," said Andy Fisher, press secretary for Indiana Sen. Richard Lugar.

At stake are the futures of companies like New York-based Ener1, whose Indianapolis-based EnerDel battery manufacturing unit two years ago received a $118.5 million U.S. Department of Energy grant, and Carbon Motors, which plans to build police cars in an empty Connersville factory.

Colorado-based Abound Solar, which has pledged to make solar panels in Tipton, already has its federal money but appears to have delayed its Indiana production launch.

EnerDel counting on feds

Just last January, Vice President Joe Biden visited EnerDel's Greenfield plant to address the company's 350 Indiana employees. Biden was there to tout EnerDel's success in using federal dollars to leverage private investment—and the Obama administration's programs to spur electric-vehicle development.

But Ener1, which has applied for $290 million in federal loan guarantees, is struggling.

Its stock price, at $4.17 when Biden came to town in January, has more recently been at 27 cents.

In August, Ener1 restated its earnings for the last year to reflect a writedown of receivables on inventory from Norwegian electric car maker Think Global, which filed for bankruptcy this summer. Think has been Ener1's biggest automotive customer.

The federal government previously awarded Think $17 million in federal tax credits to manufacture cars in Elkhart.

Thanks to Think's latest brush with insolvency (at least its third), Ener1's 2010 financial loss of $68.8 million was restated to a loss of $165 million.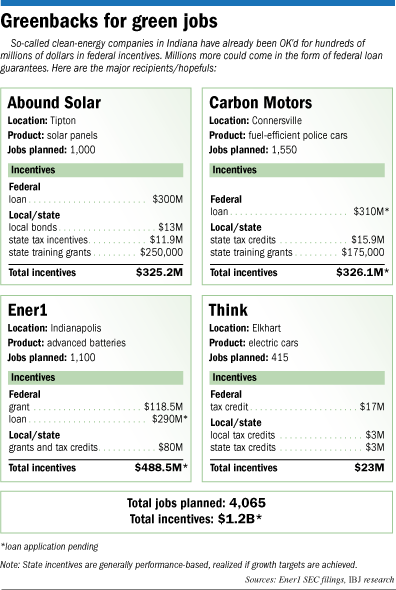 Although Ener1 has stabilized operations lately, in part through an agreement to sell stock to an investment firm for up to $50 million, the company appears to be counting on federal loan guarantees.

"If the loan is not approved or is approved in a substantially reduced dollar amount, our future expansion plans would have to be significantly curtailed and our near-term prospects would be materially adversely affected," Ener1 said in a recent securities filing.

Moreover, the market for lithium-ion batteries to power hybrid- and plug-in electric car makers doesn't look as promising as it once did.

Ener1 has achieved notoriety for ramping up manufacturing capacity but hasn't inked a major deal that would drive significant revenue, Kevin See, an analyst at Boston-based Lux Research, said in a recent report on the battery segment.

That's compared with dominant player LGChem Power, which has significant contracts to supply General Motors and Ford, See said.

"Automotive is not the solution [for Ener1] unless Think roars back," Wunderlich Securities analyst Theodore O'Neill said in a report on Ener1.

Near-term, business is likely to come from sales of its lithium-ion batteries to the Russian power grid—a big customer for Ener1—as well as for buses, trucks "and, yes, lawn mowers," O'Neill said.

Ener1 has signed a letter of intent to supply batteries to one of China's largest industrial conglomerates, Wanxiang JV. The latter is a major supplier to China's domestic automotive industry and has an electric vehicle unit.

Ener1 officials declined comment.

"Unfortunately, we're in a quiet period until after we complete the restatement of our financial statements. We should be able to discuss more about various facets of our business once that is complete," said spokesman Brian Sinderson.

Carbon continues vigil

At least Ener1 has product on the market.

Not so with Connersville-based Carbon Motors, which has designed an efficient, diesel-powered police car. The company is refining its design and working to build a supplier network as it awaits word on a $310 million federal loan guarantee for which it applied.

"We expect to begin delivering vehicles approximately 36 months after closing on our loan with the U.S. Department of Energy," said Stacy Dean Stephens, chief brand officer for Carbon, which occupies a vacated Visteon parts plant near the Ohio border.

Stephens said the company keeps daily tabs with DOE about the progress of its loan application. For now, a group of private investors fuels Carbon Motors, though the company declined to elaborate about its financial state or its investors. It was co-founded by former Ford Motor Co. executive William Santana Li.

Might the Solyndra scandal sabotage its federal loan application? Stephens doesn't think so, saying the company is confident any additional scrutiny would only serve to reinforce the merits of its plan.

Carbon said its design drew heavily on input from law enforcement, with 516 police agencies from all 50 states already placing 16,570 reservations for its "E7" car. The cop-car market is relatively small—generally 60,000 to 75,000 vehicles a year.

Carbon touts that its E7 was purpose-built as a police car rather than something adapted from an automaker's existing passenger-car fleet. But its special features, such as rear doors hinged at the back to make it easier to stuff a cuffed evildoer into the back seat, raise questions about whether Carbon can keep its vehicle affordable, given the economies of scale enjoyed by Ford, Chrysler and General Motors. Carbon hasn't announced pricing, but claims it will be on par with that of mainline automakers' cop-car versions.

Solyndra effect

But other companies with big plans for Indiana already have convinced the skeptic that matters—the DOE.

Colorado-based Abound Solar in 2010 won $400 million in federal loan guarantees, with most of that slated to outfit a former Getrag transmission plant in Tipton to make solar panels.

Production could begin next year or in 2013. Abound said it first plans to expand existing plants in Colorado before ramping up Tipton.

That has some in Tipton feeling less than reassured as time goes by. County Commissioner Jane Harper wrote to the company recently to get some reassurance about a Tipton project that could someday employ 900 to 1,200.

Abound uses a material it says is cheaper than silicon to make its thin film panels, and officials recently said they remain on track despite the infamous failure of Solyndra and of two other solar companies this year.

Those failures, besides stirring skepticism about green funding recipients and whether the government should be seeding them in the first place, are also likely to affect the dynamic of private financing.

Whereas before, a company that applied for federal loan guarantees could at least hold that out to venture capital investors it courts, "that doesn't hold as much weight as it used to," Long said.

"Venture capital [firms] are saying, 'Well, I don't think you can count on that'" now.

Venture firms can't help but wonder whether firms that don't ultimately get federal funding will ask them to chip in additional money, Long added.

Ultimately, the Solyndra collapse could be a good thing to the extent it provokes a better examination of clean-tech companies and of the way the federal government provides incentives, said Scott Prince, a principal of Philadelphia-based EnerTech Capital.

A better method might be along the lines of what the state of Ohio did with its Ohio Energy Gateway Fund, which took a $40 million pool of funds held by the state and leveraged it with money from private investors.

EnerTech, which was hired to manage the fund, brought to bear experts in the investment field and strict criteria for vetting investments.

That turned out to be a healthy approach, Prince contends, because it provided taxpayers additional transparency that might not otherwise be the case with federal bureaucrats deliberating behind closed doors on DOE loan applications.•