The student cafeteria at Christian Theological Seminary has reopened, and that's big news on the sleepy campus.
"It does a lot for making a community at the school," said Barbara Marshall, a master of divinity student.
Boulton
Reopening the cafeteria was one of new President Matthew Myer Boulton's first moves. The 41-year-old who arrived in July wants to create a more vibrant atmosphere at CTS, where more than half the students are older than 40, and the vast majority commute. That means attracting younger students who can live on campus full time. It also means drawing the general public for lectures, concerts and religious events on a regular basis.
One of his priorities is to carve a niche in the local arts scene. He wants CTS to become the go-to place for discussions, exhibits and events around sacred themes in the arts.
Boulton is brimming with ideas. What if, for example, CTS hosted a lecture tied to the Indianapolis Symphony Orchestra's performance of "Carmina Burana," which draws on an ancient text, written by monks, that satirizes the Christian church?
"That's just a fascinating set of ideas there," Boulton said. "It would be great to partner with the symphony."
Boulton recently hosted a gathering of leaders from various arts organizations to hear their ideas.
"He's intent on developing some place to have more arts experiences, and I think, re-identify the seminary," said John Pickett, CEO of the Indianapolis Opera, after attending the meeting Oct. 12. "It's sort of lost in the scheme of things."
CTS has a history with local arts, as it hosted the former Edyvean Theatre for three decades. The professionally managed theater company moved to the University of Indianapolis in 2002 and later folded.
Boulton said he's heard many fond memories about Edyvean, and he wants to give Indianapolis new reasons to visit CTS.
"We would love to pick up on the best of that legacy," he said.
CTS has no desire to host another theater group at the moment. Boulton said the Edyvean's former home, Shelton Auditorium, needs an overhaul to bring it up to date.
Boulton is the sixth president at CTS, succeeding Edward Wheeler, who retired. He came from Harvard Divinity School, where he was an associate professor of ministry. He has a long-standing interest in the arts, having majored in history and film as an undergrad at Northwestern University and later co-founding a bluegrass gospel band. He's also ordained in the Indianapolis-based Disciples of Christ.
The seminary, which offers eight graduate-degree programs, has seen enrollment decline from a peak of about 360 in the late 1990s to 236 this fall. That's part of a long-term trend affecting seminaries across the country, Co-Academic Dean Holly Hearon said. In more recent years, she said, the amount of debt that potential applicants are carrying from college has crimped enrollment.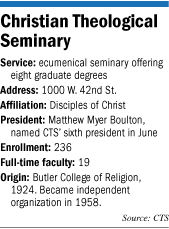 The number of seminaries is declining and that trend will probably continue for the next decade or two, said Federick Schmidt, a professor in the Perkins School of Theology at Southern Methodist University.
Many CTS students are older than 50. That's partly because many people hear the call of ministry when they are well into other careers, Hearon said. And CTS arranges its class schedule to accommodate students with families.
The school is trying to recruit younger students, which Boulton said is driven more by education and church needs than finances.
Pastors are retiring at a rapid clip, Boulton said, and churches need leaders who can stay with them for a lifetime. It also helps churches to recruit young families if the pastor has a young family.
While he'd like to see more students living on campus—50 student apartments are at half their capacity—there's no urgency to drive up total enrollment. With 19 full-time faculty, he said CTS can offer small classes, which might attract top students.
CTS benefits from a $100 million endowment, which covers 55 percent of its $9 million operating budget. The endowment was created by J. Irwin Miller, heir to the Columbus banking and industrial fortune and a champion of modern architecture. His influence is evident in the CTS campus, a prime example of mid-century modern architecture in Indianapolis.
The seminary, which began as a part of Butler University, is affiliated with the Disciples of Christ, but its students are headed for ministry in any number of denominations.
Boulton said a surprising number of students identify themselves as evangelical and non-denominational. He takes that as a sign that CTS needs to bridge the divide between the "mainline" churches with which it's historically aligned and the world of newer evangelical churches.
Boulton doesn't think CTS should abandon its "progressive" or liberal philosophy, but he insists that Christian labels are becoming less meaningful.
"We need to reach all kinds of partners and not be limited by old categories like 'mainline' and 'evangelical,'" he said.•
Please enable JavaScript to view this content.