The architectural firm of Schmidt Associates keeps a garden on the second-story roof of its 320 E. Vermont St. offices. Not for looks, but for research.
The two smallish swaths are microscopic "green roofs"—trays of soil-like material planted with hardy, drought-tolerant flora and laid over a building's conventional roof. The firm became interested in this darling of the sustainable-living movement a few years ago, when it was asked to equip the 3Mass condo development at 333 Massachusetts Ave. with one.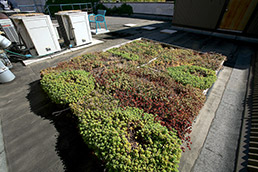 Schmidt Associates built this test plot on top of its Vermont Street offices after it was hired to create a green roof for the 3Mass condo project. (IBJ file photo)
Occasionally, Craig Flandermeyer, Schmidt's landscape architect and sustainable-design advocate, checks to see how the old test plots are doing. The top plant performers, he says, are forms of a near-indestructible Midwestern garden favorite called sedum, or stonecrop.
"Some of them will go to seed, and that seed gets blown around the roof," Flandermeyer said. "I've seen it growing in some of the dust that accumulates up here, in places where we definitely didn't put it."
It's a perfect metaphor for the city's green-roof movement, which has advanced slowly but steadily, in spite of a poor economy and the availability of cheaper (at least in the short run) alternatives.
The concept has been around for decades. Fitting out an apartment building, factory or office roof with soil and plants drastically slows storm-water runoff, cuts heating and cooling costs, increases the life of the roof by decades, and (if there are enough green roofs) even can lower a city's core temperature by doing away with acres of conventional, heat-absorbing, black-rubber-roof membranes.
Indianapolis doesn't have nearly enough green roofs to change the weather, but each year a few more come online. The Nature Conservancy's new Efroymson Conservation Center boasts one, as does the HealthNet Clinic Southwest and the Indianapolis Museum of Art. This month, a 5,000-square-foot section of Union Station bridging South Meridian Street is going green. It soon will be joined by a 5,000-square-foot "sky farm" on the roof of the new Eskenazi Hospital.
It's a nice little lineup, but light years behind other locales. In Stuttgart, Germany, for instance, it's nearly impossible to build a high-rise without one. And in Chicago, laws favoring green roofs have put the bloom on thousands of acres of skyscrapers.
Meanwhile, Adam McLane, director of operations for The Nature Conservancy, places the number of Indianapolis-area green roofs at "20-ish."
Few roadblocks
Several factors explain the local dearth of rooftop earth. Perhaps the most important is the lack of a regulatory carrot or stick. Chicago allows builders who "green up" their projects to take a shortcut through the city's approval process.
"They had a lot of stuff going on, with lots of red tape to go through," said Steve Hastings of Becker Landscape in Indianapolis. "It could take months to get approvals."
Hastings, who worked in the Chicago market for years, said cutting red tape for builders who adopt things like green roofs isn't enough motivation here, because the permitting process isn't as slow.
But at least the city isn't throwing up roadblocks. Far from it. When the first green roofs cropped up locally, officials fell over themselves to expedite them.
"We partnered together a lot, just sharing information," McLane said of The Nature Conservancy's relationship with the city. "We wanted it to be a model and hopefully a catalyst for other things in the city. So when we went through things like permitting, we'd double back and they'd ask, 'How was that process and was there anything that seemed like a barrier?'"
In April 2009, the city's Office of Sustainability, Department of Public Works and Office of Code Enforcement released a Green Supplemental Document, which provided a road map for anyone wanting to do something green to a building—including installing a green roof. The city's Office of Sustainability also offers a program that refunds up to half of a project's permit fees in exchange for green initiatives.
But such efforts are unlikely to make much of an impact given the stiff, upfront costs of an eco-friendly system.
"Depending on the project, green roofs in new construction can be two to three times more expensive than conventional roofs," said John Hazlett, director of Indianapolis' Office of Sustainability. "However, they last twice as long, so there is cost savings in maintenance, as well as energy savings through reduced heating and cooling use for buildings with green roofs."
That math might work during good times, but in a tight market a green roof can look like a costly doodad.
"It's anywhere from, say, $15 to $25 a square foot, over and above your roof costs," Flandermeyer said. "That number's going to vary depending on who you ask. But when your roof cost is X and you start adding that on top of it, that shows that even a small green roof starts to add up."
Myriad advantages
Not that the system doesn't offer practical advantages. The biggest is its undeniable ability to reduce the amount of storm water that buildings dump into the city's overtaxed sewer system.
The Nature Conservancy's McLane said his headquarters' one-acre green roof would save the city more than $600,000 on storm-water fees over 30 years.
While the more touchy-feely aspects of green roofs can be debated, their usefulness in mitigating runoff cannot. A large downtown green roof program could reduce the need for expensive storm sewer upgrades.
The problem is figuring out how many green roofs would be needed to take pressure off the system, and how they'd be developed, Flandermeyer said.
"You probably need a critical tipping point before you can count it enough to make a difference," he said. "One person doing a green roof is not going to suddenly decrease the size of that sewer tunnel by a foot."
Mandating rooftop greenery is probably out of the question. The city is surrounded by empty space, meaning that anyone who balks at putting up a premium-priced green roof could decamp to one of the doughnut counties and take care of storm-water runoff via an old-school retaining pond.
In suburban areas with abundant space, "you're not likely to get the economics of a green roof to work for you," Flandermeyer said. "But in a denser, urban environment where you're jumping through a lot of hoops to make storm water work, then the green roof plays into the equation."
Even today, marquee projects aren't necessarily just about aesthetics—though the planners are happy to play those up. For instance, the Union Station green roof will no doubt be quite pleasing to the eye when it fills out next spring. But the $260,000, city-financed setup will also dramatically improve area drainage problems.
And the Eskenazi Hospital's green roof, which will grow vegetables and give patients something inspiring to look at, also will mitigate the amount of storm-water runoff produced by the massive structure.
Given these facts, it's hard to find anyone in the field who doesn't think that, in a decade, Indianapolis will have more green roofs than today. Perhaps a lot more.
"The cost of installations are definitely going down as contractors get more familiar with it, coming up with some of the tricks of the trade to get them in less expensively," Flandermeyer said. "So that's all helping. But we're not Chicago yet, where they're everywhere."•
Please enable JavaScript to view this content.