Several close City-County Council races this fall are expected to make the battle over which party controls Indianapolis' legislative body fiercely competitive.
Some observers anticipate a handful of toss-up districts and a neck-and-neck Indianapolis mayor's race will make the council fight as spirited as the skirmish between Republican Mayor Greg Ballard and Democrat Melina Kennedy.
And the outcome of council races could be nearly as important in influencing policies—such as spending of funds from the city's utilities sale, a stronger smoking ban and public safety funding.
Observers say demographics alone may favor Democrats' regaining control of the City-County Council for the first time since 2007. Democrats swept control of all six Marion County offices up for grabs in the 2010 election and led Republicans in straight-party voting in Marion County by 20,975 tickets.
Brian Vargus, a political science professor at Indiana University-Purdue University Indianapolis who studies voting patterns, said 45 percent of votes cast in presidential races are based solely on party.
"In a race like this, which seems to have little interest, the advantage goes to the party that's likely to turn out," Vargus said. "Recent history shows, that's likely to be the Democrats."
Others contend that in council races, voters tend to be more strongly influenced by individual candidates than party.
"At the council level, I think personalities play a much bigger role than politics," said Ryan Vaughn, the council's Republican president. "The people who are engaged enough to reach out to their councilors are definitely showing up at the polls, and my sense is those people are willing to leave their party to support someone who protects their needs."
While the mayor drives the bulk of major policy initiatives, it's up to the council to approve or reject them. If the council's majority isn't the mayor's party, the mayor's agenda may face obstacles.
Councilors can float policy proposals, and with a two-thirds majority vote, the council also can override a mayoral veto.
Republicans now control the 29-member body with 15 seats. The Nov. 8 election will determine whether they maintain that edge or Democrats add to their 13 seats and gain the majority.
A Libertarian, Ed Coleman, holds an at-large seat and is vying to oust Republican Jack Sandlin in a southeast-side district race.
Toss-up districts key
At least four of the 25 voting districts are considered toss-ups because the mix of Republican and Democratic voters is nearly even. The four at-large races—which typically go to the same party that wins the mayor's race—also could shift the balance of power. Aside from Coleman, the other at-large seats are held by two Republicans and one Democrat.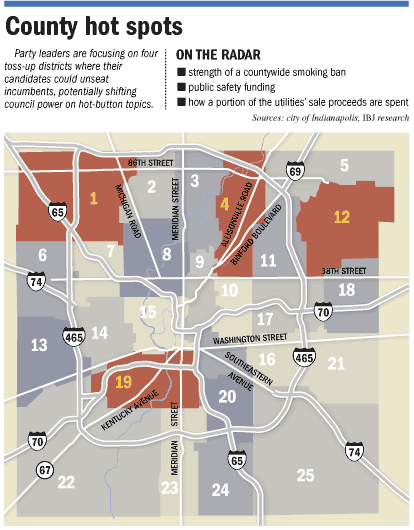 Republicans are targeting District 19, which is southeast of downtown, and District 1, which includes much of Pike Township. Party leaders say their candidates' name recognition and involvement in neighborhood organizations will help them unseat Democrats in those districts.
District 19 candidate Jeff Miller, a Southeast Neighborhood Development board member, is challenging second-term incumbent Dane Mahern. Susan Blair, president of the Pike Township Residents Association, will take on Jose Evans, a first-term Democrat, in District 1.
"They're close districts where the best candidate can and should be able to win," said Kyle Walker, the Marion County Republican Party chairman.
Democrats have set their sights on other politically split areas, including District 4, which runs from 38th to 96th streets roughly between Keystone and Emerson avenues, and District 12, which includes the Lawrence area.
Walker
Marion County Democratic Party Chairman Ed Treacy said his candidates' aggressive campaigning—coupled with Democratic-leaning demographics—will help his party win.
"I feel very confident that 4 and 12 are districts that numerically favor us," Treacy said.
In District 4, Democratic attorney Kostas Poulakidas is challenging Christine Scales, a first-term Republican. District 12 pits Republican Mike McQuillen, also a first-term Republican, against Regina Marsh, who leads the Forest Manor Multi-Service Center.
Issues at stake
Among the biggest areas of disagreement between Democrats and Republicans is how to spend the bulk of the roughly $425 million in proceeds from the sale of the city's water and sewer utilities.
Ballard plans to dedicate the lion's share of that money toward infrastructure, including repairing and upgrading roads, bridges and sidewalks, and tearing down unsafe, abandoned homes.
Kennedy has proposed putting $150 million of the money into an endowment that would fund early education, crime prevention and job-training programs.
Republican council leaders say ensuring the funds remain dedicated to infrastructure would be among their top priorities. They say the dollars are needed to repair crumbling neighborhoods—and are not designed to sustain ongoing programs.
Treacy
"When we voted on the [utilities sale], we told the people we were going to spend the money on infrastructure," said McQuillen, the council's majority leader. "People are upset at the fact Democrats might not do that."
But Marsh and other Democrats say investment in initiatives such as education will help move the needle on reducing poverty and crime.
"If this money is not going to address the 30-year infrastructure backlog," Marsh said, "why not first do some development of people?"
The outcome of the council races also will affect the scope of a citywide smoking ban. The current prohibition applies to most workplaces, including restaurants, but exempts private clubs and bars.
Democrat Angela Mansfield has drafted an ordinance that would include all workplaces, except for retail tobacco shops, and many of her fellow Democratic candidates say they support that position.
Republicans, including Ballard, recently have said they are willing to strike a compromise on stronger restrictions, but want to carve out additional exemptions for venues such as VFW halls and cigar and hookah bars, whose business relies on smoking.
"My sense is that we'll enhance the smoking ban either way," Vaughn said. "They want absolutely no exceptions."
Kennedy and other Democrats say they want to keep the same framework for public safety, with a mayoral appointee overseeing the Indianapolis Metropolitan Police Department.
But funding for the Marion County Sheriff's Office—led by Sheriff John Layton, a Democrat—could be affected. The department's primary duty now is running the jail, though deputies also provide security at the City-County Building and serve arrest warrants.
Republicans expect Democrats would budget more money to the sheriff to broaden the office's duties. But Democrats say any additional funding would be based on the department's needs.
"It's not about expanding the sheriff's influence. It's about serving the people," said Maggie Lewis, an incumbent Democrat who has been discussed as a future caucus leader. "It would be an opportunity for us to have an open dialogue about the sheriff's budget."•
Please enable JavaScript to view this content.