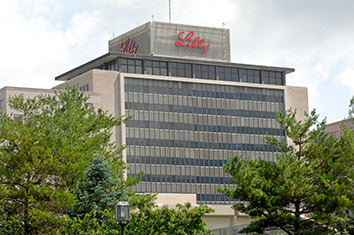 Eli Lilly and Co. said it will pull its Xigris sepsis drug from all markets after the treatment failed to reduce mortality in a study.
The withdrawal may cost Indianapolis-based Lilly $75 million to $95 million in the fourth quarter of 2011, or about 5 cents a share, the company said Tuesday in a prepared statement. Lilly's 2011 adjusted earnings forecast remained at $4.30 to $4.35 a share.
Xigris generated $104 million in sales last year, or less than 1 percent of revenue. The treatment, approved in the U.S. in November 2001, is a genetically engineered form of a human protein that inhibits the formation of blood clots and proteins that trigger inflammation.
"While there were no new safety findings, the study failed to demonstrate that Xigris improved patient survival and thus calls into question the benefit-risk profile of Xigris and its continued use," Timothy Garnett, Lilly's chief medical officer said in the statement.
Lilly shares fell less than 1 percent, to $38.01 each, in morning trading.
Aparna Krishnan, an analyst with IHS Global Insight, said a previous analysis by the U.S. Food and Drug Administration had identified safety concerns about the drug. That prompted the latest study, he said.
"Its benefit-risk profile shows that it's not really important enough" to keep it on the market, Krishnan said.
Analysts initially thought the drug could become a breakthrough treatment that reached $1 billion in annual sales. But regulators approved Xigris for a narrower patient population than many expected, and it never approached that mark. Xigris generated about $100 million in sales last year.
Lilly Chief Medical Officer Dr. Timothy Garnett said in a statement Tuesday that the results of the latest study were "quite unexpected." He noted that the standard of care for patients with severe sepsis has improved since Xigris was launched, and that may have played a role in the study results.
Lilly spokeswoman Tina Gaines said Tuesday that the drugmaker had given sales and marketing rights for Xigris in the United States and Puerto Rico to a privately held company, but it still had those rights in other countries.
Please enable JavaScript to view this content.