A West Hollywood man with a short entrepreneurial resume came to Indiana with a big idea to build hundreds of trucks outfitted with giant video screens.
The product is unproven, and so is Bob Yanagihara, the ambitious 50-year-old who dreamed it up.
But Yanagihara said the key word when he met with state and city economic development officials: jobs.
He's scheduled to stand alongside Indiana Gov. Mitch Daniels and Indianapolis Mayor Greg Ballard Wednesday afternoon to announce his plans to build a $21 million manufacturing plant on the northwest side and create more than 1,000 jobs.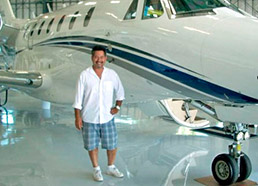 Yanagihara said that his previous business experience includes selling medical devices and floor tile.
His company, Litebox Inc., stands to collect training grants and property-tax abatement worth a total of $11 million if it creates the promised jobs, local economic development officials said. The deal doesn't pose much risk to local governments since the company won't receive tax breaks or grants unless it lives up to its promises.
Yanagihara had pegged the incentive deal's value at $40 million in an interview with IBJ Tuesday evening, but on Wednesday said he had Indiana's offer confused with one from another state.
He said his new company—which employs 69 people in California and Minnesota—will ultimately create more than 10,000 jobs, including positions in every state. Most of the jobs would be at production facilities in Indiana, California and New York, he said.
Yanagihara also said he has lined up more than $200 million from private investors to fund the start-up, but he declined to name any of them.
The deal originated with Develop Indy, the city's economic development arm, and is based on the creation of 1,100 new jobs, said Melissa Todd, the group's vice president of operations.
"It's an ambitious plan. We all recognize that," Todd said. "We have to trust the information we're being given, as we do with all clients."
She said the offer of performance-based incentives followed "weeks of due dilligence," including a review of financial projections and some evidence the company has investors.
Yanagihara told IBJ his company expects to create 1,200 to 1,400 jobs locally, paying salaries between $30,000 and $150,000.
He said the new factory near 86th Street and Georgetown Road would churn out eight mobile entertainment trucks per month, with 300 people working on them at a time in three shifts. More than 300 additional employees would work at a "media production office" at 146 E. Washington St., a building Yanagihara said he plans to renovate. Litebox has not yet hired a contractor to build its factory, Todd said. It plans to own, not lease, the space.
The company has not yet built any of the mobile entertainment semitrailers, which will feature 47-foot-tall, high-definition screens. The finished products would sell for about $3 million apiece and feature Panasonic LED screens and Bose sound equipment. Programming would be beamed to the devices by satellite.
"There's demand for these all over the world," Yanagihara said.
Yanagihara said his prior business experience includes selling medical devices and floor tile. (He owns a tile shop called Creative Environments in Los Angeles). His most recent entrepreneurial effort was a website called promotemysong.com that is no longer online. (He said his team is revamping the site's design for a relaunch).
He's the only contact listed on Litebox's bare-bones website, but he said a new version of the site will go live after the announcement.
Indiana Economic Development Corp. spokeswoman Katelyn Hancock declined to comment on the planned announcement. She also declined to characterize the vetting process that led to a deal with Litebox or confirm details of the deal.
Please enable JavaScript to view this content.