About a third of the money that flowed to Indianapolis mayoral candidates in the most recent fundraising cycle came from out-of-county donors, including several who live out of state.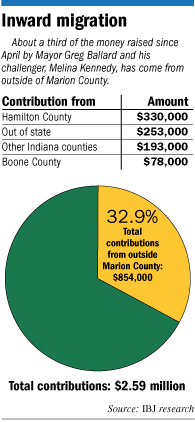 An IBJ analysis of campaign finance data from April 9 to Oct. 14 showed that Republican Mayor Greg Ballard raked in about $310,000—or 31 percent of his roughly $1 million total—from individuals, companies and organizations outside Indianapolis. His Democratic challenger, Melina Kennedy, brought in even more out-of-county funds, with a total of about $544,000, or 34 percent of her roughly $1.6 million raised.
Both of those sums include money from out-of-state contributors, which totaled $190,807 for Kennedy and $61,887 for Ballard. In those cases, donors ranged from candidates' family members to prominent national contributors.
Campaign finance experts say fetching those sums from donors who can't cast a ballot in the mayoral race isn't unusual, particularly in races where fundraising totals exceed $500,000.
Studies conducted in cities such as New York, Los Angeles and Chicago showed that 30 percent to 40 percent of donations typically come from outside the city limits, said Bert Johnson, an associate political science professor at Middlebury College in Vermont who has tracked national campaign contributions and teaches state and local politics.
"Candidates will try to raise money however they can and wherever it's easiest to do so," Johnson said. "One of the first rules of campaign finance is, you just ask anyone you know in any of your networks."
Non-Indianapolis donors' motivations for contributing to the Indianapolis race appear to run the gamut. Some have business interests in Indianapolis. More ideological types give based on party affiliation. And still others, such as Indianapolis Colts owner Jim Irsay, who lives in Carmel, donated to both candidates to have their bases covered.
The risk, Johnson said, is that the out-of-county giving could place both candidates in a position to put the needs of contributors above those of constituents.
"That's a concern," he said. "However, ultimately the constituent matters most because that's the one who is voting."
Money from the suburbs

The largest share of outside money for both Ballard and Kennedy came from the affluent suburbs in Hamilton County. Donors from Fishers, Carmel and Westfield provided $125,149 of Ballard's cash, while Kennedy collected $204,756 from residents and businesses in those towns.
Business owners were among the larger donors. For example, Albert Chen, CEO of Carmel-based Telamon, donated $6,000 to Ballard's campaign. Carmel-based Cha Cha Search CEO Scott Jones gave $5,000 to Kennedy.
Other donors who reside outside the county but have businesses in Indianapolis say they gave because their firms are affected by what takes place in the Circle City.
"My No. 1 asset in tech firms is people," said Fortville resident David Becker, an IT entrepreneur and founder of Indianapolis-based First Internet Bancorp who contributed $10,000 to Kennedy. "In order to attract good people and attract young folks and college students to Indianapolis, the city has got to be vibrant."
The out-of-county totals also include disbursements from family members and fellow political candidates' campaign committees. Ballard, for example, got $5,000 from Republican congressman Mike Pence, also an Indiana gubernatorial candidate. And he got $1,000 from State Sen. Beverly Gard, a Republican who has elected not to seek another term.
Democratic State Rep. Pat Bauer donated $2,000 to Kennedy and State Sen. Vi Simpson donated $300.
National cash
Kennedy, who is of Greek heritage, also benefited handsomely from prominent national Greek donors.
They include New York supermarket magnate John Catsimatidis, who gave her $2,500, and Westchester County, N.Y., entrepreneur Dennis Mehiel, who donated $10,000. Both have been involved with political groups that support candidates of Greek descent.
Nikos Mouyiaris, who founded a New York-based cosmetics manufacturer and has held fundraisers for other Greek candidates, also gave Kennedy $5,000.
She also raked in huge contributions from national groups, such as the International Brotherhood of Electrical Workers Educational Committee, which gave her $27,500, and abortion-rights-candidate booster group Emily's List, which gave her $10,000. Both groups are based in Washington, D.C.
Jon Mills, Kennedy's spokesman, declined to provide specific details about the campaign's fundraising strategy. But he said the large sums from out-of-state donors suggest she has a broad base of support.
"Our success as a city has repercussions and effects on people and organizations throughout the state and country," Mills said. "People and organizations here locally—but also beyond Marion County—think Melina Kennedy is the right choice for a variety of reasons."
A number of Ballard's out-of-state contributions came from companies with an Indianapolis-area presence—and their executives. Among them are Memphis-based FedEx, which gave the campaign $2,500; Los Angeles-based AECOM, which donated $2,000; and Phoenix-based Republic Services, which donated $1,000.
Ballard's largest individual out-of-state contributor is Sherif Aziz, whose Dayton, Ohio-based engineering and materials testing firm, TesTech, has a 30-person staff in Indianapolis.
Although Aziz lives in Centerville, Ohio, he said his $3,000 donation is an endorsement of Ballard's work in the city, including the infrastructure repairs funded by the sale of the water and sewer utilities.
Ballard campaign spokeswoman Molly Deuberry said all of those companies are greatly affected by what takes place in Indianapolis because they are invested here.
"Our fundraising efforts are focused in Indianapolis and to some degree the surrounding counties," she said. "The direction and success of Indianapolis certainly has an impact on the surrounding counties, and our contributors in the region want Mayor Ballard to keep moving the city forward."
Ballard contributor Ray Skillman agrees. The Johnson County resident, who owns nine auto dealerships in Greenwood and Indianapolis, gave $5,000 of his own money to Ballard, in addition to the $5,000 donated among his business partners.
Skillman said he's pleased with Ballard's efforts on infrastructure, citing engineering hundreds of millions in cost-savings for sewer projects as an example.
"He's done a great job with the parks and roads," Skillman said. "He's been very instrumental in the magnitude of things that have to be done for this up-and- coming Super Bowl."
But Westfield resident Mark Hill, co-principal of investment firm Collina Ventures LLC, which invests mostly in Indianapolis companies, said he's been swayed to Kennedy's side by her focus on education—an issue he said transcends county and party lines.
Hill, who said he leans Republican and also has financially supported Republican public schools chief Tony Bennett, gave $6,000 to Kennedy.
"I think education is the No. 1 economic development issue we have as a community," Hill said.•
______
IBJ researcher Barbara Hoffman contributed to this report.
Please enable JavaScript to view this content.