The city of Carmel will subsidize its new performing arts complex to the tune of $5.5 million this year, nearly triple the amount provided last year.
Brainard
Managers are under pressure to bring down the number, which isn't widely known, even among city council members. That's because the money will come from a private entity that's supported by tax-increment financing revenue, rather than the city's general fund.

"We're going to extraordinary measures to provide the funding for this year," Mayor James Brainard said.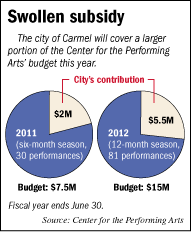 Brainard championed construction of the $175 million Center for the Performing Arts, which opened in January, but he never expected its operations to cost the city so much. He said he hopes that in three or four years, the subsidy can be reduced to $1 million.

To get there, the center's interim CEO, arts philanthropist Frank Basile, is scrutinizing expenses show by show, and he's pounding the pavement for big gifts. Basile said he's having success in fundraising, despite the sudden departure of CEO Steven Libman in July.

The center just landed its fourth $1 million gift, which is from a family that wishes to remain anonymous, and a sponsorship from law firm Krieg DeVault, the value of which was not disclosed. (One perk of giving $500,000 to $1 million is the right to use a box suite in perpetuity.)

The Center for the Performing Arts is managed by a private, not-for-profit foundation with the same name, where Basile, who donated $500,000, is also on the board. One of the foundation's top priorities is to establish an endowment.

"We want to do it as quickly as we can," Basile said. He's readily advertising $25 million as the magic number that would earn a donor naming rights to the 1,600-seat Palladium concert hall.

"Our experience would suggest, without an angel or two appearing on the horizon … it's going to take some time," said Steven Bronfenbrenner, principal at B Squared Consulting in San Francisco.

Bronfenbrenner consults on building and operating new performing-arts venues, but isn't a Palladium consultant. One of his past clients, the Nashville Symphony Orchestra, opened the Schermerhorn Symphony Center in 2006 after years of fundraising. The center drew support from some 4,000 donors, but it also had a wealthy patron, Martha Ingram.

The former head of Ingram Industries and companion to the Nashville orchestra's late music director, Kenneth Schermerhorn, she helped create an endowment that provides about $5 million a year for operations.

Nashville is one of the places Brainard visited in the early 2000s as he was planning the performing arts center. He said his projection for a $1 million subsidy is based on that research.

The city of Carmel gave $2 million from its general fund last year to help the Center for the Performing Arts cover its inaugural budget of $7.5 million. This year, the money is taking a circuitous route.

The Carmel City Center Community Development Corp., or "4CDC," a not-for-profit that was established to carry out various redevelopment projects, will make grants to the performing arts center.

The 4CDC already granted $1 million to the performing arts center, and Basile said he expects the rest of the $5.5 million to come throughout the year.

The 4CDC acts like an arm of the city's redevelopment commission, which controls revenue from the tax-increment financing district. State law requires the 4CDC to spend TIF money on "sticks and bricks" projects, said Karl Haas, attorney for the redevelopment commission.

But if the redevelopment commission gives 4CDC extra TIF money, that frees up other funds, which can be granted to the performing arts center, Haas said.

"It's a trade-off," he said in an e-mail.

That's why the subsidy affects other redevelopment plans on the drawing board.

"There's certainly $4.5 million worth of projects that won't be able to be done this year because of this funding," Brainard said.

City Council member Rick Sharp, who has been critical of Brainard in the past, said he didn't know the performing arts center's deficit had reached $5.5 million, but he thinks covering it with TIF revenue is "absolutely logical."

Libman booked much of the current season before the July 1 start of the current fiscal year. There are 81 shows in three venues on the calendar. Many of the acts are big names—Yo-Yo Ma, Bill Cosby and Dwight Yoakam—and artist fees account for about 25 percent, or $3.75 million, of the $15 million budget, Basile said.

Libman had anticipated needing $4 million from the city, but he never made a formal budget request. After he left, Basile said he and Rollin Dick, chairman of the foundation, realized the gap was closer to $5.5 million.

Basile said he's trying to rein in expenses for 2012-2013. He said the center's staff is being more careful in booking performances. Each show is sized up as a profit or loss.

While the center might still take a loss on certain acts, Basile said, "At least we can make a considered decision about a performer."

Basile is also comparing the center's costs to those of similar venues, placing controls on travel and defining which contracts should require board review.

Libman's contract was renewed just a few months before he resigned, which suggests the board didn't have a problem with the way he ran the performing arts center. Basile said he's putting together a set of "best practices," which would guide the whole organization.

"None of us have come from the entertainment industry," Basile said of the board.

Though the center's cost-consciousness suggests Libman wasn't focused on expenses, Basile said he thinks a pending audit will show that the center ended 2011 in the black.

Bronfenbrenner said performing arts venues often turn out to be more complicated than their planners expected.

Even with a hefty endowment, the Schermerhorn pays its bills by keeping the halls packed with weddings and other events, in addition to the orchestra's concerts, Nashville Symphony CEO Alan Valentine said. In one year, the Schermerhorn hosted 400 events, he said.

"The key to making these buildings self-sufficient is making them as busy as possible," he said.•