Associate Attorney, Lewis & Kappes
Sphere of influence: As one of the city's top immigration attorneys, she is at the center of the debate on reform. She tries to calm the emotionally charged debate with reason and facts. She also has been a leader of several organizations that assist immigrants, especially Hispanics.
When people meet Angela Adams and discover that she is an immigration attorney, the reaction is not always positive. But Adams can handle it.
"It's an opportunity to build a bridge," said Adams, an associate in the local law firm of Lewis & Kappes. "I try to educate people, everyone, about immigration. Immigration has become a dirty word."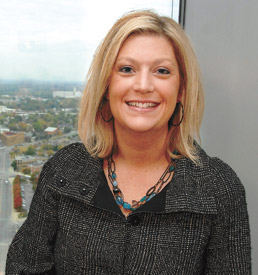 (IBJ Photo/ Perry Reichanadter)
She tries to counteract negative impressions by sharing information about the positive impact that immigration has on our community and our economy, "as opposed to playing the fear card," she said. She focuses on facts and tries to keep emotion out of such conversations.
The media have fanned the flames of the two extremes in the debate, but paid less attention to the vast gray area in the middle, she said.
The daughter of two teachers, Adams said, "my two loves are education and immigration. That is my passion."
Adams, 36, was a driving force behind the Indiana Compact, a statement of five principles to guide a "reasonable, rational" discussion of immigration. Nearly 4,000 people, including many leaders in business, education and politics, have signed the document.
She also was one of the attorneys who challenged two provisions of the state's new illegal immigration enforcement law in federal court. The judge in the case last summer ruled that the provisions were constitutionally suspect and temporarily barred their enforcement.
Adams considers the Indiana compact and the suit challenging the new law to be the highlights of her career. The lawsuit underscores the need for immigration reform at the federal level, she said.
Adams was named an Indiana Super Lawyer (the top 5 percent of lawyers, as nominated by their peers) in 2009 and 2010 and frequently speaks publicly about immigration issues.
She also has worked to improve access to higher education for immigrants. Ten years ago she founded Mapping Education Toward Achievement, which brings more than 300 Latino children to IUPUI every year to learn about postsecondary options.
"I'm very passionate about improving access for all kids to go to college," she said.
Adams is president of the board of the Immigration Welcome Center and represents the Mexican Consulate in Indianapolis. She also has served on the board of La Plaza, a Hispanic assistance organization. She volunteers her services at the Neighborhood Christian Legal Clinic.
Adams' commitment to helping immigrants stems from two sources. The first was her parents, who emphasized standing up for what she believes in and accepting other ways of life. The second was spending time abroad. She lived in Spain during college, and then taught English in Mexico after graduating from Indiana University.
"I really got to learn about the Mexican culture and felt very welcomed. I felt very appreciated and, seeing how hospitable the culture was to me, I wanted to return that favor," said Adams, who is fluent in Spanish.
Prior to joining Lewis & Kappes nine years ago, Adams was an education consultant for the Indiana Department of Education's division of Language Minority and Migrant programs. In that position, she trained teachers of English language learners.
A native of Carmel, she has been married for four years to John Adams IV. They have a daughter, Erin, 3, and a son, Johnny, 1. She enjoys bike riding and visiting Brown County.•
_____
Click here to return to the Women of Influence landing page.
Please enable JavaScript to view this content.