Hamilton County Commissioner
Sphere of influence: This elected official serving the state's fastest-growing county is a leader in the drive to improve public transportation in central Indiana and promotes regional cooperation among the diverse communities of central Indiana.
Politics was a natural path for Christine Altman.
"I've always been fairly competitive. I grew up in a large family, which sort of sets the stage," said the Fort Wayne native.
Altman, Hamilton County's third female county commissioner, has worked primarily in male-dominated fields. When she first went into public accounting in the late 1970s, only about 10 percent of accountants at her level were women. When she attended law school, less than a quarter of her fellow students were female.
"I just like challenges," said Altman, 56.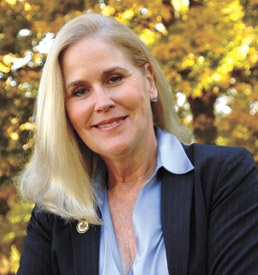 (IBJ Photo/ Perry Reichanadter)
Among her current challenges is promoting regional cooperation in areas ranging from transportation to security. Altman serves as president of the Central Indiana Regional Transportation Authority and is a member of the board of the U.S. 31 Coalition.
People don't realize how much tax money goes toward road construction and maintenance, she said. So she's working to persuade people that public transportation, which she calls "significantly under-funded," is a worthwhile investment.
"If you need to get to work or the doctor in another county, there are very few options to get that done, because we're siloed by county," she said.
Altman also has been instrumental in allocating funds from a federal Urban Area Security Initiative grant that was awarded to Marion and Hamilton counties after 9/11.
"There's nothing like money to get you to cooperate," she said.
Through the grant, the counties have invested nearly $40 million in terrorism and natural-disaster prevention and recovery programs.
Her current work is a long way from where she started, as an auditor. She soon turned to the law because she decided that "public accounting was way too much work."
After working six straight months without a day off, she gave up her job at PricewaterhouseCoopers LLP in Houston and returned to Indiana, where she earned her law degree from Indiana University. She has since spent 30 years practicing law, primarily concentrating on business, probate and real estate.
She entered the political realm when she was elected to the Hamilton County Council in 1996.
She is particularly proud of the strength of the capital projects that have been completed under her watch. Among the most important are a new work-release center and juvenile detention programs. Work-release inmates leave prison during the day to work, which allows them to pay for their own incarceration as well as provide for their families through child-support payments, she said.
"It sounds odd to be excited about a jail … but we have one of the better correctional systems in the state," Altman said.
Her advice to young women: Network, network, network. "That's what launched my political career. It's inexpensive and just takes a little time."
Altman is active in a variety of community organizations. She is a member of the United Way Advisory Board in Hamilton County and has been pro bono legal counsel for the Carmel High School Vocational Building Trades Corp. for 25 years. She is former president of the Hamilton County Leadership Academy and a former director of the Carmel Clay Chamber of Commerce.
She is married to John Dicklin and has two children: Nathan, 24, and Elizabeth, 21, as well as a stepson, Zachary, 26. She enjoys gardening, road trips with her husband, and canoeing and kayaking along the White River in Hamilton County.•
_____
Click here to return to the Women of Influence landing page.
Please enable JavaScript to view this content.