Chancellor, WGU Indiana
Sphere of influence: The head of the state's newest public university brings years of White House and Pentagon experience to her position. She hopes to revolutionize our state's approach to higher education by championing distance learning as key to closing the Hoosier degree gap.
"Opportunistic" is how Allison Barber describes her career, which took her from being a schoolteacher in Merrillville to deputy assistant director of defense at the Pentagon and back to Indiana to become chancellor of WGU Indiana.
"My career is like a quilt," said Barber, 47. "It has so many different components to it. Some of the principles that are consistent amongst my career [choices] are just to be opportunistic, to pursue opportunities that are interesting and mission-oriented."
Barber had spent 20 years in Washington, D.C., working for the American Red Cross, the White House, the Department of Defense and her own consulting firm, when Gov. Mitch Daniels selected her to head up the state's newest public university. WGU Indiana is an online university that the state established last year in partnership with Western Governors University. Already both Washington and Texas have created schools modeled after WGU Indiana.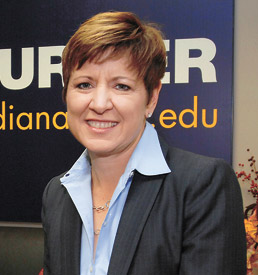 (IBJ Photo/ Perry Reichanadter)
Barber travels the state promoting online education to university presidents, mayors and chambers of commerce. Half of the jobs in the state will require at least a bachelor's degree by 2018, and distance learning provides the best option for many older students who have families and full-time jobs, she said. There are 730,000 Hoosiers with some college experience, but no degree. WGU now has 1,700 students whose average age is 36.
"I'm trying to shine a spotlight on new opportunities that will change people's lives at our university," she said. "That's the best thing we can do to help them and our state."
Barber terms education "the family business," noting that her mother, grandmother and great-grandmother all worked in the field. She holds bachelor's and master's degrees in elementary education, and tutors elementary students through the United Way of Central Indiana's ReadUp program.
Barber is eager to share her career philosophy with students of all ages. She encourages young people to follow their passions, and believe that opportunities will follow.
"There is no one path to success, which I define as contribution. So don't be paralyzed trying to find the one thing—the right job, the right company," she said. She also advises young people to start a business of their own at some time in their life. Running your own show gives you the confidence to handle career uncertainty, she said.
Barber sits on the boards of Techpoint, the Fellowship of Christian Athletes and the Pentagon Federal Credit Union. She also volunteers for the American Red Cross and is an active member of College Park Church.
Recreation is another priority for Barber. "F-U-N (It's more fun to spell than to say) is a strategic focus of my family's life—everything from golf to boating to going to the movies. There's very little in life that I can't and don't enjoy," she said.
Barber has been married for 23 years to her husband, Linden, who took her away from Indiana when he joined the military. It was her family who drew the northwest Indiana native back home after so many years. Leaving Indiana was the biggest mistake of her life, she said, only half-joking.•
_____
Click here to return to the Women of Influence landing page.
Please enable JavaScript to view this content.