Managing Partner, Indianapolis office, Plunkett Cooney PC
Sphere of influence: As one of the few women practicing real estate law, she is determined to make life easier for women who follow in her footsteps. She founded IndyCREW, an organization that promotes and supports women in commercial real estate.
When Shokrina Radpour Beering first entered real estate law in 1989, the field was dominated by men. It still is.
"I'm often the only female in the room," said Beering, managing partner of the Indianapolis office of Plunkett Cooney PC, a law firm based in the Detroit area.
She has faced her share of challenges, and she lacked a good mentor to help guide her through them. So she vowed to provide that support to other women in the field. In 2001, she founded IndyCREW, which offers networking opportunities, education and leadership training for women in commercial real estate. The organization now has 120 members.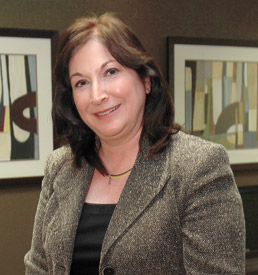 (IBJ Photo/ Perry Reichanadter)
Women continue to make 70 cents for every dollar men earn, even though women often work harder, said Beering, 52.
"I'm blessed to have been successful. It can be done. People just need to be encouraged," she said.
Beering, a native of Brooklyn, N.Y., cut her teeth in the industry at the former Banc One Corp. She then spent time at two local law firms—Bingham McHale LLP and Cohen & Malad LLP—before joining Plunkett Cooney two years ago.
She has been named an Indiana Super Lawyer (the top 5 percent of lawyers, as nominated by their peers) in five of the last six years. And she is one of only three Hoosiers who have been accepted into the American College of Mortgage Attorneys, which Beering claims as her top professional accomplishment.
Beering also is committed to the Villages of Indiana, which champions the rights of children to a safe and loving home.
"There are so many abused and neglected children in our city who don't have a voice. There is such a great need," Beering said.
She first became involved with The Villages in 1998. As chairwoman, she helped steer the organization out of financial difficulties. She also was instrumental in selecting The Villages' new headquarters, and handled all the legal work for the move pro bono. Under her leadership, the organization expanded its services to non-traditional families and absorbed two other child-serving organizations.
"You make a difference one child at a time," Beering said. "That's true in the professional world, for CREW or mentoring an associate at the firm. It's all relationship-based. You help people, one person at a time, and hopefully they'll do the same."
Her charity work extends even to Central America. After a mission trip to Panama several years ago, she and her husband decided they wanted to continue to support the medical care offered to the indigenous people there. So in 2005 they launched Mission Coffee LLC, which imports coffee into the United States, sells it, and funnels the proceeds back to the mission in Panama.
Beering has been married to her husband, Peter, for 23 years and has a daughter, Amanda, 21. She enjoys traveling, reading and baking—"brownies, chocolate cake, anything with chocolate."•
_____
Click here to return to the Women of Influence landing page.
Please enable JavaScript to view this content.