Legal Director, Indiana Coalition Against Domestic Violence
Sphere of Influence: She has spearheaded the fight against family abuse statewide. She has created programs to offer victims immediate protection from the time they enter a hospital and she founded the state's first domestic-violence education program for attorneys.
Most lawyers who start out in public service work eventually opt out, drawn by the higher salaries and financial security of private practice. But not Kerry Hyatt Blomquist, 50, legal director of the Indiana Coalition Against Domestic Violence.
"People who have the most influence in this kind of issue are the ones that have been around the longest," Blomquist said. "It's like Congress. You pretty much have to be there for a while before you have any sort of power or can work for the betterment of the problem."
Domestic violence killed 62 Hoosiers between July 2010 and June 2011, and drove nearly 11,000 to take refuge in an emergency shelter, according to the ICADV. More than 20,000 victims received other services, and 65,000 called a crisis line.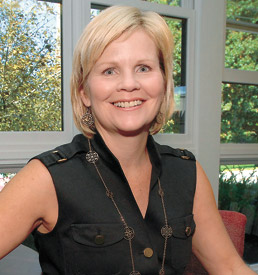 (IBJ Photo/ Perry Reichanadter)
Once Blomquist realized the extent of the problem several years ago, she decided to work for change. She became executive director of the Protective Order Pro Bono Project of Greater Indianapolis Inc. in 2001, which was eventually absorbed by ICADV, where Blomquist has worked since 2005.
In her current position, Blomquist represents domestic-violence survivors in emergency hearings, provides expert testimony in criminal and civil cases, trains law-enforcement recruits and speaks statewide on the impact of family violence on the legal, health care and social-service system.
She worked closely with the Indiana Supreme Court to develop the online Protective Order Registry, which allows police to verify protective orders 24/7. She also created a pilot program that makes law students available to represent domestic-violence victims at all times, and puts judges on standby around the clock to issue protective orders even before victims leave a hospital.
Blomquist founded the state's only domestic-violence legal education program at the law school, which she touts as her most significant accomplishment. Teaching at her alma mater allows her to put domestic violence on the radar screen of future attorneys.
"If you're a lawyer that works in family practice or in any kind of practice with clients on personal issues, and if you don't screen for domestic violence, you're arguably committing malpractice, because it's so relevant in so many areas of the law," Blomquist said.
One of the things she values about her job is the opportunity to expose her children and herself to problems far worse than they have ever faced themselves.
"When you're starting to feel so self-absorbed that little tiny things drive you crazy, sometimes it's time to revisit the big picture," Blomquist said. "I'm consistently grateful because I see people with seemingly insurmountable challenges every day."
The plight of victims makes her impatient for change, which she said is her greatest professional weakness. Gradually she has learned to pare her goals down and approach them with patience, rather than frantically pursue every good idea that occurs to her.
Blomquist also has been active in the legal community. She is first vice president of the Indianapolis Bar Association and will become president in 2013.
A native of Evansville, Blomquist is single and has two sons: Michael, 18, and Eric, 15. She enjoys running and is learning the art of home repair.•
_____
Click here to return to the Women of Influence landing page.
Please enable JavaScript to view this content.