Dean, Indiana University School of Nursing
Sphere of influence: She is a leader in nursing research, service and education. She helped pioneer the treatment of pain in children and founded the Society of Pediatric Nurses.
Marion Broome never liked babysitting, and had no interest in a career involving children.
After reading novels about nurse Sue Barton as a child, Broome set her eyes on nursing. In nursing school, she focused on mental health, and that's where she intended to specialize.
But then she joined the Army, "and the Army puts you where they want to put you," Broome said. She ended up being assigned to a pediatric unit, to cover a temporary absence of another nurse. When her three months were up, she asked to stay. She had found her calling.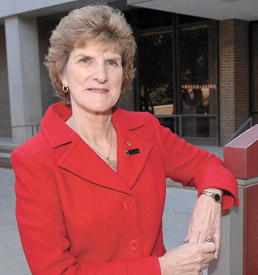 (IBJ Photo/ Perry Reichanadter)
"I loved caring for children and their families," said Broome, dean of the Indiana University School of Nursing. "Children are so resilient and so honest."
That was in the days when children were not treated for pain. They were even operated on without anesthesia.
Broome, 60, developed the Child Medical Fear Scale and a model for assessing and treating children's pain, which guided research into the topic for the next two decades.
She founded the Society of Pediatric Nurses and last year was inducted as a charter member of the Sigma Theta Tau International Researchers Hall of Fame. The awards she has received fill an entire page of her resume.
Broome became dean at IU in 2004 after holding faculty positions at a number of schools. Under her leadership, IU has consistently been named among the top 10 schools of nursing in the country by the National Institutes of Health. She has overseen the construction of new research facilities and the expansion of programs to help address the nursing shortage.
But what she values most is the opportunity to mentor other nurses and researchers.
"That's the most satisfying thing, to have those relationships, to see people recognize their own strengths, develop their skills and come into their own," Broome said. "That's how I benefit the field most, because it's not just me, but those people and what they can influence."
She advises younger women to build networks within their profession because "those other women will be your greatest source of challenge, comfort, stretching and learning." She also teaches women to learn to mentor themselves.
In addition to writing or co-writing five books, she has collaborated on many articles with students and younger colleagues.
One of the greatest lessons she has learned as dean is the importance of explaining her actions. In the beginning, she communicated her decisions, but not the why and the how behind them, which led to misperceptions, she said.
"I just assumed everyone would understand and follow my line of thinking," Broome said. "If you just give people something to think about, they're fine. But if you don't, they make up things."
Broome was born in Queens, N.Y., and grew up in Charleston, S.C. She has been married for 38 years to Carroll Broome. They have two children: Michael, 34, and Elizabeth, 25, and welcomed their first grandchild this fall.
Broome enjoys spending time outdoors, especially at state parks, on her pontoon boat and on RV trips.•
_____
Click here to return to the Women of Influence landing page.
Please enable JavaScript to view this content.