Forward, Indiana Fever
Founder, Catch the Stars Foundation
Sphere of Influence: She founded the Catch the Stars Foundation, which serves 1,500 underprivileged youth in central Indiana every year. She personally participates in many of the foundation's programs, and uses her celebrity to inspire young people. She also has a leadership role in a number of other charities that benefit children.
Tamika Catchings grew up making community appearances with her father, Harvey, an NBA player. So when she became a basketball star herself, reaching out to others came naturally.
In 2004, the Indiana Fever forward and her sister, Tauja, launched the Catch the Stars Foundation as the umbrella to a number of youth programs they had been running for years. The foundation's programs reach 1,500 local children annually.
Catch the Stars now offers free fitness clinics and basketball camps that teach disadvantaged youngsters about nutrition and health along with ball-handling tips. The foundation also encourages academic success with a scholarship program as well as tutoring, mentoring and giveaways of backpacks and school supplies. The foundation has installed reading corners at a local school and community center that offer books and a place to enjoy them.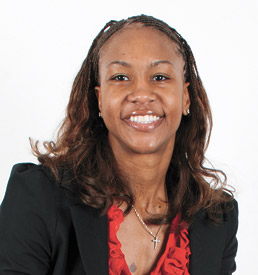 (IBJ Photo/ Perry Reichanadter)
Catchings, 32, doesn't just fund the programs; she gets involved with the kids one-on-one.
"I'm very passionate about helping our kids," said Catchings, a two-time Olympic gold medalist. "The kids we've been able to reach—it's been amazing. You listen to some of the kids' stories and things they went through."
Her childhood experiences help her relate to kids who face obstacles, said Catchings, who struggled with speech and hearing difficulties and wore hearing aids as a child.
"I really use that to help these young kids," she said. "I tell them, 'I've been through this. I've wanted to give up. I was told I'd never make it. But had I stopped trying to keep practicing and get good grades, I'd never have ended up where I'm at.'"
The mission of the foundation is "Preparing our youth to catch their dreams one star at a time." Catchings has seen success stories come out of her efforts. Two of the girls who participated in Catchings' first basketball camp today are rookies in the WNBA. Many others have entered college.
Her advice to young people before starting an endeavor is to do plenty of research, set specific goals and then give it their all.
She sits on the board of Special Olympics Indiana and mentors a "little sister" through Big Brothers Big Sisters of Central Indiana. Catchings, who was the WNBA's MVP last season, also heads up the Get Fever Fit/WNBA Fit initiative and is captain of a reading team through WNBA Cares. She has won many awards for her public service, including the WNBA's Community Assist Award—six times.
Catchings was born in Stratford, N.J., and grew up in Chicago and Duncanville, Texas. She has undergraduate and graduate degrees in sports studies from the University of Tennessee.
In her free time, Catchings reads, especially poetry, and watches movies. She confesses to a weakness for junk food. Her current favorite: the grilled cheese sandwich at the Slippery Noodle Inn. Catchings said, "You can go home and make a grilled cheese, but it doesn't taste like that!"•
_____
Click here to return to the Women of Influence landing page.
Please enable JavaScript to view this content.