Founder and principal, Borshoff
Sphere of influence: She founded the city's largest public relations agency and has become a force in the not-for-profit world.
Myra Borshoff Cook founded Borshoff, which became the city's largest public relations agency, in 1984. But she took a roundabout way to get there.
First she spent time as a teacher, a computer programmer and a banker. But all of those jobs had a common tie, she said.
"Communications has been at the core of everything I've done. Even as a computer programmer, I was communicating with the machine," said Cook, 64.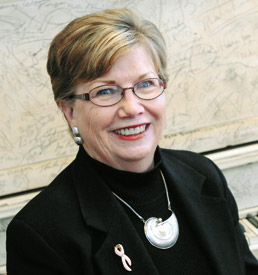 (IBJ Photo/ Perry Reichanadter)
"I never had as a goal: Own a business. There were just opportunities that presented themselves, and I decided to act on them and things worked, so I kept pursuing them."
Today Borshoff employs 56 people. Clients include Eli Lilly and Co., the Indianapolis Colts, Indianapolis Power & Light Co. and Hurco Cos. Inc. Cook has developed special expertise in crisis communications.
The firm offers flexible and part-time schedules, as well as the unusual benefit of allowing employees to bring their babies to work with them until they are 6 months old.
Although many firms in the industry have suffered during the recession, Borshoff has hired 14 people in the last 18 months, and is expanding its space in the Majestic Building, Cook said.
She is perhaps as well-known for her community involvement as for her accomplishments as an entrepreneur. Her list of volunteer activities reads like a Who's Who of local not-for-profits. Some of those volunteer experiences stand out for Cook:
• She serves on the board and the executive committee of the Greater Indianapolis Chamber of Commerce.
• She is president and a charter board member of the Indianapolis Press Club Foundation, which got its start 21 years ago. The organization provides scholarships to Indiana communications students. "I do believe that journalism and publications, TV … and radio are all so important to our country being as strong as it is," she said.
• She sits on the board of the Phoenix Theatre. Cook said she has had a passion for theater ever since being in a production helped pull her out of depression many years ago.
She also has led industry groups, such as the Indianapolis chapter of the International Association of Business Communicators, as well as sitting on the boards of The Children's Museum of Indianapolis and the Greater Indianapolis Progress Committee.
Cook has received a number of honors. In 2005 she became the first woman to be inducted into the Public Relations Society of America College of Fellows. She also has entered the Junior Achievement Central Indiana Business Hall of Fame.
She shares her views with young people by speaking regularly at Ball State University, her alma mater, as well as at Butler University, Marian University and Franklin College.
Cook was born in Wisconsin but grew up in Lake County. She has been married to Frank Cook for nine years and has two children: Tom, 32, and Amanda, 30, and one grandson.
She enjoys gardening and gathering persimmons on property she and her husband own on a lake in Morgan County, where they are remodeling a home that will become their permanent residence.
"We'll live out the rest of our days in the hills of southwestern Indiana," she said.•
_____
Click here to return to the Women of Influence landing page.
Please enable JavaScript to view this content.