Partner, Krieg DeVault LLP
Sphere of influence: She has been a U.S. attorney, a U.S. assistant attorney general and an attorney in private practice. Her work in homeland security led to her involvement in the nation's response to 9/11. She also has helped lead many of the city's most important charities.
Deborah Daniels has built a law career that few can match. But it's in the not-for-profit world where she believes she has made her mark.
"I have a need to be a part of something greater than myself," Daniels said. "I just feel it's important for everyone to work for the betterment of the larger community."
Daniels, 60, is co-chairing the $85 million capital campaign for the New Wishard Hospital. When she heard about the project, she was so impressed by the hospital's plans and by the extent of the need for Wishard's services, that she felt compelled to climb on board.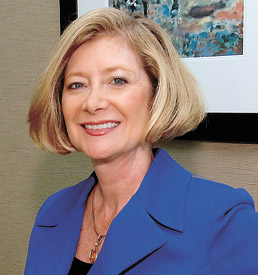 (IBJ Photo/ Perry Reichanadter)
In 1996, she helped found Coburn Place Safe Haven, an organization that assists abused women and their children.
"I pulled together people from the city, the private sector and others to create much-needed transitional housing," Daniels said. "It was very exciting when that came to fruition."
She also chairs the Greater Indianapolis Progress Committee and is secretary and chief operating officer of the Economic Club of Indianapolis. She sits on the executive committee of the United Way of Central Indiana, where she was the inaugural chairwoman of the Ready to Learn, Ready to Earn program that aims to bring the reading and math skills of disadvantaged local schoolchildren up to grade level by the time they reach the sixth grade.
She also pursues her goals of improving the community through her work as a partner at the local law firm of Krieg DeVault, where she specializes in matters affecting public safety, homeland security and disaster preparedness. She is involved in an effort to rewrite the Indiana criminal code with an eye toward reducing recidivism.
"How do you find ways to help people take a different turn in life when they come out of prison, instead of treating them like criminals for the rest of their lives and thereby encouraging them to be criminals?" Daniels asked. "Can you make some changes that would give people a chance?"
She's also active in an effort led by the Annie E. Casey Foundation and the state of Indiana, which aims to make it easier for ex-offenders to get certain jobs requiring state licenses.
Daniels is a former U.S. attorney and former U.S. assistant attorney general. While at the Justice Department, she managed a $4.2 billion budget and was directly involved in the nation's response to the terrorist attacks on 9/11.
She got her start in public service when former Marion County Prosecutor Steve Goldsmith recruited her to try felony cases. Although she was intimidated, she thought, "If you're going to be a good lawyer, you'd better not be afraid of the courtroom. It was a big leap. But if you're not at least a little bit terrified by the next thing you try, you're not stretching enough."
Daniels has been married to Lyle Mannweiler for 26 years. She has 10 nieces and nephews, whom she dotes on. She and her husband, a professional photographer, love to travel, especially to visit ancient ruins.•
_____
Click here to return to the Women of Influence landing page.
Please enable JavaScript to view this content.