Director, Eugene & Marilyn Glick Family Foundation
Sphere of influence: She has been a philanthropist and high-level volunteer par excellence, helping to lead more than 20 local organizations. She has focused particularly on organizations benefiting women.
Entrepreneur, philanthropist, community leader, artist—Marianne Glick's career has encompassed all of these roles.
For 25 years she ran Glick Training Associates, a management training company. But she is perhaps more well-known for her community service. As chairwoman of the United Way of Central Indiana's 2011 annual giving campaign, she created the theme, "Dream Big and Give Gleefully." In support of the theme, she frequently sports a multicolored "dream coat" at fundraising events.
She has developed and personally funded a Give Gleefully video contest and a loyalty club for donors who give at least $150.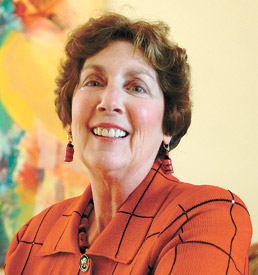 (IBJ Photo/ Perry Reichanadter)
The theme seems to fit Glick herself, who has served in volunteer leadership roles at more than 20 not-for-profits, ranging from Butler University to Prevent Blindness Indiana to Habitat for Humanity of Indiana.
For the past four years she also has served as vice chairwoman of the Eugene & Marilyn Glick Family Foundation, which has funded such local projects as the Glick Eye Institute at the Indiana University School of Medicine and the Indianapolis Cultural Trail, among many others.
The desire to please her parents has been one driving force in her success, she said.
"The other one is I always wanted to prove to myself and others that girls were just as good as boys, women as good as men," said Glick, 61, who grew up at a time when women were expected to get married after college and had limited professional options.
"I always wanted to do 'more than' or 'better than' or be ahead of the curve."
Much of her community service has helped improve opportunities for women. She founded the Executive Women's Leadership Program, and has served on the board of Big Sisters and the Women's Business Initiative, among other organizations.
Her advice to young women: "I would tell them to believe in themselves, believe that they're capable of changing and learning, capable of adapting, and, when asked, 'Could you do this?' to say, 'Yes I can,' and then figure out how they can do it."
Her training company was often presented with contracts that Glick was unsure how to fulfill, but she always found a way.
When she was 55, her career veered in a new direction. Although she had never picked up a paintbrush before, she decided to give it a try. Six years later, she has managed to become an accomplished artist. Her paintings have been accepted into juried competitions and won awards in Indiana, Michigan, Illinois and Florida. She now runs GlickArt, an online gallery and custom art business. And she frequently donates art to not-for-profit groups that sell the work at fundraisers.
"I feel exuberant and joyful when I'm painting," She said. "I'm completely in a state of flow."
Other pastimes include bike riding, walking, taking exercise classes and going to the theater. Glick and her husband, Mike Woods, have been married for 11 years. She has three stepdaughters and five step-grandchildren.
Glick has a personal mission statement: "To ignite, inspire and direct energy for positive action." It's a goal that she tries to live out every day.•
_____
Click here to return to the Women of Influence landing page.
Please enable JavaScript to view this content.