President, Patachou Inc.
Sphere of influence: Against all odds, she has built a thriving group of restaurants that have transformed the local dining landscape by emphasizing fresh, local ingredients and careful preparation. Both Hoover and her company are strong supporters of a variety of local charities.
Patachou Inc. is the unlikeliest of success stories. Martha Hoover launched her business in an industry with a notoriously high failure rate despite the fact that she had absolutely no restaurant or business experience and was raising two preschoolers, with another baby on the way.
Fast-forward 22 years: Hoover heads a restaurant group that has eight locations, with two more slated to open in early 2012.
Her ignorance paid off, she said.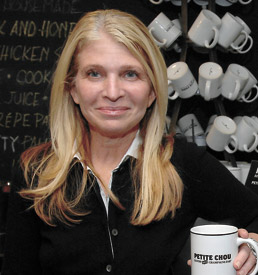 (IBJ Photo/ Perry Reichanadter)
"The fact I didn't have restaurant experience ended up to be one of the best things ever, because I was not trapped or held back by the norm of the day, in terms of how food was being delivered and prepared and served," said Hoover, 57.
She described that norm as "ugly." In 1989, restaurants were, in her opinion, at their low point in terms of the quality of the food and its preparation. She loved cooking simple food from scratch with fresh, local ingredients. She thought other people might appreciate the approach as well, and thereby started a sea change in the local dining scene.
"We were doing farm-to-table food before 'farm-to-table' was even a phrase that was being used," Hoover said.
The original Café Patachou at 49th and Pennsylvania streets soon had lines out the door on a regular basis. It was followed by other Café Patachou locations and then by Petite Chou and Napolese. Hoover plans to launch a new concept, "Public Greens," in Broad Ripple next year.
The restaurants have won many local awards, as well as getting attention from publications ranging from The Washington Post to The Denver Post.
Patachou Inc. is active philanthropically. The company will sponsor a Teach for America high school teacher in Indianapolis for the next three years. It also is a regular supporter of the Women's Fund of Central Indiana and St. Mary's Child Center.
Hoover was a founding board member of Impact 100 Greater Indianapolis, a women's giving circle that makes at least $100,000 in grants each year. She also is a member of the United Way's Tocqueville Society for top donors and has served on the boards of the Indiana Aids Network and Dance Kaleidoscope.
When she looks back on the struggles of starting her business, Hoover recalls one of the original Nike "rules": "It's not going to be pretty."
"The process of creating a business is not pretty, but there are moments that are glorious," Hoover said. Her advice to her daughters and other young woman is not to be afraid of hard work.
Before trying her hand at entrepreneurship, Hoover was an attorney in the Marion County Prosecutor's sex crimes division. She holds undergraduate and law degrees from Indiana University.
She was born in Brooklyn, N.Y., but has lived in Indianapolis since she was 9. She and her husband, John, have three children: Sarah, 27; Rachel, 25; and David, 22, all of whom have worked in the family restaurants. Hoover hopes that Rachel, who is finishing a master's in gastronomy in Italy, will be sharing her expertise at Patachou before long.
Hoover also has two dogs, a Maltese and a mix, which she considers to be additional children, and 2 "grand-dogs." "We're a dog family," she explained.
She said she enjoys yoga, bike riding and traveling, but that "eating is my favorite thing in the whole wide world."•
_____
Click here to return to the Women of Influence landing page.
Please enable JavaScript to view this content.