Partner, Crowe Horwath LLP
President, Capital Improvement Board
Sphere of influence: The first woman head of the Capital Improvement Board took over at a critical juncture. Nearly two years into the job, she has succeeded in avoiding a potential $47 million deficit and signing a three-year deal with the Pacers to remain at Conseco Fieldhouse. Next up: Super Bowl XLVI.
"An onslaught of fiscal matters." That's how Ann Lathrop describes what she confronted when she became the first woman to assume the helm of the Capital Improvement Board in late 2009.
Nearly two years later, she is breathing easier. She helped the CIB avoid a projected $47 million shortfall, thanks to budget cuts, an expanded innkeepers' tax area, a debt restructuring and a loan from the state. She also led the negotiations that resulted in a three-year contract to keep the Indiana Pacers at Conseco Fieldhouse. The CIB manages the fieldhouse as well as Lucas Oil Stadium, Victory Field and the Indiana Convention Center.
"We have solved quite a few problems and hopefully planned for the future in a way that the organization can continue on nice and strong," said Lathrop, 43.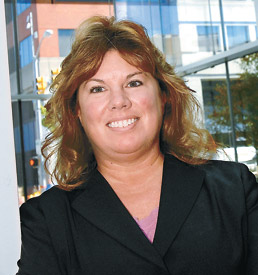 (IBJ Photo/ Perry Reichanadter)
Now she is setting her sights on a smooth Super Bowl, which comes to Lucas Oil Stadium Feb. 5. Her other goals include reaching a long-term agreement with the Pacers, which she terms "critical," managing CIB's debt and keeping the expanded convention center full.
Although she's not working as many hours as she did a year ago, she still spends 75 hours a weeks on her CIB duties and her full-time job as a partner at the local office of Oak Brook, Ill.-based accounting firm Crowe Horwath LLP. As head of market development there, she oversees 70 people and a budget of more than $7 million.
She enjoys mentoring and is active in the firm's Women into Leadership program. She tells women to follow their instincts.
"Go with what feels right," she said. "Keep in mind that to spend some extra time with your career doesn't have to mean you're shortchanging your family. Part of what works in people's lives is that your kids want to see you happy and your spouse wants to see you happy."
Prior to joining Crowe Horwath in 2004, she held management positions at Lockheed Martin and KPMG and spent time in city government. In 1997 she was hired as the city's first female controller, with the responsibility for a budget of $1 billion.
Lathrop said she has enjoyed opportunities "to do things that I didn't exactly know how to do, being given a chance to figure things out and try for something pretty exciting—the opportunity to learn and the opportunity to fail."
The CIB isn't Lathrop's only volunteer gig. She also serves as president of the Fort Harrison Reuse Authority and sits on the board of the Greater Indianapolis Progress Committee.
Lathrop, an Indianapolis native, has been married for 11 years to Michael Gargano, secretary of the Indiana Family and Social Services Administration. In her rare free hours, she enjoys reading mystery novels, riding her Harley-Davidson with her husband, visiting her two stepdaughters at college, and, of course, cheering on the Colts, the Pacers and the Indians.•
_____
Click here to return to the Women of Influence landing page.
Please enable JavaScript to view this content.