President and CEO, Young Audiences Arts for Learning
Sphere of influence: This outspoken advocate for arts education has expanded programs in spite of the recession and built an organization that now brings music, dance, visual arts and theater to nearly 200,000 Indiana children each year.
JoEllen Florio Rossebo has been living and breathing arts education for 16 years. But she is not even close to having her fill.
Rossebo, CEO of Young Audiences Arts for Learning, said she is motivated by "the sincere belief in what we do. We improve the life of children. We give them a well-rounded education by giving them arts experiences, a way to integrate the arts into learning and life."
Rossebo, 57, is a vocal advocate for arts education and plays an active role in pressing local and state government for arts funding.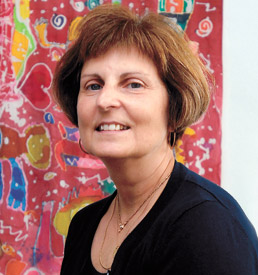 (IBJ Photo/ Perry Reichanadter)
At Young Audiences she has focused on building partnerships with universities and arts organizations, which has allowed the organization to extend its reach. Last year, Young Audiences artists served 188,500 students in 280 Indiana schools with 2,920 performances, residencies and workshops.
Through collaboration with churches and community centers, Young Audiences' Summer Arts for Youth program brings music, dance, visual arts, and theater to 350 disadvantaged local children every year. In 2008, Rossebo traveled to the White House to receive the Coming Up Taller Award in recognition of the summer program. Young Audiences is the only Indiana organization to have received this rare presidential honor.
Rossebo has expanded Young Audiences' preschool programs to serve 2,600 children at 27 sites, a number that is expected to grow by 50 percent next year. She also introduced a program for kindergarten and first grade that focuses on vocabulary development to prepare children for reading.
In addition, she has led the organization's expansion into Lafayette and added programs in Columbus.
The recession has crimped school budgets and therefore has made life more difficult for Young Audiences. But, unlike many not-for-profits, it remains stable and solvent. And Rossebo remains undaunted.
"I'm really proud about igniting the staff here to really be constantly learning about the arts and to be looking at how what we do affects children and teachers in a really positive way," Rossebo said. "We're going to continue the work we've been doing for 50 years and keep it new and fresh and relevant."
When she arrived at Young Audiences as a program director in 1995, she built its Arts Partners program from six to 60 schools. The program was so successful that it received support from the National Endowment for the Arts.
Rossebo serves on the board of Susurrus Dance Group and on Ivy Tech Community College's Visual Arts Department Advisory Committee. She previously was a member of Indiana Landmarks' Cultural Committee and a member of the board of the Indiana Coalition for the Arts.
"The arts were always part of my life," said Rossebo, who grew up in a family that visited museums and attended concerts. Parents who think that arts education is lost on children who will not be professional artists are missing the point, she said. The arts are a crucial part of being a well-rounded citizen of the world, said Rossebo, a native of Chicago.
Rossebo is single and the mother of two daughters: Olivia, 31, and Lily, 28. Lily has followed in her mother's footsteps by becoming an artist and art researcher. Having made a commitment to slow the pace of her life, Rossebo enjoys reading and spending time in her garden. "I even like weeding," she said.•
_____
Click here to return to the Women of Influence landing page.
Please enable JavaScript to view this content.