President and CEO, the International Center
Sphere of influence: She has been a driving force in making Indiana more global. By bringing many more foreign visitors to the state, she is raising the profile of Indiana overseas and helping to build Hoosier international business opportunities.
Being born in Libya and growing up in France, Germany and the United States gave Diane Thomas the perfect preparation for her job as CEO of the International Center.
"It's been so much a part of my DNA, I can't imagine myself not working amid different cultures," said Thomas, who is fluent in French and Spanish. "What may feel unnatural to others feels natural to me."
In her five years as CEO, she has expanded the center's role as a "catalyst for a global Indiana." She has nearly doubled the organization's budget, which is projected to be $1.4 million next year. That growth has come from gifts from Lilly Endowment Inc., corporate sponsorships, grants, individual donations and program fees.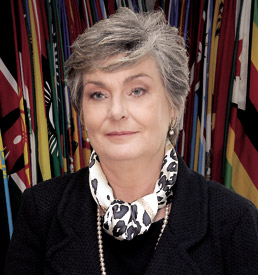 (IBJ Photo/ Perry Reichanadter)
"It's that vision of this work as important and relevant to the health of our community, and that message has resonated," said Thomas, 53.
Other achievements include creating an Office of Protocol, adding relocation services and cultural competency programs, and tripling the number of emerging leaders visiting Indiana through the U.S. Department of State's International Visitors Leadership Program. Those visitors, in the fields of law, journalism, sports management and other fields, both share their foreign perspective with local professionals and carry news of Indiana's strengths back to their home countries.
The International Center also houses the new Asian Learning Center of Indiana, which aims to educate Hoosiers about Asian culture, history and languages. The pilot program with 20 participating schools is expected to grow to 100 next year.
"In a community where foreign languages, immigrants and international engagement are not always a top priority, Diane is tireless in her quest for global understanding," wrote Rajan Gajaria, chairman of the International Center, when he nominated Thomas for IBJ's Women of Influence.
Thomas said she is proudest of the team she has built—a staff who collectively speak 15 languages and have lived in 15 countries.
Thomas sits on the board of the National Council of International Visitors and is a member of the mayor's Advisory Board to the Office of International and Cultural Affairs. She previously was a member of the board of the International School of Indiana.
Thomas said she owes much of her success to mentors who "believed in me more than I believed in myself." She in turn makes mentoring younger staff members a priority.
"At my age I'm more and more aware of the fact that a new generation needs to be prepared to lead," she said.
Her advice to young women is to trust their instincts and to be true to themselves.
"Not trusting my instincts has been my biggest professional mistake," she said. "The mistakes I've made are things I really knew much sooner, but I didn't trust my own judgment."
Before joining the International Center, Thomas worked as a fundraising consultant and as a vice president at Planned Parenthood of Indianapolis.
She is single and has two children: Render, 24, and Lee, 21. She of course enjoys travel, as well as entertaining, hiking with her golden retriever and riding her bike to work. She also frequently indulges in games of euchre, which she calls "my Hoosier passion."•
_____
Click here to return to the Women of Influence landing page.
Please enable JavaScript to view this content.