President and CEO, Girls Inc. of Greater Indianapolis
Sphere of influence: She put three decades of corporate experience to work at Girls Inc., which has quintupled the number of girls it serves at a fraction of the cost. The turnaround has earned the organization a host of awards. And the expansion is far from complete.
Pat Wachtel has become an expert on change.
Dayspring Center, a family homeless shelter, was on the brink of collapse in 2002. Wachtel, who was chairwoman, led the board through the difficult decision to temporarily shut down the shelter and permanently close its soup kitchen, which meant laying off the entire kitchen staff. But the restructuring paid off, and the shelter is thriving today.
Next, when Indiana Landmarks' longtime president retired in 2005, chairwoman Wachtel was asked to step in as interim president. She spent a year searching for a new leader while easing the organization through a cultural shift.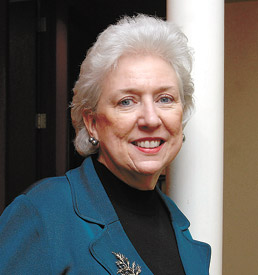 (IBJ Photo/ Perry Reichanadter)
Four years ago, Girls Inc. of Indianapolis hired Wachtel as president, to turn the organization upside down, by abandoning its clubs in favor of an outreach model. In three years, Girls Inc. drastically extended its reach while slashing costs. The organization went from serving 600 girls at an average cost of $235 per hour to serving 3,000 girls for less than $35 an hour.
The secret to its success: The decision to abandon the need for its own real estate. Instead, the organization approached churches, schools, libraries and community centers, asking to use their space in exchange for bringing in Girls Inc.'s high-quality programming. Today Girls Inc. presents its research-based, outcome-driven programs in space borrowed from more than 80 local facilities. That compares to just two club buildings that Girls Inc. had five years ago.
"We're leveraging existing resources to do a better job for girls in our community," said Wachtel, 56.
Girls Inc. has expanded into Hendricks County, and plans to move into Hamilton and Boone counties as well. Its goal is eventually to reach all 105,000 school-age girls in those counties and Marion County, inspiring them to be "strong, smart and bold," Wachtel said.
Key to that expansion has been training more than 300 volunteers and developing technology to manage communications with them.
Girls Inc.'s success earned it Indiana Achievement Awards in 2008 and 2011, and earned Wachtel a Torchbearer Award in 2009 from the Indiana Commission for Women.
Wachtel said she was inspired to excel by her parents, who always urged her to "Do the right thing, the right way for the right reasons."
She said her biggest career mistake was taking too long to learn how to be a good listener. "The faster you learn that skill, the better you are at everything you do. So often we think it's more important to talk than to listen."
Wachtel moved into the not-for-profit sector after 28 years at Irwin Mortgage Corp. and Huntington National Bank, among others. Today she often mentors women considering the leap into not-for-profits. For her, it wasn't a difficult choice.
She was among the first generation of female bank officers, which presented its share of challenges. She welcomed the opportunity to help girls prepare for careers, whatever path they choose.
Her advice to young women: Learn to think critically and to negotiate.
"So much of what we as a gender complain about has everything to do with our own ability to advocate for ourselves," Wachtel said. "Developing good negotiating skills is an important part of that."
Wachtel, a native of Hammond, enjoys reading, cooking and playing golf.•
_____
Click here to return to the Women of Influence landing page.
Please enable JavaScript to view this content.