The floodgates are far from open, but buyers are cautiously returning to the local real estate market.
Market observers say most of today's acquirers fit into one of three categories: opportunists looking for a fire sale, investors tired of watching their parked cash earn nothing, or business owners who want a building of their own.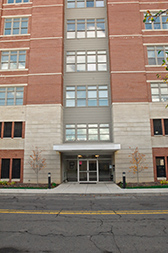 A failed condo project at 707 E. North St. was acquired by developer Joe Whitsett. (IBJ Photo/ Perry Reichanadter)
Many buyers in the latter category are companies that leased space in the past but are looking to buy a building. Such buyers can be better positioned to secure bank financing than investors, said Mike Wells, president of Indianapolis-based REI Investments.
One example is Trendy Minds, the locally based marketing firm. The company in October acquired a former labor union hall building at 531 E. Market St. and plans to spend $1 million to refurbish the property.
Another is engineering and architecture firm DLZ Indiana, which acquired the century-old building at 157 E. Maryland St. in late 2010 and is spending $2.3 million to renovate the four-story property.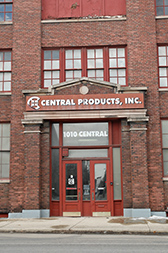 Affordable housing developer Joe Whitsett is renovating the former Central Restaurant Products building at 1010 Central Ave. (IBJ Photo/ Perry Reichanadter)
Of course there's also Angie's List, which has continued to add to its near-east-side campus.
"Companies are feeling more confident about how they're stabilizing, so they're ready to make long-term commitments," said Jenna Barnett, president at the real estate brokerage Newmark Knight Frank Halakar.
Most of the activity is downtown, and most of the properties are trading for $2 million or less, Barnett said.
Opportunity knocks
Depressed prices also have attracted new investment buyers to the fold, including custom homebuilder Moussa Khoury, who was looking to diversify his business and take advantage of real estate market turmoil.
Khoury and a partner bought the former Macy's store at Washington Square Mall—a 151,000-square-foot retail building with 800 parking spaces—for just $775,000, less than half the asking price.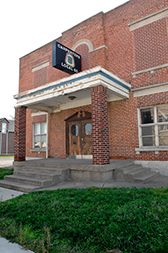 Marketing firm Trendy Minds acquired a former union hall at 531 E. Market St. in October with the intent of renovating the structure for its headquarters. (IBJ Photo/ Perry Reichanadter)
He's since leased the second floor to a furniture store and is working on plans for a home-design superstore on the first floor, along with a small food court and frozen yogurt stand.
Groups local and national continue trying to marshal investment dollars to buy up distressed properties.
Among them: Frank E. Swiss, president of locally based Swiss Company Real Estate, who is trying to put together a $1 million to $3 million fund focused on retail properties with turnaround potential.
"There are a lot of value-oriented groups out there—if they can buy a property at a discounted rate either from a bank or some kind of distressed sale, that's where I see a lot of activity," Swiss said. "A lot of people have been waiting on the sidelines."
REITs ready to return?
Real estate investment trusts that use stock as currency have been sitting on their hands in recent years, since their currency had been devalued.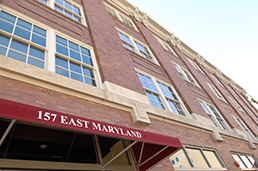 Architecture and engineering firm DLZ Indiana is renovating a historic building at 157 E. Maryland St. for its offices after acquiring the site late last year. (IBJ Photo/ Perry Reichanadter)
But even REITs are starting to look around again.
A subsidiary of Boston-based REIT Management & Research LLC in September quietly acquired the three main office buildings at Intech Park on the west side, from Chicago-based Romanek Properties Ltd., which had partnered with locally based Lauth to develop the 200-acre project.
In the universe of land sales, distressed tracts of single-family home lots—ones with all the infrastructure in place for a fraction of the original cost—remain a hot seller, said Abbe Hohmann, a vice president and principal in the local office of St. Louis-based Cassidy Turley.
The buyers are primarily the big publicly traded homebuilders, including Beazer, Pulte and Ryland, she said.
Farmland also is a hot commodity, as flush farmers have been willing to pay higher rents. In some cases, farms have sold for an average of $8,000 per acre.
Most buyers are looking for either a steady and reliable income stream or a distressed, turnaround opportunity, Hohmann said.
"Turnarounds are tending to be a little more local," she said. "The ones with a steady income stream draw a broader audience."
Betting on apartments
Apartment buildings have been a strong seller, as tax-credit developers snap up bigger buildings and cash buyers focus on those with 50 or fewer units, said John Pappas, a commercial broker with locally based Acorn Group Inc.
Acorn represents Joe Whitsett, a prolific developer of affordable housing, including a $7.2 million renovation of the former Central Restaurant Products building at 1010 Central Ave. He also owns the apartment building at 707 E. North St., a failed condo project he picked up from a lender.
To be sure, sales seem few and far between compared to boom times, thanks to a long-simmering standoff between buyers and sellers.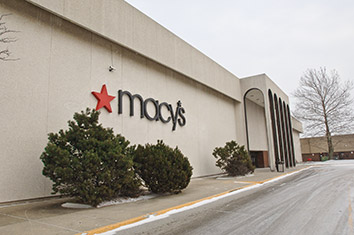 The former Macy's store at Washington Square Mall, at Washington Street and Mitthoeffer Road, was acquired recently and leased to a furniture store. (IBJ Photo/ Perry Reichanadter)
It boils down to a simple formula: Owners aren't willing to sell at the prices buyers are willing to pay, Wells said.
Banks in many cases have agreed to extend maturities and work with existing owners, and time has only made owners more confident they will ultimately recover some value.
"If you've survived this long, you can just wait and hold," Wells said. "But there aren't many purchasers, either. It's anybody's guess as to which side is going to come out on top."
Brokers for months have predicted an eventual "reckoning," where prices come down and the market reaches a sort of equilibrium.
Pappas is betting 2012 will be the year.
"For a lot of buildings, it will be like an accident in slow motion," he said. "I don't see any relief mechanism in place yet."•
Please enable JavaScript to view this content.