When Jeff Miller decided to run for the City-County Council, he knew the odds would be stacked against him.
Miller, a Republican, resides in a district south of downtown—spanning from the Fountain Square area west to Lynhurst Drive—that leans Democratic. And he was challenging Dane Mahern, a Democratic incumbent from an established political family whose name is well recognized in the area.
But less than three months before the election Miller was confronted with a tragic challenge that he could not have foreseen: His wife of 11 years, Carolyn, died after losing a fight with acute leukemia.
Suddenly, Miller, a full-time product manager and volunteer neighborhood advocate, found himself a single dad without family nearby to help him. He also was without the person who had supported him most in his campaign and his public-service efforts, often attending community meetings by his side.
Miller, 44, took a few weeks off from campaigning and questioned whether to continue at all. Ultimately he did, winning on Nov. 8 with 52 percent of the vote. He was the lone Republican to take over a district previously held by a Democrat in an election in which Democrats won a majority of council seats.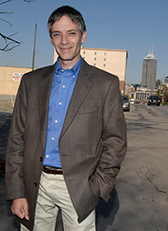 Jeff Miller has been a community leader for years. (IBJ Photo/Perry Reichanadter)
"Carolyn wanted this. I wanted this," Miller said Thursday in an interview at his neighborhood coffee shop, Calvin Fletcher's, where several people he knew stopped to congratulate him. "It felt like a mission."
The mission's success was the culmination of years of work that included attending hundreds of neighborhood meetings, spending hours assessing the district's infrastructure needs and single-handedly knocking on 3,000 doors—at times with his 5-year-old son, Gabriel, in tow.
Miller, who grew up in Anderson, moved to Fletcher Place in 1996, long before it was the up-and-coming trendy district it is today. He bought a house that had been abandoned for 20 years with the notion of rehabbing and selling it, but moved in after realizing he wouldn't recoup the massive rehab costs.
Shortly after, he joined his neighborhood association, taking on leadership positions. He quickly realized improving his neighborhood would take collaboration with nearby downtown districts, so he also got involved with groups such as Historic Urban Neighborhoods of Indianapolis and Southeast Neighborhood Development, or SEND, a not-for-profit developer in the Fountain Square area.
In these roles, he heard area residents raising concerns about a common theme—crumbling roads and sidewalks—and wanted to do something about it.
So Miller led an effort to launch a tool that helped neighborhoods assess the conditions of roads and sidewalks and prioritize their needs. He also mobilized volunteers to use the tool to help assess 930 blocks in the communities south of downtown. Then he trained leaders from resident groups west of his neighborhood to use it to assess another 700 blocks.
And once the data was gathered, Miller took it to city leaders. He showed up at dozens of public meetings to discuss infrastructure, earning the nickname "map boy" because he carried a large poster displaying the road conditions in SEND's catchment area to each one.
"I think his passion is what motivated people," said Mark Stewart, SEND's president. "He was just so excited, it was like, 'OK, sure, I'll get involved.' He's very hands-on and he's very determined."
That determination is what carried Miller through the last couple months of his campaign after Carolyn's death. He called upon friends to babysit his son so he could continue knocking on doors. He recalled times when he would be driving and a song would come on the radio that reminded him of his wife. He'd be stung with emotion and want to give up, but forced himself to continue because there was so much work to be done.
"It helped to think, 'I have to keep going,'" Miller said.
Now that he's elected, Miller hopes to continue his focus on infrastructure—in particular, how road and sidewalk improvements will be funded after money from the sale of the city's water and sewer utilities is spent.
He also will push to make funding for Indianapolis-Marion County Public Library and IndyGo a top priority, though he's not inclined to increase taxes to do so.
And in the near-term, Miller wants to propose an ordinance that would add graffiti to the list of nuisance violations that the city must address once a home is abandoned. It's a small thing, he said, but a big deal in an area where tagging invites drug activity in abandoned homes.
"My top priority is to improve the quality of life," he said. "Dedicated leaders have a responsibility to improve that." 
Please enable JavaScript to view this content.