A Shelbyville-based bank appears to have missed a federally mandated deadline for boosting its capital levels, a failure that might put it at risk of government takeover.
The U.S. Office of Thrift Supervision issued a cease-and-desist order in May after concluding SCB Bank had an excessive level of risky loans and insufficient earnings to boost capital, records show.
SCB Bank CEO Russell Breeden III presides over a company with 57 employees and $200 million in assets.
The OTS had required the bank to increase two key measures of capitalization—its tier-one capital ratio and total-risk-based capital ratio—to 8.25 percent and 12.25 percent by Sept. 30.
Data from the Federal Deposit Insurance Corp. shows SCB's tier-one and total-risk-based capital ratios were 3.1 percent and 5.4 percent as of Sept. 30. That's a drop from its June 30 levels of 5.2 percent and 6.5 percent.
It's not immediately clear what that will mean for SCB Bank, which has $200 million in assets and four offices. CEO Russ Breeden—who also is chairman and CEO of SCB's holding company, Blue River Bancshares Inc.—declined to comment.
However, veteran banking observers say one of SCB's capital ratios now is close to a level that prompts regulatory takeover. Only two banks in Indiana—Columbus-based Irwin Union and Evansville-based Integra—have suffered that fate since the financial collapse of 2008.
"Once a bank's tier-one capital ratio falls below 2 percent, [regulators] have a certain protocol they need to go through," said Mike Alley, a longtime Indianapolis banker who led Integra in the months leading up to its takeover in July. That protocol includes giving banks 90 days to boost capital, and taking over if they don't succeed.
But as long as the ratio doesn't sink to that level, regulators might give the bank additional time to fix problems.
"If regulators feel as though management has a realistic chance of developing a private solution, they'll give them the opportunity to do that," Alley said.
A spokesman for SCB's primary federal regulator, the Office of the Comptroller of the Currency, said the agency can't discuss ongoing supervisory matters.
SCB, like other banks, has a few options to improve its financial picture: raising capital from internal or outside investors, increasing its earnings, or selling its assets.
All of those, experts say, remain tough in the weak economy.
'The most difficult year'
Since 2009, SBC has struggled with a high concentration of problem loans, especially in its real estate and commercial-and-industrial portfolios. The woes have caused a spike in a widely used measure of asset quality known as the Texas ratio.
The ratio—which measures non-performing loans and those 90 or more days past due against tangible equity and loan-loss reserves—stood at 121 percent as of March 31. An IBJ analysis based on first-quarter data showed that was the highest among 15 locally based banks and significantly above the local median of 30. A Texas ratio of 100 is considered a threshold for concern.
As of Sept. 30, SCB had $17.9 million in nonaccrual loans and loans 30 or more days past due, according to the FDIC. About $5.8 million of those loans was commercial, and another $7.5 million was secured by land or nonresidential property.
The problem loans accounted for roughly 10 percent of SCB's $181.4 million loan portfolio.
As of June 30, SCB's capital ratios were the lowest of any Indiana-based bank other than Integra, said James Cooper, deputy director of the state's Department of Financial Institutions.
The weak numbers triggered regulators' concerns earlier this year.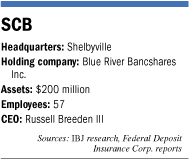 In addition to requiring higher capital ratios, the cease-and-desist order restricted SCB's future growth and mandated that the bank improve oversight.
If the bank did not meet the mandated capital ratios, the order required SCB to submit a contingency plan spelling out how it would merge with another bank or voluntarily dissolve.
Part of SCB's problems may have stemmed from branching far from its home turf during an expansion push launched in the early 2000s. The bank at one time had a location in Lexington, Ky., and branches in Fort Wayne.
It also made loans through a loan-production office it opened in Fishers. Among the north-side borrowers who slid into default was Tim Durham, the Indianapolis financier now facing felony charges of orchestrating a Ponzi scheme.
John Reed, president of the locally based investment banking group for David Noyes & Co., said the two Indiana banks that recently failed—Irwin Union and Integra—also had failed to stick to their knitting.
"It's not uncommon for banks that lend outside of their home [markets] to stub their toe," Reed said.
In a letter to Blue River shareholders included in the 2010 annual report, which was released in August, Breeden dubbed 2010 "the most difficult year in our recent history," citing the company's $13.7 million loss for the year. SCB represents the lion's share of Blue River's holdings.
Breeden, who owns about 17 percent of the company's shares, wrote in the letter that some of the challenges had been caused by the general economy, "but most have been particular to the company." He did not provide specifics.
This January, SCB CEO Randy Collier stepped down, and the board appointed Breeden to succeed him. Breeden—former CEO of the Indianapolis investment firm Raffensperger Hughes, now part of PNC—has led Blue River since 2002.
After Collier's departure, the bank launched a review of Collier's portfolio and made other management changes. Around that time, the bank also launched efforts to shrink its loan portfolio and raise capital from outside sources.
Challenging solutions
Even healthy banks have struggled to raise money in this challenging economy, Reed said.
Investors have shied away from banks because of concern over souring loans and poor stock performance across the sector. SCB's level of problem loans will make it even less attractive.
"It's very, very difficult in this post Great Recession climate for anybody to raise capital," Reed said. "It's especially difficult for banks because they are widely felt by investors to be struggling, and I completely agree with that sentiment."
SCB could attempt to sell some branches, as Integra did, to raise capital. But Reed said that would be challenging, given that all are in the slow-growth markets of Shelby and Decatur counties.
The bank's capital ratios have worsened even though SCB has cast aside growth ambitions and cut back. Its assets shrank $26 million from the end of June to the end of September, according to FDIC data.
Returning to profitability also would bolster SCB's capital ratios. But through the first nine months of this year, SCB's losses have totaled $4.8 million. That includes a $1.9 million loss in the third quarter.
"The general environment today is one where margins are very much constrained, particularly if you're looking at community banks," Alley said. "As a result, achieving the same level of profitability is going to be very difficult."•
Please enable JavaScript to view this content.