Officials for Ripken Baseball Inc., which operates two of the top youth baseball facilities in the country, are taking a hard look at expansion locations, and Indianapolis is on the short list.

Baltimore-based Ripken Baseball, which is owned by retired major league players Cal Ripken Jr. and Billy Ripken, is well-known in youth baseball circles for its Ripken Experience baseball complexes in Aberdeen, Md., and Myrtle Beach, S.C. The facilities draw thousands of players from ages 8 through college to baseball and softball tournaments and training programs each spring and summer.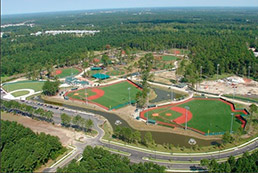 Ripken's South Carolina facility. (Provided photo)
Jim Arnold, Ripken's director of projects, said the company could expand in Indianapolis as soon as 2013. Ripken has an aggressive growth plan and also is looking at Dallas and San Antonio, Texas; Port Charlotte, Fla.; and Southern California.
Ripken would need a partner willing to spend $15 million to $20 million to buy about 60 acres and build the facility in Indianapolis. Arnold added that some type of public-private partnership would be considered.

In exchange, Ripken would handle all operations, upkeep, marketing and programming. In addition, Ripken officials would attract about 1,500 travel youth baseball teams and 150,000 spectators annually, Arnold said. He wouldn't discuss the company's revenue, but said the facility would generate $25 million in visitor spending and a total economic impact of $40 million.

By comparison, the Indiana Pacers and Indiana Fever have a combined annual economic impact of $55 million, and some of the city's biggest week-long conventions have economic impacts in the $30 million to $40 million range.

The complex would be a boon to the local hotel industry. Ripken Experience complexes team with local hotel operators to provide lodging for players and their families during tournaments, which typically last five to six days.

"The sports youth travel market is an incredibly stable segment of tourism," said Indianapolis Convention and Visitors Association spokesman Chris Gahl. "People who participate in youth travel sports, they plan, they budget and they come in droves."

There's another upside to a development like this, Gahl said.

"To have youth come here and have a very positive experience in Indianapolis helps build the city's brand with the next generation," Gahl said.

Arnold said Cal Jr., a Baseball Hall of Famer who holds the major league record for most consecutive games played, and his brother, Billy, are personally involved in selecting sites and running the venues.

"They're very hands-on with every aspect of the operation," Arnold said. "Their presence would definitely be felt."

Ripken is in the early stages of scouting not just Indianapolis, but all of central Indiana, for a suitable location, Arnold said, adding that company officials have been interested for a number of years. The group even looked at former minor-league field Bush Stadium in downtown Indianapolis some time ago as a possible home for its operations. Bush Stadium is now slated to become a $23 million apartment development.

"We've always been interested in Indianapolis," Arnold said. "It's a very sports-oriented city and it's an easy drive from a lot of baseball hotbeds, cities from St. Louis to Cleveland. The Indianapolis area also has a lot of attractions for kids and their families. We want trips to our facilities to turn into vacations."

"If we build this, we think it could be one of the best youth baseball facilities in the Midwest," Arnold added.

Due to Indianapolis' central location, Arnold thinks an Indianapolis facility would be busier than either of Ripken's other two venues. The Maryland facility, which opened in 2002, draws about 850 teams annually. The Myrtle Beach complex, which opened in 2006, attracts 700. Both facilities operate at capacity.

In addition to travel tournaments, the Indianapolis facility would host local instructional leagues and youth training camps, Arnold said.

"Because Indianapolis is centrally located and there are a lot of people within a day's drive, we think we could extend the season to have more weekend tournaments during the spring and fall months," Arnold said. "Indianapolis is definitely a market we want to be in if we can find the right partner. We're going to have a Midwest facility, and Indianapolis is our No. 1 choice."

Ripken officials hope to start talking with local government and economic development officials as well as interested investors in Indianapolis and the surrounding communities early next year.

Ripken's facilities, Arnold said, emphasize quality over quantity. The facility likely have have fewer than 10 fields—with top-of-the-line FieldTurf playing surfaces that drain quickly to prevent rainouts.

There are also practice fields, batting cages and other on-site training facilities.

In addition to the baseball facilities, the venue could include a gift shop, restaurants and concession areas, miniature golf, a splash park, playgrounds, walking and running trails, zip lines and adventure courses, Arnold said.

Marc Lotter, spokesman for Mayor Greg Ballard, said the proposed project is definitely something city officials would be interested in.

"The number of visitors and the potential economic impact would definitely be something we'd like to look at," Lotter said. "You'd also have to look at competition in the area in this category and the feasibility of this being sustainable. There could be a lot of development options for something like this."

Youth sports are a burgeoning market with plenty of competition.

In 2010, Play Ball Indiana, a 30-year-old not-for-profit, proposed a plan to build a 28-acre sports complex on the city's southeast side on a parcel that formerly housed the Citizens coke plant. Baseball and softball are major components of the plan. That project is on hold until finances can be secured.

In 2011, Anderson officials and business partners officially broke ground on The Farm, a 72-acre facility that will offer indoor and outdoor baseball and softball fields for training and tournaments.

The site, located off Interstate 69, will have 10 outdoor diamonds and two indoor fields, said Brad Benbow, a partner in the project. And he expects the $7.5 million project will grow even more in the future.

Earlier this month, Indiana Gov. Mitch Daniels joined Westfield Mayor Andy Cook and Hamilton County tourism officials for the official groundbreaking of Grand Park—a sprawling athletic facility designed to lure major youth sporting events.

The $45 million, 350-acre park was designed to include 32 soccer fields, baseball and softball diamonds. Westfield officials hope the facility—on 191st Street, one half mile west of U.S. 31—will have its first full season of sporting events by 2013.

Ripken doesn't view those venues as competition.

"What we offer is totally different," Arnold said. "We offer a very niche product, an experiential tournament. We want kids to come in and get a major league experience they can't get anywhere else."

"I don't think we'd be competition for those facilities as much as complimentary, he added. "We're here to promote the sport of baseball, and youth baseball in particular. We think that helps benefit everyone."

Milt Thompson, a local sports marketer and Play Ball Indiana board member, would welcome Ripken to Indianapolis.

"With the growth in all the travel teams, there is a real need for space for these young folks to play," Thompson said.

And since Play Ball Indiana is partially funded by the Ripken Foundation, Thompson thinks his organization might make a suitable partner.

"If Ripken is looking at Indianapolis, we'd love to talk to them about a potential partnership," Thompson said. "It could be a match made in heaven."