A deal scheduled to close next month will give Cincinnati-based First Financial Bancorp the foothold it has long sought to build a major presence in the Indianapolis market.
It also will test the midsize bank's ability to successfully capture clients in a highly competitive environment.
Claude Davis is CEO of First Financial Bancorp.
First Financial in August announced it was buying Flagstar Bank's 22 Indiana locations, 18 of which are in the Indianapolis area. The deal will add $330 million to First Financial's $6.3 billion in assets and give it the 10th-largest deposit market share among banks in the state, behind Key Corp. and Wells Fargo.
The $23 million purchase adds another significant player to an already-crowded field of banks competing for consumer deposits, investment clients and commercial loans in Indianapolis. And it remains to be seen whether First Financial—which before the acquisition had 40 of its 115 offices in Indiana, including a handful in the Indianapolis area—will be able to compete.
"I would say it's not going to be easy for them," said Tony Heyworth, a former Key Bank vice chairman of commercial banking who led the Ohio-based institution's Indianapolis operations before retiring from banking in 2001. "It's an extremely competitive market."
But First Financial leaders say they're up for the competition. The bank established a loan-production office in Indianapolis in 2008 and since then has quietly assembled a local loan portfolio, though officials would not disclose its size. An enhanced retail presence will help First Financial add to its current base of small to midsize clients with credit needs up to $15 million, said Mary Jo Kennelly, the bank's market president for the Indianapolis area.
The bank's solid balance sheet—it's been profitable 84 straight quarters—also positions it well to establish credibility in a turbulent industry, bank leaders say.
"If we're going to be a significant banking enterprise in Indiana, we have to have a significant presence in Indianapolis," said Claude Davis, First Financial's CEO. "It's not only the capital, but the center of business activity in the state."
Hoosier expansion
First Financial expanded across northwestern, eastern and southern Indiana through 11 acquisitions starting in the 1980s. The bank's 2009 purchase of branches from failed Columbus-based Irwin Union Bank gave it three Indianapolis-area locations, in Carmel, Avon and Franklin.
The new branches from Michigan-based Flagstar will add locations in Marion, Hamilton, Hendricks, Johnson and Boone counties. Flagstar officials said they're divesting Indiana branches to focus on markets where the bank has a stronger presence and sees more opportunity to grow, such as Michigan and New England.
Davis, who took over First Financial in 2004 after leaving Irwin Union, had been waiting for the right Indianapolis acquisition deal to come along since the bank established its strategy in 2005.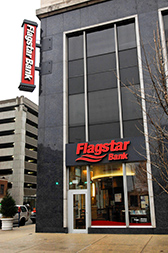 The downtown Flagstar Bank branch at the corner of Washington and Pennsylvania streets is among 18 in the Indianapolis area that will become First Financial's on Dec. 2. (IBJ Photo/ Perry Reichanadter)
First Financial had to acquire enough branches to establish a strong presence in the market, Davis said, and those branches had to be located not just in the suburbs, but within the boundaries of Interstate 465. The Flagstar acquisition met both criteria.
But the real push into Indianapolis began with Kennelly's establishment of the loan-production office in June 2008. Kennelly, who has worked in the Indianapolis banking market for 36 years, said the bank's entry into the market at a time of financial turmoil provided an opening for drawing in new business clients.
"People were listening in 2008," Kennelly said. "It was a challenging economic time for all banks and all businesses. That allowed us to get to the table and share our story and develop relationships with clients."
First Financial leaders aim to increase the local loan portfolio and are considering hiring more local lenders to add to the bank's six-person team.
First Financial also aims to attract consumer deposits and loans and wealth management clients, in part by touting the strength of its balance sheet. In the third quarter, the bank earned $15.6 million and posted a return on average assets of about 1.01 percent, far higher than many of its competitors.
The strength stems partly from steps bank officials took before the financial downturn, including scaling bank exposure to high-risk mortgage products and indirect auto loans.
Davis said the bank's financial position has allowed First Financial to remain consistent in its lending practices, unlike some competitors.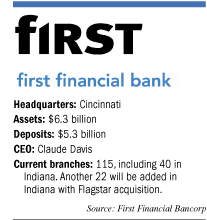 "Many banks that were stressed during the economic crisis quit lending in lots of key areas," Davis said. "One of the things we're proud of is that we did not."
Competition 'very difficult'
Even with those selling points, building market share in Indianapolis will be challenging, experts say.
A cadre of competitive banks, coupled with soft loan demand from businesses and consumers, make it a tougher landscape for a new bank to establish its presence.
"The general assessment is that it's very difficult for a new player to enter an urban market and grow organically unless there's significant market disruption," said Mike Alley, who led the expansion of Cincinnati-based Fifth Third Bank into Indianapolis in the late 1980s and early 1990s.
At the time, Alley said, widespread banking mergers created market dynamics that made it easy for his operation to grow quickly. But those dynamics are no longer in play.
Kennelly
And while some tout First Financial's size as an asset that allows for a more personalized approach, others say it makes it challenging for the bank to go up against large institutions with more scale to penetrate the market via advertising.
"It's very difficult to compete with some of the larger organizations, particularly Chase and PNC," said Steve Schenck, who led the Indianapolis offices of Regions Bank until 2007.
"If you look around, there are a lot of smaller institutions in Indiana trying to do the same thing. Every one of them comes to Indianapolis because they see it as an opportunity for growth."
A natural growth area for First Financial may be in deposits as customers continue to flock to banks as a safe haven, said Heyworth, the former Key Bank executive. But many banks entering a market are more concerned with growing their loan portfolios than their deposits.
Whether First Financial can do that, experts say, will depend upon its ability to hire talented lenders and offer competitive terms for loans.
"If they recruit the right folks and the right folks go after the right client base," Schenck said, "they're going to do just fine."•
Please enable JavaScript to view this content.