A veteran homebuilder and a local developer have partnered to create a turnaround firm for residential projects that stalled in the economic downturn.

Providence Homes was started earlier this year by Mitch Davis, 42, a former vice president of the now-defunct CP Morgan Homes; and Brian Mann, 44, managing partner of Mann Properties.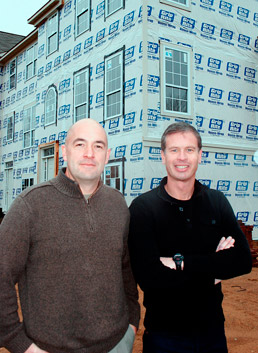 Mitch Davis, left, and Brian Mann aim to reposition residential projects that went awry when the housing market crashed.
"We're looking at things that weren't positioned correctly for today's market," said Davis, who became acquainted with Mann when their two firms worked together on projects in Indiana and North Carolina.

The first two projects being revived under the Providence Homes banner are Waters Edge, a townhouse development on Geist Reservoir, and Princeton Woods, a townhouse project on 131st Street in Fishers.

Waters Edge, just south of 116th Street on Olio Road, was started seven years ago and was to accommodate 57 townhouses. Only 14 were built and 11 others started before the project stalled and landed with Bloomfield State Bank, which Providence Homes is working with to reposition it. Providence had the remaining property rezoned to allow for construction of 12 single-family homes that will sell for $300,000 to $600,000. Davis and Mann think there is demand for custom homes with water access in that price range.

Princeton Woods, a development started by Mann Properties, is the site of construction for the first time in three years. The Mann-owned project, which started in 2005, originally called for approximately 150 townhouses. Only about half of those were built. Providence Homes has lowered the price point and revised buyer options to get the project moving again. Some of the townhouses, which are being offered for prices starting just below $150,000, will be finished in the next month.

Mann said Providence Homes would like to find at least two more turnaround opportunities in the next six months to a year.

Abbe Hohmann, a senior vice president at Cassidy Turley, said Providence Homes' strategy fits with what's going on in the market today. "No one is developing a new green field site," she said. Rather, investors are trying to find opportunities in developments that have already been started.

Providence Homes isn't just trying to snag existing lots at a deep discount. The firm is open to projects that require repositioning from a product, price or design standpoint, a process that could include seeking new government approvals and retrofitting existing infrastructure.

Davis and Mann think their combination of residential and commercial experience might give them an advantage in going after properties that involve both types of development.

"A lot of approvals that happened over the last 10 years had both components," said Davis.

Davis spent 10 years at CP Morgan reading the tea leaves to determine which new housing products made the most sense considering location, price point and consumer demand.

Mann's firm has experience developing land for residential development, but also has background in various types of commercial projects. He got into the turnaround game two years ago, buying the two-building, 150,000-square-foot Georgetown Commerce Park in the 7300 block of Georgetown Road. Occupancy at the office/warehouse property has since risen from 50 percent to more than 80 percent, Mann said.

Providence Homes' turnarounds to date have involved a fairly tight-knit group of investors, said Mann, who envisions that circle expanding as more opportunities come up.

In the long run, however, he hopes Providence Homes' strategy will change.

"I hope the market stops presenting distressed projects that need help. We'll see what happens with Providence Homes when that happens."