KOKOMO—Full parking lots at the Chrysler plants are a welcome sight here, but especially so to Harley-Davidson dealer Paul Schipper.
The presence of thousands of well-paid auto workers is what justified building a store so far from the population center of Indianapolis back in 1998, Schipper said. With overtime pay in their pockets, those autoworkers have helped drive sales up 25 percent this year.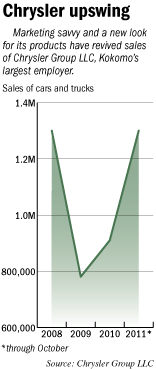 "We've seen everybody's attitudes and spending habits get better," Schipper said. "If we can stabilize and build back slowly, I think that would be wonderful."
Schipper wasn't talking only about the dealership on U.S. 31. Kokomo hopes to build upon Chrysler Group LLC's $1.3 billion retooling of its four local factories. The investment secured 3,500 jobs and will make the transmissions produced here a key element in future sales strategy.
"I'd be optimistic if I was Kokomo," said Kristin Dziczek, director of the labor and industry group at the Center for Automotive Research in Ann Arbor, Mich.
Since the 2009 merger with Fiat SpA, she said, "Chrysler's got its best chance in a long time of making it."
Kokomo needs optimism. A recent Indiana University study showed average payroll wages in Howard County, where Kokomo is the seat, fell 8.6 percent between the first quarters of 2006 and 2011. Wages in the county's strong suit of manufacturing rose nearly 6 percent in the period, but the state average for manufacturing increased more than twice as fast, 12.8 percent.
Three years ago, Kokomo was the poster child for worst-case scenarios. Its two largest employers were—and are—Chrysler and Delphi Automotive. As Congress deliberated over an auto industry bailout, Mayor Greg Goodnight faced the repeated question: "What are you going to do if it completely collapses?"
Goodnight's answer was always the same.
"We'll figure it out," he said. "What do you do if an earthquake hits a city? You figure it out."
The earthquake never hit. The federal government rescued General Motors and Chrysler, and the automakers later restructured in bankruptcy court. Delphi, which was in trouble long before the 2008 financial crisis, continued to downsize, but maintains 1,400 employees in Kokomo, where it's matching an $89 million grant from the U.S. Department of Energy to develop electronics for hybrid vehicles.
Since Chrysler announced the final piece of its $1.3 billion investment in November 2010, employment at three transmission-assembly plants has grown to 4,200, United Auto Workers Local 685 President Rich Boruff said. Another 600 to 800 work at the castings plant, which is represented by a separate local. (Local 685 is the single-largest union shop in Chrysler.)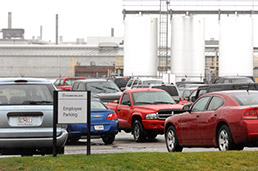 Chrysler's plants in Kokomo operated at full capacity this fall. Italian industrial giant Fiat snatched the company out of bankruptcy protection two years earlier. (IBJ Photo/ Perry Reichanadter)
Keeping those jobs is a huge relief to Jeb Conrad, CEO of the Greater Kokomo Economic Development Alliance.
"It's difficult to diversify your economy and be attractive to new business if you have 20-percent unemployment and boarded-up buildings," he said.
Drive-train strategy
Chrysler posted its 19th consecutive month of year-over-year sales growth in October, and all three of its Kokomo transmission-assembly plants operated on overtime this fall.
Chrysler's comeback is the result of savvy marketing and giving existing products a new look, Dziczek said. By this time next year, a large part of the company's strategy will hinge on a new generation of transmissions.
The retooling in Kokomo is so Chrysler can start building an eight-speed by October and a nine-speed by December 2012.
"They are working feverishly to make sure we are ready to launch next fall," spokeswoman Jodi Tinson said.
The high-gear-count, sophisticated transmissions are Chrysler's answer to pending federal requirements for better fuel economy. CEO Sergio Marchionne has chosen to focus on improving old-fashioned internal combustion systems, rather than chasing hybrid and electric technology.
It's an engineering approach that makes sense only for large vehicles, which happen to be what Chrysler sells, noted Ken Elias, a partner at consulting firm Maryann Keller and Associates in Stamford, Conn. (Chrysler's top-selling vehicle is the Ram pickup, and three-quarters of its sales are in trucks, a category that includes Jeep SUVs.)
An imported eight-speed, designed by ZF Friedrichshafen, is already available in Chrysler 300s and Dodge Chargers. Ads that play to the soundtrack of Detroit native Eminem's anthem "Lose Yourself" boast 31 mpg on-highway.
Elias doesn't think consumers will be wowed by the number of notches in the gearbox, or incremental gains in fuel economy.
"It's part of the overall picture," he said. "You've got to move all the balls at the same time."
And there are signs that automakers need to fine-tune their more complex systems. Chrysler canceled plans to put a six-speed, dual-clutch system, sourced from Fiat, in the Chrysler 200 and Dodge Avenger sedans next year. A spokesman told Motor Trend magazine the company was still evaluating that transmission, as well as the nine-speed, for future vehicles.
Chrysler's decision came after Consumer Reports said Ford had slipped in its rankings partly because of the jerky shifting of Focus and Fiesta models equipped with dual-clutch six-speeds.
It's too early to say how the new transmissions might affect sales, but Boruff is optimistic, based on how the new Chryslers are being received. With improvement to the interiors alone, he said, the cars are nothing like the ones that were in his family all his life.
"There's no comparison," he said.
"I think we'll add 1,000 heads in a year and a half, if things keep going the way they're going."
Auto-centric
Kokomo has been aggressive about attracting new business, but its economy is still highly concentrated in manufacturing.
In the past 18 months, the city has attracted a metal supplier that's targeting Midwestern foundries, a couple of machine shops and a cabinet maker. It's also seen two small firms, one in robotics and the other in software, graduate from the Inventrek incubator.
As of September, 23.8 percent of the labor force worked in manufacturing, compared with 16 percent statewide.
The influence of Kokomo's own Big Three—Chrysler, Delphi and metal-alloys maker Haynes International—is obvious, as 18 percent of the jobs were in durable-goods manufacturing, compared with 3.6 percent statewide.
With a population of 58,000, Kokomo is not unique in being a small city that's reliant on the automakers, Dziczek said. Places like Lima, Ohio, a city of 38,000 that's home to one of Ford's main engine plants, are the result of automakers' concentrating their manufacturing footprints to a select few locations, she said.
Conrad hopes Chrysler's new investment will attract more suppliers. Four of his prospects this fall hinted that the automaker would be a major customer.
The regional supply base for components factories tends to be more limited than for full-vehicle assembly, Dziczek said. Kokomo can expect to attract metals and small-component suppliers, plus engineering services.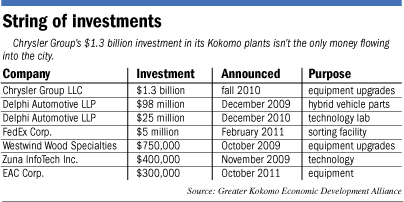 A lot of Conrad's pitch to new businesses ties into the success of the city itself. Goodnight, a Democrat who was easily re-elected in November, cut the city's payroll from 521 to 435 during his first term. The city carries no debt, and its bond rating improved from A-minus during the recession to AA-plus last year.
Yet, Kokomo has built new walking paths, added bike lanes, and attracted shops and restaurants to its quintessential courthouse square.
Continuing to enhance Kokomo's quality of life is the next focus, Goodnight said.
Kokomo has always been a destination for commuters, not only to the factories but also to the Indiana University-Kokomo campus and Howard Regional Health. By talking up the schools and parks, Goodnight hopes to persuade those folks to ditch U.S. 31 during rush hour and live in Kokomo.
That would spur growth for the local service economy (and no doubt, the city's tax base), Goodnight said.
A Kokomo native and former president of Steelworkers Local 2958 at Haynes International, Goodnight has a new mantra for his city's rebound era: "The biggest problem we've ever faced is we have not lived up to our full potential. Our goal is to do so."•
 
Please enable JavaScript to view this content.