Big Car will close its gallery in the Murphy Art Center at the end of the month, but it plans to divert some of its creative energy to downtown.
With the Cultural Trail taking shape and Georgia Street now adorned for pedestrian wonderment, Big Car is working on new events, such as games that passersby can join in spontaneously, and organized walks or rides, Executive Director Jim Walker said.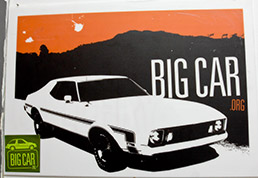 "Bodies of Waters" will be the final exhibit at Big Car Gallery, which closes at the end of the month. (IBJ Photo/ Perry Reichanadter)
Big Car has dubbed its downtown initiative "The Department of Yes," and it will be housed along with Big Car's main office at Earth House at New York and East streets.
You might ask, "What the heck is Big Car?" and "Who let the hippies out of the compound?"
Big Car bills itself as a "creativity organization" and, as far as we can tell, it has nothing to do with large passenger vehicles. Its mission is to bring art projects and programs to underserved areas.
Big Car opened one of the first galleries in recent history in Fountain Square in 2005. It went on to launch the Service Center for Culture and Community in a former tire shop near Lafayette Square and a drop-in art center on East 10th Street.
It has grown over the last several years from a budget of about $30,000 to a projected $250,000 in 2012, Walker said.
Closing the 1,000-square-foot gallery will free up resources for the Service Center and The Department of Yes, Walker said. "Bodies of Waters," a multi-artist exhibit that's a tribute to cult film director John Waters, will be on display at Big Car Gallery through the end of the month. A goodbye party is scheduled for Dec. 14.
Please enable JavaScript to view this content.