Honoree, Private Companies (Revenue $100 million or less)
Under Linda Wilgus' leadership, Northwest Radiology Network has soared to new heights.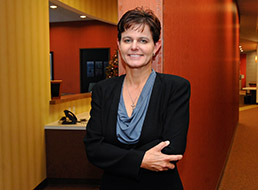 (IBJ Photo/ Perry Reichanadter)
In the 15 years she has been executive director, the organization has grown from 23 to 49 physicians and now posts annual revenue of $36 million. NRN provides radiology, imaging and teleradiology at three of its own imaging centers as well as at 18 hospitals and 16 other facilities. The locally based organization has grown from being an Indianapolis-only operation to one that serves Bloomington, Terre Haute, Kokomo and other central Indiana cities.
At Wilgus' urging, NRN spearheaded the electronic transmission of medical images in the local community in 2003. Realizing radiologists would be more efficient and provide better care if they could get access to patients' previous images, she then engaged her information technology crew in creating the capability for images to cross the boundaries between facilities and even between health care systems, a capability that went live in 2007.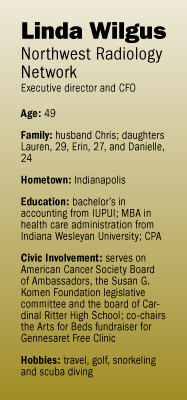 Wilgus said this is the most tumultuous time she's seen in her 20 years in health care. The delivery of care will change radically in the next decade, she said.
"What I will see as my biggest accomplishment is leading the group through that transformational change," she said. "I hope my best accomplishments are yet to come."
Wilgus is active in the medical community. She is program/education chairwoman and past president of the Indiana Radiology Business Managers Association; legislative liaison for the Indiana Medical Group Managers Association; and is on Executive Women in Healthcare's community relations committee.
She has been especially involved on the legislative front, testifying before the Indiana Senate and organizing meetings with federal representatives to discuss health care reform issues.
As CFO, Wilgus believes it's important to dive deep into the spreadsheets.
"I believe numbers tell you a story and you've got to be brave enough to listen to it," she said.
Employee retention, satisfaction and growth are priorities for Wilgus, said Vincent Mathews, CEO of NRN, who nominated her for CFO of the Year.
"By listening to the staff and demonstrating that she does find their input valuable, she creates a sense of loyalty that some executives never achieve," he wrote.
Communication skills aren't the focus of accounting classes, but she believes both careful listening and thoughtful speaking are a CFO's most important tools.
She also makes sure to hire good people, delegate to them and keep them in the loop about all her activities.
"I call it the 'When I get hit by a bus' routine," she said, noting that people who keep their knowledge too close to the vest can jeopardize their employers when the unexpected occurs.
Wilgus has spent her entire career in health care, dating back to when she was in college, struggling to put herself through school while rearing three small children. She began in public accounting at Whipple & Co. (now Somerset).
"But then after you offered a solution, you walked away and didn't get a chance to see if it worked," Wilgus said. "I wanted to work in the private sector and get some real-world experience."•
_____


Click here to return to the CFO of the Year landing page.


Please enable JavaScript to view this content.