Top Honoree, Public Companies
Keeping cool in a crisis is what has allowed WellPoint to avoid hemorrhaging during the recession, said Wayne DeVeydt, executive vice president and CFO. WellPoint is one of the few companies outperforming the Standard & Poor's 500 index this year.
"When you have significant economic downturns, generally the thing that sets in is panic," DeVeydt said. "I have a CEO and a board that does not panic."
DeVeydt has kept his head as well. In the midst of the worst economic crisis in generations, he has helped the nation's largest publicly traded health insurer log three straight years of record earnings per share. EPS grew 25 percent between 2007 and 2010.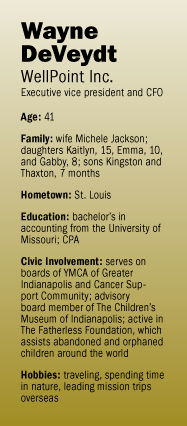 He is helping run a company with 38,000 employees, 69 million customers and 2010 revenue of $49 billion.
Under his leadership, WellPoint has divested of companies unrelated to its core business, such as the $4.7 billion sale of its pharmacy-benefits management business in 2009. At the same time, WellPoint has been acquiring companies with strong growth potential. For example, in August the company paid about $800 million to purchase California-based CareMore Health Group, which offers Medicare Advantage plans and operates clinics in California, Arizona and Nevada.
DeVeydt also has been a key driver of WellPoint's campaign to cut costs. The company achieved $270 million in savings last year and is on track to save $400 million this year. And this summer he led the raising of $1.1 billion in debt at the lowest cost in the company's history. Also in 2011, WellPoint declared its first-ever dividend.
DeVeydt oversees an investment portfolio worth more than $20 billion, which had more than $1 billion in unrealized gains as of June 30, in spite of the market downturns of recent years.
His area of responsibility has steadily grown since he joined the company in March 2005 as senior vice president and chief accounting officer. He was promoted to CFO in May 2007, when he was just 37 years old. Since that time his job has expanded to include internal audit and compliance; actuarial functions; and Federal Government Solutions, the nation's largest Medicare processor.
DeVeydt was named the top CFO in the managed care industry by Institutional Investor magazine in both 2008 and 2011.
But DeVeydt said he is most proud of the people he has helped develop and move into leadership roles at the company. Assembling a strong team is the greatest gift you can give yourself as an executive, he said.
"The best leaders I've ever seen in a company don't know all the answers, but they know all the questions," DeVeydt said. "They know the questions to ask, and who to ask, rather than spending all their time telling people what they think the answer is."
To get the broad perspective that type of leadership requires it helps to surround yourself with people different from yourself, said DeVeydt, who for two years has led WellPoint's Pride group for African-American employees. The goal of the group is to make sure WellPoint is getting the best talent it can, and eliciting the best ideas from that talent.
"I'm a huge, huge fan of diversity on teams: geographic diversity, ethnic diversity, demographic diversity," said DeVeydt, who is the father of two black sons adopted from the Democratic Republic of the Congo.
Communication is the root of many corporate and even societal problems, DeVeydt said. So it's an area of focus for him. He started developing those skills early, as a street-smart kid growing up in a tough neighborhood in St. Louis, the child of a single mother. His mother always told him to keep things simple. It's advice he has tried to follow in his career, and he is often praised for his ability to boil complex problems down to basics that the person on the street can understand.
Prior to joining WellPoint, DeVeydt was a partner with Pricewaterhouse Coopers LLP, where he had several major managed care and insurance companies, including WellPoint, as clients.
His advice to young people starting out in finance is to take a broad view of their role.
"View your job as a problem solver, not as someone who logs debits and credits," DeVeydt said. "It will make the job more enjoyable and you'll learn more that way."•
_____


Click here to return to the CFO of the Year landing page.


Please enable JavaScript to view this content.