Twenty-something pals Drew Loftus and Kyle Robinson don't appear to be your typical commercial real estate developers.
Beyond their young age, maybe it's because the two still hold day jobs as they navigate the acquisition of their first property—a trio of vacant, connected buildings at 6334 Westfield Blvd. in Broad Ripple.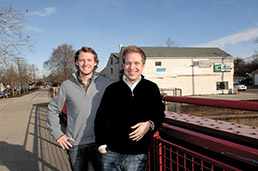 Drew Loftus (left) and Kyle Robinson have launched a commercial real estate development firm and are starting with a small office project in Broad Ripple. (IBJ Photo/ Perry Reichanadter)
But make no mistake. The two are serious about breaking into commercial real estate by carving out a niche with small, boutique office projects.
"Call it a side business today," Loftus said confidently. "But as things play out, Kyle and I will be working for ourselves."
A 2008 graduate of Indiana State University, Loftus, 26, leads business development for local technology startup TinderBox.
His introduction to commercial real estate came as an intern at Thompson Thrift Development. He joined the firm full time in 2008 as an associate developer but left when the market soured.
Robinson, 28, a 2005 Rose-Hulman Institute of Technology engineering graduate, met Loftus during a school networking event. He became a lawyer before working as an analyst for Indianapolis developer Lauth Property Group.
His day job now is in-house legal counsel and director of operations for local startup Precise Path Robotics.
Keeping full-time jobs offers Loftus and Robinson protection from the continuing financial crisis that's plagued the commercial real estate sector as they spend off hours building Loftus Robinson Development.
"Some people on the weekends would rather go golfing," Loftus said. "But we transition into real estate. We truly love doing that."
They rekindled their passion for real estate when friends in the tech sector came up empty in their search for office space in Broad Ripple. For help, they turned to Loftus and Robinson, knowing of their experience.
The two initially considered building space and serving as the developer. But they ultimately settled on the vacant property near where the Monon Trail crosses the canal, and are now buying the parcel from an investment group. In November, the city agreed to rezone the property from industrial to commercial.
Financing for the $1.5 million project, dubbed Rockdale, is being finalized, with completion scheduled for early summer.
The renovation will result in about 8,800 square feet of office space flanking a small courtyard facing the Monon.
The buildings housed at various times a boat engine repair shop, a veterinary clinic and a pet supply store. The southernmost of the three buildings is believed to be at least 100 years old.
All the structures will be gutted and reskinned, and a second floor will be added to one of them. The architect is Eric Weflen.
The buildings likely will house five to six office suites, though a retail tenant could be located on the Monon side. Loftus Robinson Development, which plans to occupy space in one of the buildings, has received letters of intent from two potential tenants.
The three would occupy about 4,500 square feet, leaving 4,300 to be filled. Loftus Robinson is asking $26 per square foot for the space. The price includes parking, which the developer is in the process of securing in spaces off-site, close to the property.
Jack Hogan, a Jones Lang LaSalle senior vice president and broker, has the listing. Hogan previously had a long career with Lauth, where he met Robinson.
Knowing Robinson, and now Loftus, Hogan thinks the two have what it takes to be successful developers.
"They're going about it in an interesting way," he said. "They're not quitting their day jobs, but they're spending a lot of time on this. You can just tell the excitement they have for this project."
The space likely will appeal to younger, tech-type entrepreneurs who prefer older, renovated buildings to traditional office space that loops the city's north side near Interstate 465, Hogan said.
"It's going to be a great project, and it will be nice to get that eyesore taken care of," he said. "It's kind of nasty looking, really."•
 
Please enable JavaScript to view this content.