I don't know of any downtown diner seriously mourning the loss earlier this year of Alcatraz, the Circle Centre brew pub that had been a part of the mall since it opened in 1995. Similarly, I don't know any downtown diner who celebrated the arrival of California Pizza Kitchen (49 W. Maryland St., 217-1291), the chain eatery that quickly replaced it.

OK, so it's not cool to like California Pizza Kitchen. But I'm here not to trash but to (partially) praise it—only not in the way Hoosiers did when the company arrived for a stint at the Fashion Mall years ago. Since then, we've become a bit more immune to the charm of slick restaurant formulas, more accustomed to non-traditional ingredients in our pizzas, and more familiar with the CPK brand from airport food courts and local supermarkets (where frozen versions are just a price point or two away from DiGiorno).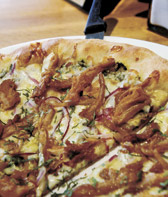 A newcomer to the California Pizza Kitchen lineup, the Habanero Carnitas Pizza, features shredded pork and a powerful sauce. (IBJ Photo/ Perry Reichanadter)
No, I'm happy about the return of CPK for two other reasons.

First, I'm thrilled that a sizable and very visible chunk of downtown retail space is filled. Second, much of the food I've tried is pretty good—if overpriced.

I can do without the gimmicky Two in a Bowl soups ($6.50) which, on my visit, rendered a character-free Dakota Smashed Pea and Barley Soup and a washed-out Sedona

Tortilla Soup nearly indistinguishable.

But things got much better in the pizza department. The Jamaican Jerk Chicken Pizza ($12.75), with a nice textural mix between the flecks of applewood smoked bacon and the chunkier jerk chicken, bridged with a spicy sweet Caribbean sauce.

And a recent addition to the company menus, the Habanera Carnitas Pizza ($12.75), found the right balance of red onions, cilantro pesto and mozzarella/queso cheese on the signature slightly-larger-than-a-personal-size CPK crust. It was topped with shreds of slow-roasted pulled pork, but most of the kick came from the habanera salsa, which could be used as a dipping sauce or poured on as desired. This pizza made me wonder why pulled pork isn't up there with its cousins pepperoni and sausage as a more popular topping.

The high price was more noticeable on the basic pies. A Five Cheese and Fresh Tomato Pizza ($10.50), for instance, included barely half a tomato divvied up over mozzarella, gouda and more, amounting to maybe two slices at a traditional pizzeria.

There are other options. The Miso Shrimp Salad ($11.50 for the half size) offered a winning combo of ingredients that, on paper, might seem like too many variables. Not so. Apparently avocado, cucumbers, edamame, daikon, cabbage, scallions, cilantro, rice sticks and wontons get along quite well together when a miso dressing is there to pull them all together.

And as made-up as it sounds, "spaghettini" is actually a real word for the thin pasta that winds its way through the Asparagus and Spinach Spaghettini ($10.75), a well constructed mix in which the fresh tomatoes deserve equal headline billing.

While I ate, I recalled the last time I dined at a California Pizza Kitchen. I was in downtown L.A. and everything else was closed. It felt like a compromise—I try to eat at local restaurants when I travel—but truth be told, it was a satisfying meal.

I suppose unadventurous visitors to downtown Indy drawn to the warm yellow glow of California Pizza Kitchen will go home with similar experiences. And locals who swallow their local pride shouldn't be disappointed, either.•

—Lou Harry

__________

Second in a month-long series of visits to eateries that have recently moved into the digs of former eateries.