Humane Society of Indianapolis CEO John Aleshire has been trying to raise money for a spay-neuter clinic near downtown for nearly three years.
The clinic is still a wish-list item, but Aleshire hopes to check it off soon. The humane society will open a vaccination clinic in February at 456 N. Holmes Ave. in Haughville. With that momentum, Aleshire said, he hopes the spay-neuter component will be close behind.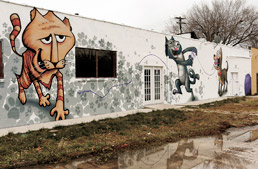 The Humane Society will open a vaccination clinic in February at 456 N. Holmes Ave. in Haughville—a first step, it hopes, toward a spay-neuter clinic. (IBJ Photo/ IBJ Photo/Eric Learned)
Aleshire began stumping for the clinic because most of the stray and unwanted animals that end up at Animal Care and Control originate in 10 ZIP codes around downtown, rather than near the Humane Society's headquarters and shelter on North Michigan Road.
While animal welfare activists have helped lower the city's euthanasia rate over the last decade, Aleshire said, Animal Care and Control still receives about 18,000 animals a year. Offering spay-neuter surgeries to low-income pet owners on a sliding scale could help lower the number of unwanted animals in the first place.
"This is going to save the city money, eventually," Aleshire said.
Aleshire said the Humane Society's own financial losses probably made donors reluctant to support a new enterprise. He was hired in the fall of 2008 to help turn the organization around. He said the Humane Society has a balanced budget and began paying off its debt.
"I think folks were waiting for the Humane Society, that it was back on solid ground," he said. "We've got a three-year track record now."
The FACE spay-neuter clinic at 1505 Massachusetts Ave. already offers the service at a low cost, but Aleshire said it's not necessarily targeted at low-income households. Anyone can take a pet there.
The Humane Society received a grant from the Nina Mason Pulliam Charitable Trust to market its Haughville-based services.
The Holmes Avenue vaccination clinic will mirror the one the Humane Society already runs at its Michigan Road shelter, Aleshire said. It will be open to anyone, regardless of income. He expects it to be self-supporting in the first year.•
Please enable JavaScript to view this content.