A top lawmaker wants to let charities pay people to run their bingo, poker and other games, a practice that has led to disciplinary action for some organizations.
Tonya Spreng of Noblesville plays bingo twice a week at the American Legion Post 470 in Fishers. Indiana lawmakers are looking to tweak rules on charity-run gambling. (IBJ Photo/ Perry Reichanadter)
Sen. Ron Alting, chairman of the Public Policy Committee, said he would add language to a bill that's being crafted around licensing issues so fraternal clubs could pay members who work the games.
If successful, Alting's amendment would be the first time the state has relaxed its hard-line stance on the issue, which is aimed at keeping professionals out of charity gambling.
Using employees or contractors would mean the games generate less money for charity. It also could set up an incentive to make the games unfair, said Philip Sicuso, an attorney at Bingham McHale who is former general counsel to the Indiana Gaming Commission.
Alting, himself an American Legion member, said the clubs have difficulty finding volunteers.
"The memberships, they're struggling," the Republican from Lafayette said. "Particularly in a smaller community, where chances are you have the same person calling Bingo at the VFW as you do the American Legion."
Charity-run gambling is a nearly $500 million enterprise in Indiana. The vast majority of the money is spent on bingo and pull tabs, an instant-win game akin to scratch-off lottery tickets. Charities may also hold casino-style card and dice games as often as three times a week.
Most of the regular game-night licenses are held by fraternal clubs, which use them for the enjoyment of members and to raise money for charitable causes, Sicuso said.
There have been abuses. In Fort Wayne, five men faced felony charges in 2010 in connection with activities at Parnell's Poker Palace, which was set up under the license held by White's School of the Arts Community Developmental Programs.
Prosecutors said the poker palace paid its dealers. Ralph White, head of that organization, also faced a $13,500 fine by the gambling commission this year.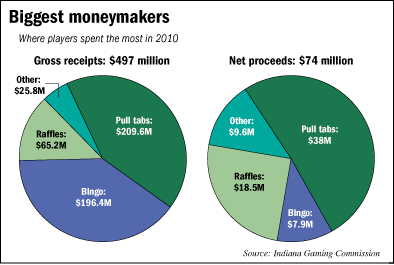 The violations aren't limited to poker. An American Legion post in New Haven, near Fort Wayne, was accused of paying its bingo managers close to $1 million over several years, the Journal-Gazette reported in September.
Five people faced criminal charges after a gambling commission sting caught a 71-year-old woman ferrying envelopes full of cash from Post 330 to a local restaurant, the newspaper reported.
The gambling commission has fined two other clubs, the Fraternal Order of Eagles Aerie No. 2455 in Albion and the Loyal Order of Moose Lodge No. 281 in Vincennes, for paying people to work events.
"That's part of the reason regulating [it is] so hard," Sicuso said. "You have to regulate the lowest common denominator."
But Alting thinks the Legislature can address charities' needs by limiting pay to members of organizations.
Currently, they can use gambling proceeds on certain expenses, such as building maintenance, that relate directly to their charitable mission.
Bingo, pull tabs and poker are such a fixture at the American Legion Post No. 470 in Fishers that the post appoints a "gaming officer." John Baldwin, who holds the volunteer job, sees no need to loosen the rules on how gambling money can be spent.
"I don't know if by changing it, it would be for the good of the organization," Baldwin said.
Paying someone to handle bingo twice a week and the cash Texas Hold 'Em tournament on Fridays could change the charity-minded purpose of the games, he said.
The Legion post spends 90 percent of its gambling profits to help the local community–giving for scholarships, needy families at Christmas, and police and fire equipment, Baldwin said.
With pull tabs sold at the bar, the Fishers post took in nearly $930,000 in the fiscal year ended June 30, 2010, according to the gambling commission's most recent annual report. But it is not exactly swimming in gambling cash.
It lost money on bingo and netted only about $63,000 between poker and pull tabs, the commission's report shows.
The clubs are not required to donate a certain portion of their gambling profits to outside charity, and some rely on it to support their own day-to-day operations.
The sale of pull tabs at the Fraternal Order of Eagles Aerie No. 4167 in Beech Grove accounts for about 40 percent of the club's revenue, Secretary Vince Kinman said.
Kinman said he would draw the line at paying dealers for casino games. All the money the Eagles make on poker goes to local causes, he said.
"If we're going to do Texas Hold 'Em, we need to do it because we're doing it for charity," he said.•
Please enable JavaScript to view this content.