Though few now realize it, Indiana was once the world's capital for natural-gas production. With recent advances in drilling and resource-recovery technology, some wonder if those glory days might return.
The answer, for now, is a very guarded "maybe." But don't hold your breath. A combination of human-made and natural obstructions has conspired to keep Indiana's reserves hard to find and hard to recover.
The issue arose because, in recent years, so many unlikely places have become energy hot spots. Horizontal drilling—sinking a well hole sideways for better access to gas and oil pockets—plus hydraulic fracturing (injecting a high-pressure brew of water, sand and chemicals into the ground, fracturing the surrounding rock and freeing trapped gas), have unlocked huge, formerly unreachable reserves in places such as Pennsylvania and North Dakota.
"No one understood the potential of these unconventional rocks," said Tim Beims, technology editor for the American Oil and Gas Reporter. "They were just something you had to drill through to get to the good stuff."
In the comparative blink of an eye, the United States has gone from a natural-gas importer to the proud owner of 100 years' worth (and counting) of domestic reserves. Could Indiana get a piece of that pie? For the past decade, gas exploration companies tried to make it happen. So far, the answer is no—but not for lack of effort.
Rich history
The state's interest in natural gas goes back a long way. In the 1890s, a massive find was made in an area of east-central Indiana called the Trenton Field. It contained roughly 1 trillion cubic feet of natural gas and perhaps a billion barrels of oil. A staggering 90 percent of the gas was lost through mismanagement, and perhaps 900 million barrels of oil were stranded in the ground when the gas, whose pressure was needed to lift the crude to the surface, vanished.
In the ensuing decades, the state continued producing respectable but much-diminished amounts of fossil fuels, mostly drawn from a southern Indiana field shared with Illinois and Kentucky called the Illinois Basin. Interest revived in the mid-2000s when experts realized that a section of the basin called the New Albany Shale might contain gas locked in a tight "rockmatrix" impervious to conventional drilling. With gas prices at the time hovering around $6 or more per thousand cubic feet (roughly double what it was in the 1990s), the area seemed tailor-made for fracking and horizontal drilling.
"Ten years ago, it did seem like there was a lot of potential to make money in the New Albany Shale," said Charles Zuppann, head of the subsurface geology section at the Indiana Geological Survey.
Well-heeled drilling operations staked claims and sank wells in Daviess, Sullivan and Knox counties, among other places. But instead of taking off, Indiana gas production gradually increased from about 1 million cubic feet in 2001 to 3.4 million in 2004 to a healthy but unspectacular 6.8 million in 2010.
"We're starting to see fewer and fewer New Albany Shale wells drilled and produced," said Herschel L. McDivitt, director of the Department of Natural Resources' Indiana Division of Oil and Gas. "The reason is because they're not getting results."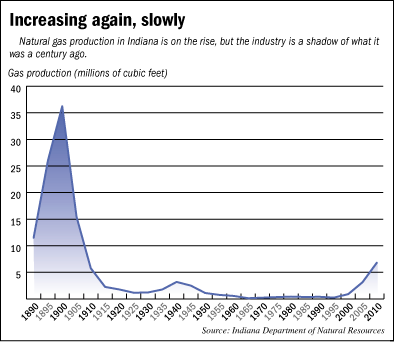 Chalk it up to technological hubris. During the mid 2000s, fracking revolutionized the Barnett Shale formations in Texas. It freed up huge gas reserves, and there seemed no reason the same techniques couldn't work with the New Albany Shale. But there was a reason. Indiana's formation sits atop vast reserves of brackish, salty water.
"If you fracture too much, you'll fracture down into a water zone, and nobody makes money pumping water," McDivitt said.
The modestly producing Indiana operations also suffered in comparison to more successful fields. Especially the Marcellus Shale, a gas-rich Appalachian Basin formation containing (according to a 2011 U.S. Geological Survey estimate) a staggering 84 trillion cubic feet of technically recoverable natural gas.
Plus, fracking works like a charm there.
Which is great news if you're an American. But not-so-great news if you're an American who lives in Indiana and wants to see the state's relatively modest proven reserves developed.
"There's less interest in working areas with marginal gas supplies," Zuppann said.
McDivitt believes that's why drilling permits are dropping off as the major Indiana players move to more productive areas, such as the Marcellus. It isn't that Indiana doesn't have gas. It's that we don't have enough, and current technology can't goose production much.
"A 500,000-cubic-foot-a-day well in the New Albany Shale would be considered probably a fairly good one," he said. "But they'd probably plug a Marcellus well if that's all they got."
Depressed prices
To make things even less attractive, prices for that slow-flowing, hard-to-recover Indiana gas are in the toilet. With supply growing by trillions of cubic feet yearly, prices linger in the $3-per-1,000-cubic-feet cellar.
"A lot of that [local] drilling was done at a time when gas was in short supply, and gas prices in Indiana got up to about $12 per thousand cubic feet," Zuppann said. "New Albany's always been a pretty marginal producing zone, but at $12 the operators were much more interested and had a plan to make money. Now it's much more dubious, because these horizontal wells are quite expensive—half a million to 2 million to drill one."
Not that there aren't other parts of the state that may hold potential. A formation called the Maquoketa Shale, just above the old Trenton Field deposits in north-central Indiana, has drawn attention. Trouble is, the Maquoketa was drilled through thousands of times back in the 1890s by wildcatters probing the Trenton reserve beneath it. Many of their wells were improperly capped, allowing a century of rainwater to seep underground, vastly complicating recovery efforts.
Even fracking is problematic, given all those old holes. Push a bunch of high-pressure water into the ground, and it would likely percolate right back to the surface via the old, abandoned wells.
Zuppann says there's also some interest, much of it in Sullivan County, in gas extracted from coal beds—what's known in the industry as coal bed methane, or CBM.
That's also one of the only areas in the state where hydraulic fracturing could play a major role. Indeed, according to Division of Oil and Gas statistics, about 75 percent of CBM wells use it to some degree.
That's attracted the attention of state regulators, and this year the Indiana General Assembly enacted a law creating a dedicated permitting program for coal bed methane extraction. It also has caught the eye of environmental advocates. The Hoosier Environmental Council, for instance, lobbied successfully for legislation forcing CBM drillers to disclose what chemicals they use for fracking.
"Our understanding is that fracking in Indiana would be stepped up in locations where there are coal bed methane resources," said Jesse Kharbanda, executive director of the Hoosier Environmental Council.
HEC plans to monitor the issue. For now, however, there's not much to watch. According to statistics compiled by McDivitt's department, the cumulative volume of all reported hydraulic fracturing fluids used in all wells in Indiana from 2005 to 2011 equals only about 68.4 percent of the total fluid that might be used in a single Marcellus Shale well—of which there are hundreds.
"We don't have those issues here," McDivitt said. "And just about every day I get up, I'm thankful for that. I've got enough to handle right now without dealing with that."
So for now, the gas boom has passed Indiana by. But all that could change, experts say. Because one never knows what lies underground.
"Nobody would say it's never going to happen in Indiana, because it could," McDivitt said. "You just can't say. There's still a lot of deeper stuff in Indiana that hasn't been drilled and looked at extensively. So I always keep that door open."•
Please enable JavaScript to view this content.