State Fair stage collapse kills 7
Strong winds toppled stage rigging before a scheduled Aug. 13 concert by country duo Sugarland at the Indiana State Fair, killing seven people and injuring dozens more.
The tragedy triggered an onslaught of finger-pointing and litigation over which parties might have been at fault.
The state late this year agreed to distribute nearly all the $5 million it is permitted to pay out to victims of a single tragedy. Sixty-three of 65 claimants to the state accepted settlements, including the estates of all those who died. The estates each will receive $300,000.
Big law firms find partners
Three of Indianapolis largest law firms—Baker & Daniels, Ice Miller and Bingham McHale—found merger partners this year.
Bingham McHale announced Dec. 21 that it is merging with a Louisville-based firm that first tried to enter the Indianapolis market three years ago.
The merger of Bingham McHale and Greenebaum Doll & McDonald will form Bingham Greenebaum Doll LLP as of Jan. 2, the two firms said. The combined entity will maintain offices in Indiana, Kentucky and Ohio.
Combined, the two firms have nearly 250 lawyers. Bingham McHale employs 130 attorneys and is Indianapolis' fourth-largest firm, according to IBJ statistics.
Greenebaum Doll has offices in Kentucky and Ohio and began exploring a merger with Ice Miller in December 2008. Those talks broke down about a year later.
Baker & Daniels, the city's second-largest firm, in October hooked up with Minneapolis-based Faegre & Benson LLP. The combination officially takes effect Jan. 1, along with a new name, Faegre Baker Daniels. The merger with the 500-lawyer Faegre & Benson is the largest law-firm combination involving an Indianapolis practice.
Ice Miller, the city's third-largest firm, announced in August that it is merging with Schottenstein Zox and Dunn Co. of Columbus, Ohio. That merger also takes effect Jan. 1. The combined firm will operate as Ice Miller.
Republic tries to regain altitude
Republic Airways Holdings spent another year trying to climb out of the clouds from its 2009 acquisition of Frontier Airlines.
Shares of Indianapolis-based Republic have been trading at less than half their January high of $7.79. The company is looking to sell Denver-based Frontier or spin off a chunk of it.
CEO Bryan Bedford said recently that Republic achieved substantially all of an initial, $120 million restructuring of Frontier. That included returning some aircraft, swapping smaller jets for larger ones, and obtaining labor concessions.
Republic also has been looking at selling flight slots at Ronald Reagan Washington National Airport to generate additional cash.
Republic earned $9 million in the third quarter, down from $21.2 million a year earlier.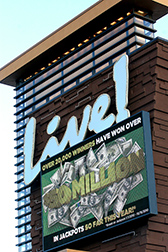 Heavy debt helped push Shelbyville's racino into bankruptcy in April. (IBJ File Photo)
Indiana Live lands in bankruptcy
The borrowing woes that struck an Anderson racetrack and casino last year caught up with the state's other racino this year.
Indianapolis Downs LLC, parent of Indiana Live in Shelbyville, filed for Chapter 11 bankruptcy in April, about six months before Centaur, parent of the Anderson racino, Hoosier Park, emerged from bankruptcy.
Centaur filed for bankruptcy in March 2010, citing its heavy debt load and tax burden as concerns. Debt also was an issue for Indianapolis Downs, which, like Centaur, borrowed heavily to cover the $250 million license fee state lawmakers imposed when they approved the racinos in 2007.
As part of its bankruptcy case, Indiana Live succeeded in getting the court to alter its tax burden. The state has appealed the court's decision.
Klipsch Group finds buyer
Privately held speaker maker Klipsch Group Inc. in March sold to Voxx International Corp. for $166 million.
Voxx (formerly known as Audiovox) made Klipsch a stand-along subsidiary managed by CEO Paul Jacobs and kept the headquarters, near the Pyramids off North Michigan Road.
Jacobs later led a naming-rights deal for LiveNation's former Verizon Wireless Music Center in Noblesville, which will be called Klipsch Music Center.
Jacobs is the first non-Klipsch to lead the company. Former Chairman and CEO Fred Klipsch bought the firm in 1989 from his cousin, acoustic-engineering pioneer Paul Klipsch. The company was founded in 1945.
Headquartered in Hauppauge, N.Y., Voxx is a publicly traded company that owns various consumer-electronics brands. Klipsch was its first foray into high-end audio speakers and headphones.
Klipsch Group has 210 employees, including 130 in Indianapolis. Its brands include Jamo, Mirage, Energy and Athena.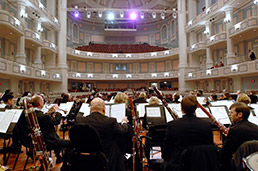 Carmel's Palladium opened in January. While ticket sales have been strong, the venue has struggled with high operating expenses.(IBJ File Photo)
Venue draws crowds, controversy
Carmel in 2011 cut the ribbon on three venues in its new performing-arts complex, but managers continue to grapple with operating costs.
The Palladium concert hall held a grand-opening gala in January and saw brisk ticket sales in its first half-season. With the addition of two smaller venues, The Tarkington and The Studio theaters, the Center for the Performing Arts launched its first full season this fall.
Amid all the grand-opening hoopla, however, CEO Steve Libman resigned, and arts philanthropist Frank Basile, a member of the Center for the Performing Arts board, stepped in.
The center, which has a $14.5 million budget, has 81 shows and concerts scheduled in the 2011-2012 season. A publicly funded entity, the Carmel City Center Community Development Corp. (4CDC), contributed $5.5 million to cover operating costs.
Basile was charged with bringing costs down in 2012-2013.
Libman's departure was a source of controversy. Mayor Jim Brainard defended the city's hiring of a private investigator to track Libman and accused him of using the performing arts center's money to take his executive assistant on out-of-town trips.
City councilors Rick Sharp and Luci Snyder pushed the center to publish its audit and internal review to clear Libman of any financial wrongdoing. By mid-December, the routine, year-end audit and internal review had not been made public.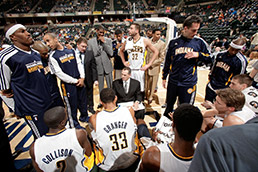 Labor strife delayed the start of the Indiana Pacers' season until Dec. 26. (IBJ File Photo)
Labor strife sidelines Pacers
The first two months of the Indiana Pacers' season were canceled after the National Basketball Association players and owners failed to come to an agreement on a new collective bargaining agreement governing players' pay and free-agency terms.
The lockout—the fourth in league history—began July 1 and wasn't resolved until Dec. 9. The Pacers resumed an abbreviated 66-game season Dec. 26.
To entice fans back, officials offered tickets as low as $5. But sports economists said—despite the new deal, which is projected to save the 30 NBA team owners a combined $280 million annually—fans should not expect long-term ticket price reductions.
Hauke agrees to fraud plea
Former Fishers investment manager Keenan Hauke agreed to plead guilty to one count of securities fraud, a charge that carries a maximum penalty of 25 years.
Federal prosecutors on Dec. 13 charged Hauke with masking huge losses in his hedge fund for years as part of a scheme that ultimately resulted in 67 investors losing more than $7 million. The plea agreement, which requires court approval, would prevent the government from recommending a prison sentence of more than 17 years.
Hauke was an IBJ investing columnist for nine years. The newspaper discontinued the column in April, after the investigation came to light.•
Please enable JavaScript to view this content.