Indianapolis-based ProLiance, a natural-gas marketer and supplier, was singed by a $57.2 million pretax loss in the first nine months of 2011, causing some analysts to wonder if majority owner Vectren Corp. will try to sell its 61-percent stake in the company.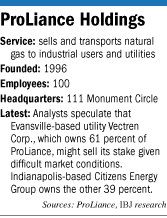 Such a move would have other implications locally. The other 39 percent of ProLiance, which supplies gas to industry and other big users, is owned by Indianapolis-based Citizens Energy Group, parent of Citizens Gas and Indianapolis Water.
Talk that Vectren might want to unload its ProLiance share began Jan. 3, when Evansville-based Vectren announced it was selling its other natural-gas-marketing subsidiary, Vectren Source. Home energy services firm Direct Energy paid $39 million for Source, which markets gas to residential and small commercial customers in Ohio and New York.
"The sale of Source may imply that Vectren is seeking a buyer for ProLiance as well," JP Morgan analyst Andrew Smith wrote this month. However, he noted that ProLiance may be harder to sell, given its weak results.
Vectren's share of ProLiance's losses totaled $25 million, or 31 cents a share, in the first nine months of 2011.
ProLiance "is expected to remain a drag on overall profitability due to poor conditions in the natural gas market," said a Baird Equity report on Vectren last August.
Gas-marketing firms such as ProLiance emerged after deregulation in the 1980s. They offer to find buyers for gas and arrange delivery, offering short- or long-term contracts.
Their services were in big demand over the last several years as natural-gas prices fluctuated wildly while generally tracking higher. Gas contracts offered gas buyers a hedge against price volatility.
But margins for ProLiance have been pinched more recently. Natural-gas prices have fallen, in part due to new natural-gas sources from shale. Also, additional gas pipelines have improved transmission capacity.
Furthering the squeeze has been reduced industrial demand for gas during the economic downturn. Gas is more plentiful, natural-gas prices are less volatile, and "historical basis differences between physical and financial markets and summer and winter prices have narrowed," Vectren said in a recent filing.
"As a result, there have been reduced opportunities to optimize ProLiance's firm transportation and storage capacity," Vectren told shareholders.
As for whether Vectren might seek a buyer of its 61-percent share in ProLiance, "we don't comment on speculation," said Vectren spokeswoman Chase Kelley.
Citizens, likewise, does not comment on the potential to sell businesses, said spokeswoman Sarah Holsapple.
It's unclear to what extent ProLiance's losses have dinged Citizens' financials.
With a 39-percent stake in ProLiance, Citizens' share attributed to ProLiance comes out to a loss of $22 million in the first nine months of 2011.
However, the loss effect likely would be less after applying other accounting treatments such as figuring in interest expense. Citizens, a public charitable trust, has not yet released its 2011 financial statement.
Both Citizens and Vectren say ProLiance provided positive results over several previous years. Both utilities also have purchased gas at favorable terms through ProLiance, which they say has ultimately been good for rates paid by their customers.
Vectren, a gas and electric utility, told shareholders it is taking steps to restore profitability to ProLiance. Those steps include renegotiating some contracts and dropping others as they expire. Vectren expects pipeline and storage contract costs will fall $25 million a year, starting this year.
"It should be noted that this business was a past significant earnings contributor," Hilliard Lyons analyst David Burks said of ProLiance in a report issued last November.
JP Morgan analyst Smith said he didn't expect ProLiance results to improve meaningfully, based on current gas market conditions.
ProLiance's current struggle didn't torpedo Vectren's earnings for the first nine months of 2011, which were $93.8 million, or $1.13 a share, up 3 percent from the same time in 2010.
Strong gains in Vectren's infrastructure and coal mining business helped offset the loss from ProLiance, Burks said.
"ProLiance has been a very solid Indianapolis business partner since it was created in 1996. Our focus now is on taking steps to improve the business," said Citizens' Holsapple.•
Please enable JavaScript to view this content.